« John Sununu Humiliates Obama Surrogate Soledad O'Brien & CNN
|
Main
|
Top Headline Comments 5-31-2012 »
May 30, 2012
Overnight Open Thread (5-30-2012)
I kinda feel bad about this post since Jenny McCarthy seems to be a well-meaning, compassionate albeit not particularly bright person who thought she was helping - but alas such people can still end up doing incredible harm to others.
One of the greatest achievements of modern technology is that we have been able to defeat the infectious diseases that routinely killed most children throughout history. Huge amounts of money and years and years of dedicated, patient work by scientists and doctors went into this project so that parents wouldn't have to suffer the heartbreak of burying half of all their children - a regular occurrence up until the last century or so.
And for a few brief years we achieved this. But it turns out that a well-meaning blonde B-list celebrity and her activism could undo much of this work in only a few years.
In June 2007 Jenny McCarthy began promoting anti-vaccination rhetoric. Because of her celebrity status she has appeared on several television shows and has published multiple books advising parents not to vaccinate their children. This has led to an increase in the number of vaccine preventable illnesses as well as an increase in the number of vaccine preventable deaths.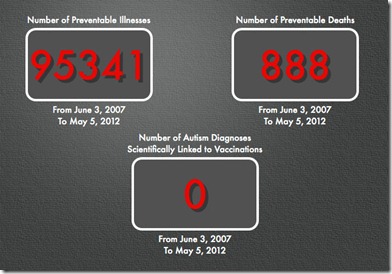 Now vaccines are not perfectly safe but they do save a quantifiable number of children's lives every year. So it would be foolish to give up a known life-saving good for a unproven benefit based on a celebrity mother's 'strong feelings' who also happens to believe that she's an indigo child and her son is a crystal. Yet here we are.
Oh and you can thank the backward Islamists of Afghanistan and Pakistan for why mankind is still plagued by polio, the great killer and crippler of children, despite a safe and effective vaccine being available for over 50 years.
Some Classic PJ O'Rourke on Europe
I was having dinner.in London.when eventually he got, as the Europeans always do, to the part about "Your country's never been invaded." And so I said, "let me tell you who those bad guys are. They're us. WE BE BAD. We're the baddest-assed sons of bitches that ever jogged in Reeboks. We're three-quarters grizzly bear and two-thirds car wreck and descended from a stock market crash on our mother's side. You take your Germany, France, and Spain, roll them all together and it wouldn't give us room to park our cars. We're the big boys, Jack, the original, giant, economy-sized, new and improved butt kickers of all time. When we snort coke in Houston, people lose their hats in Cap d'Antibes. And we've got an American Express card credit limit higher than your piss-ant metric numbers go. You say our country's never been invaded? You're right, little buddy. Because I'd like to see the needle-dicked foreigners who'd have the guts to try. We drink napalm to get our hearts started in the morning. A rape and a mugging is our way of saying 'Cheerio.' Hell can't hold our sock-hops. We walk taller, talk louder, spit further, fuck longer and buy more things than you know the names of. I'd rather be a junkie in a New York City jail than king, queen, and jack of all Europeans. We eat little countries like this for breakfast and shit them out before lunch."

Of course, this guy should have punched me. But this was Europe. He just smiled his shabby, superior European smile. (God, don't these people have dentists?)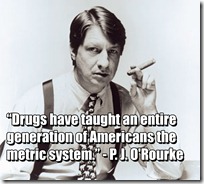 The Rock That Can Spy on You for Decades
Once the stuff of science fiction ubiquitous hidden sensors are reality for the military in Afghanistan:
Palm-sized sensors, developed for the American military, will remain littered across the Afghan countryside - detecting anyone who moves nearby and reporting their locations back to a remote headquarters. Some of these surveillance tools could be buried in the ground, all-but-unnoticeable by passersby. Others might be disguised as rocks, with wafer-sized, solar-rechargeable batteries that could enable the sensors' operation for perhaps as long as two decades, if their makers are to be believed.

..Even more sophisticated are the UGSs being tested northeast of Norfolk, Virginia, at a Lockheed proving ground. Arrays of up to 50 palm-sized acoustic and seismic sensors form a mesh network. When one sensor detects a person or a vehicle passing by, it uses unlicensed radio frequency bands to pass an alert from one node to the next. The alert finally hits a communications gateway, which can send the signal via satellite, tactical radio network, or Wi-Fi to a command and control center.
I was peripherally involved in a similar project involving cameras and all I can say is that with modern electronics and super-low duty cycles you'd be amazed at what is possible.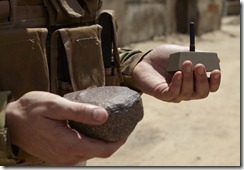 The Economic Reality of a Restaurant
Clearly they're just a means of using the hunger of the 99% in order to make an 'unfair' profit.
Your margins are three times your cost on everything. Some things you make more, some things you make less. You have loss leaders on the menu-veal chops and steak might cost you 50 percent of the ticket price on the menu. Pasta and salad you can run closer to 15, just as long as everything works out to 30 percent.

Bells and whistles like appetizers and desserts bring down the cost. Desserts are almost pure profit. Wine by the glass is usually marked up four times, although we don't always do that. At Babbo we get about three times cost for a quartino, or sometimes even two times, so our wine cost is 30 to 50 percent.

Thirty percent of your monthly take is going to be your food and wine cost. Thirty percent is going to be labor, 20 percent is miscellaneous, including the rent, and 20 percent is your profit. Your rent per month should be your gross take on your slowest day.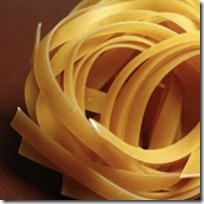 4 Degrees With 0% Unemployment
Bette Wiebke
Majored in Actuarial Science, Class of `12
Drake University

This weekend, I graduated with my bachelor's in actuarial science. I've already had a job lined up since September, and I would say the same is true for the majority of my classmates, who have also had job offers for a long time.
I'll be working at Travelers Insurance in St. Paul, Minn., in their property and casualty business.
Overall, 0% unemployment in our field may be a bit of an overstatement. I know a couple students who haven't decided what they're doing yet.
Should College Football Be Banned?
Well a few weeks ago a debate on this proposition was held between Buzz Bissinger and Malcolm Gladwell on the pro-ban side and Tim Green and Jason Whitlock on the anti-ban side.
The debate held poetry: Both Whitlock and Green, former players, offered up misty testaments to their time on the field. "College football is the Statue of Liberty," claimed Whitlock early on, yoking the game to ideals of diversity and tolerance. He argued that football unlocks the American dream for disadvantaged youth-and that his own career profited from the sport's lessons of cooperation. There was passion as well, courtesy of Bissinger, who raged about what he considered the modern college student's diminished academic experience. And there was pain. Malcolm Gladwell's descriptions of CTE-positive head scans-"it looks like someone drove a truck across their brain"-hit hard, especially in light of the NCAA's decision not to compensate college players.
But in the end the proposition to end college football was passed:
After a spirited battle, Bissinger and Gladwell were clear victors, capturing 53 percent of the final vote to Green and Whitlock's 39 percent. Eight percent left the auditorium undecided. The numbers revealed a remarkable about-face: Before the debate started, only 16 percent of the crowd supported the motion, 53 percent opposed it, and 31 percent weren't sure.
An 80 year old woman decides to go skydiving  but as she tandem jumps with her instructor, she starts slipping out of the harness. Oh and contrary to earlier reports she wasn't refusing to jump at the beginning - her leg had gotten stuck and was hurting her.
Reason #38 why you won't see me jumping out of a still functional airplane.
Teh Tweet!
Tonight's post brought to you by the frozen Chosin: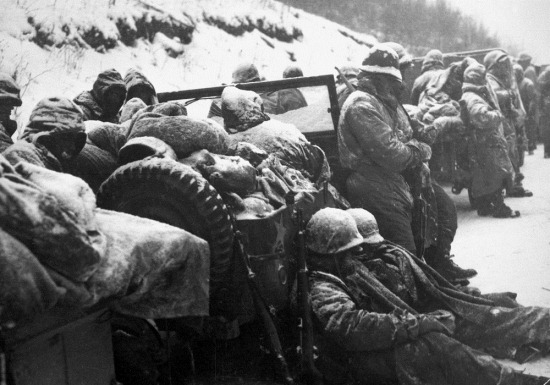 Notice: Posted by permission of AceCorp LLC. Please e-mail overnight open thread tips to maetenloch at gmail. Otherwise send tips to Ace.

posted by Maetenloch at
10:36 PM
|
Access Comments