« Awesome: First Commercial Space Capsule Docks With International Space Station
|
Main
|
Sat. Nite Chess Thread 05-26-2012 [OregonMuse] »
May 26, 2012
The Boys of Pointe du Hoc
Some of them are buried here, at Colleville sur Mer, in Normandy.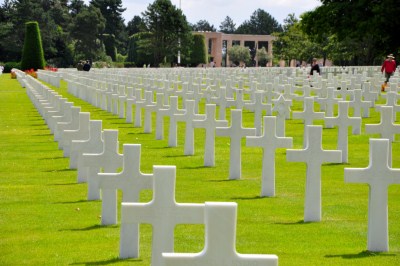 Men of the Second Ranger Battalion, led by Lt. Col. James Rudder. Three companies of Rangers scaled a 100 ft cliff with ropes and ladders, under fire. to secure the cliffs. Of the 225 men who assaulted this cliffs, 135 were wounded or killed. After two days of fighting, only 90 could still bear arms.
They took the cliffs. At a terrible cost.

Many of their comrades rest here, in honored glory.
This is what Memorial Day is about.

My favorite Reagan speech is the one where he remembered them,
Faith, and belief. Loyalty and love.
May they be remembered forever.

posted by Dave In Texas at
08:04 PM
|
Access Comments