« The Boys of Pointe du Hoc
|
Main
|
Overnight Open Thread »
May 26, 2012
Sat. Nite Chess Thread 05-26-2012 [OregonMuse]
Good evening fellow chess nerds, and what better way to spend the Memorial Day weekend than to abandon your friends and families, forgo all the barbecues, beer-drinking, celebrations, having a real life, etc., and hanging out here in the Saturday Nite AoSHQ Chess Thread.
So now that nobody is here, let's get down to business:
Chess Boxing - WTF?
I can't imagine two pursuits that are as completely different from each other as these two - even though their respective fans often discuss them in terms of the other, i.e chess games are "slugfests" and certain boxing matches are described in terms of problem-solving.
So here's a video that is a prettty good introduction to this sport. Personally, I can't imagine having to play chess after taking a few blows to the head, but there you are.

Here's an endgame problem that's been driving me nuts: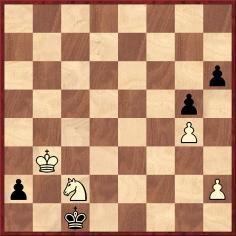 White to move
I'm not going to post the answer, because I don't know it. I don't even know if this is a win or draw, or what, just 'White to move'. I stole this puzzle from Edward Winter's excellent Chess History site, which is absolutely crammed with fascinating historical chess tidbits, trivia and arcana, including tons of original source documents. It's amazing what Winter manages to come up with month after month.
I've always liked these endgame studies because the positions look like they could occur in an actual game. This is in contrast to some of the 'Mate in...[2,3]' problems where the pieces appear to be distributed on the board randomly.
Game of the Week
This week's famous chess game is Adams v. Torre, 1920. Black gets into back rank trouble and is on the ropes. White dances around like a boxer trying to force the Black Queen out of position so he can land telling blows on Black's soft underbelly. I couldn't find a good video of the complete game on Youtube, but I did find a good discussion of the crucial part of the game -- right before Black throws in the towel.

You can play through it yourself here. The Chessgames annotation for this game notes that it is 'probably analysis'. Which means, what, that it never really happened?
Chess Books That Should Be Updated to Algebraic(3rd in a series):
Ludek Pachman's Modern Chess Strategy is yet another item in the Dover catalog that would really benefit from being updated to algebraic. In my younger days, I spent many hours studying and playing through the clear, concise examples in this book.
Thanks to those of you who have sent me tips for this thread. They may be sent to me at
OregonMuse
and then the at sign
followed by yahoo
and then dot
com


posted by Open Blogger at
08:45 PM
|
Access Comments