« Five Things That Can Change the Wisconsin Recalls
|
Main
|
Top Headline Comments 5-18-2012 »
May 17, 2012
Overnight Open Thread (5-17-2012)
Why Class Warfare Fails in the US
Because it turns out that a strong majority of Americans don't mind the rich and would like to join them one day.
And the percentages haven't really changed in over twenty years which leads to continual consternation among leftists who are always convinced there's a huge hidden appetite for class warfare among the American proletariat just waiting for the right candidate to tap into.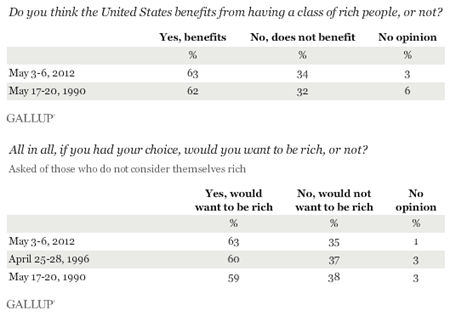 Plus Your Government Hard at Work:
Yes - You Can Legally Hunt Bigfoot (in some states)
No - Illegal Aliens Can't Own Guns
And Yes - We're Totally Willing To Share Movie Profits With Drug Dealers
(note that they were smart enough to get paid upfront rather than through the usual Hollywood Accounting rules)
Jonah Goldberg: Get Off My Political Lawn You Damn Kids
And I agree.
In fact I felt more or less the same way even when I was a 17-year old kid. Of course back then I knew a good amount for a youth-type but I also knew that there was A LOT I didn't know.
So I guess I was lucky that several of the adults in my life then were smart, very knowledgeable, and aware. Enough so that I never had the luxury of deluding myself that I or my friends somehow had special insights into life or politics not available to say those over the age of 30.
So why all the focus on the youth vote and "millennials" in politics? Goldberg says young people having so much influence in a society is unhealthy.

"My view is, they're going to run the country some day, so we should really explain why they're so frickin' stupid about so many things," he said.

..."It is a simple fact of science that nothing correlates more with ignorance and stupidity more than youth," the National Review Online editor said in an interview. "We're all born idiots, and we only get over that condition as we get less young."
Pin-Up Girls - Before and After
Most of the pin-up pictures you've seen probably had a real-life inspiration. Ah the travails of a working cheesecake artist...
And if you enjoy this, it's because you're an sexist hawt chick-objectifier who's probably a class criminal too:
KS
May 16, 2012 at 7:31 am · Reply

It's a Barbie thing and it does take personality out of it. They are well done technically, but the beliefs and treatment of women that these painting represent is disgusting. Making the faces interchangeable is a way to objectify.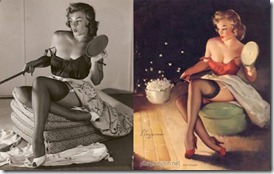 Hot Missile Porn
Ah remember how in the 80's anti-nuke activists and affiliated scientists swore up and down that Star Wars-type missile defense would never, ever, NEVER work  and by the way would take at least 50 years and a hundred billion, trillion, quadrillion dollars of development even if it did work - which it totally won't - and plus it'll just make the Soviets attack us first in self-defense.
Well they can suck my big fat skeptical dick is what they can do.
At 8:18 p.m. Hawaiian Standard Time (2:18 a.m. EDT May 10) the target missile was launched from the Pacific Missile Range Facility, located on Kauai, Hawaii. ...Following target launch, the USS LAKE ERIE detected and tracked the missile with its onboard AN/SPY-1 radar. The ship, equipped with the second-generation Aegis BMD 4.0.1 weapon system, developed a fire control solution and launched the Standard Missile-3 (SM-3) Block IB interceptor.

...The SM-3 maneuvered to a point in space, as designated by the fire control solution, and released its kinetic warhead. The kinetic warhead acquired the target, diverted into its path, and, using only the force of a direct impact, engaged and destroyed the threat in a hit-to-kill intercept.
The Rise and Fall of Dark Warrior Epilepsy
Of all the names for a neurological disorder in the history of medicine, the most awesome has got to be 'Dark Warrior epilepsy'.

The condition was reported in a 1982 edition of the British Medical Journal and was so named because the patient had seizures - but only while playing the Dark Warrior video game.

The patient was a 17-year-old girl whose father was a video game engineer. He fixed the arcade machines and so she got to play for free.

Curiously, the case report mentions that she had already mastered Space Invaders, Asteroids, and Lunar Rescue.
It turns out that this was caused by a case of reflex epilepsy - epilepsy brought on by very specific stimuli:
But actually, reflex epilepsy is very diverse. Some people will have seizures triggered by certain smells, or certain patterns, or certain emotions, or certain tunes, or even doing certain sort of problem-solving - like mental calculation.

Some of the early cases of computer-triggered epilepsy were caused by certain flash sequences in games, which are now not included by common consent.
Here's a video of the game - watch it if you dare.
(AoSHQ LLC not responsible for anything - ever - and by the way we have no assets and are quite likely legally insane in most jurisdictions.)
A collection of douchebaggery in pictures.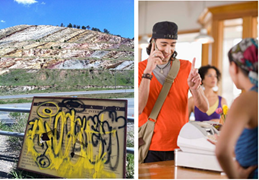 There's a Bikini Hockey League now
Lingerie Football, move over. Make room for the Bikini Hockey League. A sport where women will trade ice skates for inline skates and hockey jerseys for, you guessed it, bikinis. The league is in its infancy and will start with a reality show pilot to gauge interest. So, for the moment, this appears to be an idea hashed on a night with too many tequila shots. They do have a website though and a Twitter and Facebook account, although, in fairness, pretty much any schlub could do that.
Hey isn't there a lot of hockey in fighting and wouldn't it be a total shame if somehow someone's bikini top got torn off? Like in every single match.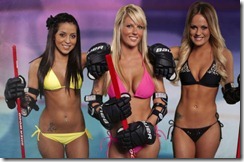 Yahoo group. That is all.
And my Twitter spew.
Tonight's post brought to you by the hippest hipster ever: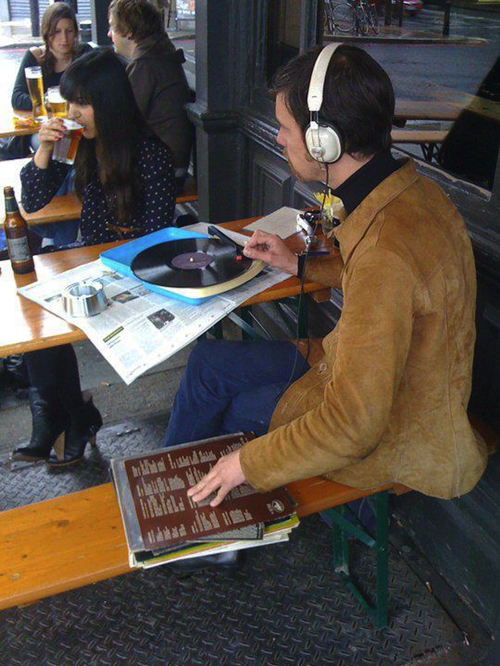 Notice: Posted by permission of AceCorp LLC. Please e-mail overnight open thread tips to maetenloch at gmail. Otherwise send tips to Ace.

posted by Maetenloch at
09:25 PM
|
Access Comments