« Womens War On Obama
|
Main
|
Chris Matthews, Who Repeatedly Urged a Jeopardy Test To Determine Palin's Qualifications, Fails Jeopardy Test »
May 15, 2012
No Big Deal, But Obama's Friend Tried to Pay Off Reverend Wright
Pardon me if this is already old.
A new book by Edward Klein called The Amateur alleges that a friend/supporter of Obama tried to pay Reverend Wright $150,000 to just go away and be quiet.
Now, the saving fact here for Obama is that this came from a friend so Obama can pretend this wasn't done at his behest.
The trouble is, immediately after Wright refused the bribe, Obama then met with him and tried to sugar-talk him into doing the same thing.
"After the media went ballistic on me, I received an e-mail offering me money not to preach at all until the November presidential election," Wright told Klein, according to the New York Post, which obtained the excerpts.

That's when Obama himself got involved, Wright said, and made a personal plea to keep Wright out of the spotlight.

"Barack said he wanted to meet me in secret, in a secure place. And I said, 'You're used to coming to my home, you've been here countless times, so what's wrong with coming to my home?' So we met in the living room of the parsonage of Trinity United Church of Christ, at South Pleasant Avenue right off 95th Street, just Barack and me. I don't know if he had a wire on him. His security was outside somewhere."

Wright added that Obama seemed more concern about his political circumstances than Wright's personal well-being.

"And one of the first things Barack said was, 'I really wish you wouldn't do any more public speaking until after the November election.' He knew I had some speaking engagements lined up, and he said, 'I wish you wouldn't speak. It's gonna hurt the campaign if you do that.' … I said, 'I don't see it that way. And anyway, how am I supposed to support my family?' And he said, 'Well, I wish you wouldn't speak in public. The press is gonna eat you alive.'"

Klein then revealed the name of the guy who offered Wright $150,000.
"Well, what happened is that after ABC's Brian Ross broadcast the video tapes of the Rev. Wright 'God damning America' and slamming whites and slamming Jews and America, he was contacted by one of Obama's closest personal friends — a guy who travels on Obama's plane, who plays basketball with him, who goes on vacation with him," Klein said. "His name is Dr. Eric Whitaker. Dr. Whitaker is the vice president of the University of Chicago Medical Center and he's a member of Obama's very tight inner circle. And he sent an email to a member of the Trinity United Church of Christ."
Does that hospital sound familiar? Oh, it sure does.
Klein reminded listeners that Whitaker's hospital is the same one that paid first lady Michelle Obama $316,962 a year to handle community affairs for the University of Chicago Medical Center while her husband served in the U.S. Senate.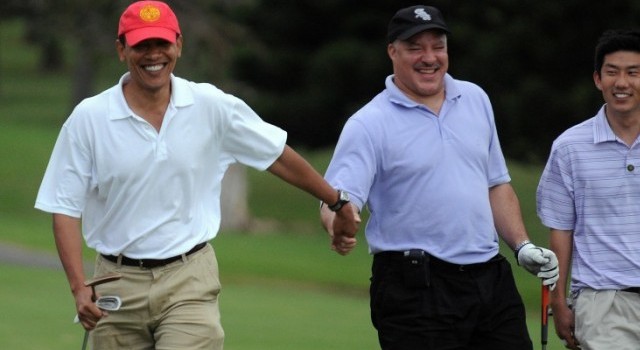 As a commenter here is always doggedly pointing out, the hospital did not fill that job after Michelle Obama left it -- leaving one scratching one's head imagining what sort of job is so critical that you have to pay someone such a large salary to perform, and yet is simultaneously so unnecessary you can terminate the position entirely when the apple of your eye packs up for DC.
And of course there's still more, and I don't even mean the allegation that Obama appreciated that Wright helped him "convert" to Christianity without having to repudiate his "Islamic background."
I mean this good friend Whitaker is being nicely treated by the taxpaying public.
That's the same guy who... got a "glowing" reference from Obama for Tony Rezko, which led to Rod Blagojevich hiring Whitaker to be the state's public health director; and the same guy whose UHI program just got nearly $6 million from HHS as one of 26 grantees in an applicant pool of 3,000.
The six dollar million man? Indeed he is.
The Department of Health and Human Services last week announced it had awarded a $5.9 million grant to a University of Chicago Medical Center program tied to Michelle Obama and run by Eric Whitaker, one of President Obama's closest friends.

The Urban Health Initiative, which received the award, was originally based on a smaller program launched during the last decade by Michelle Obama, who was an executive at the University of Chicago Medical Center before she departed to become first lady. The UHI is headed up by Obama basketball and golf buddy Whitaker, who has known the president since Obama's days in law school and who also vacations with the first family.

Obama senior adviser Valerie Jarrett also has ties to the UHI.
I'm wondering why this isn't the Number One story in America.
But the answer is obvious. This story kills Obama -- ends the election now, over, done -- so it cannot be a story.
That's why it's up to us.
The media will not report this so there isn't any point whining about it.
It's up to us to report it, to publish it far and wide, to make sure every citizen in this country is aware of this bribe and the Chicago Way.

posted by Ace at
11:25 AM
|
Access Comments