« President Gutsy Call: Okay With Giving Campaign Speeches in Afghanistan; Too Craven To Give Them In North Carolina
|
Main
|
Think It's a Farcical Hypothetical That The Government Could Order You To Eat Your Broccoli? Think Again. »
May 08, 2012
Fauxcahontas Warren's Family Lore Is In Heap Big Trouble
Bonus Update: Warren Never Attended Native American Events at Harvard, Says Harvard's Native American Program Executive Director
I don't know how you say schadenfreude in smoke signal, but Granny Warren's "Native American" ancestor probably did:
For over a quarter of a century, Elizabeth Warren has described herself as a Native American. When recently asked to provide evidence of her ancestry, she pointed to an unsubstantiated claim on an 1894 Oklahoma Territory marriage license application by her great-great grand uncle William J. Crawford that his mother, O.C. Sarah Smith Crawford, Ms. Warren's great-great-great grandmother, was a Cherokee.

After researching her story, it is obvious that her "family lore" is just fiction.

As I pointed out in my article here on Sunday, no evidence supports this claim. O.C. Sarah Smith Crawford had no Cherokee heritage, was listed as "white" in the Census of 1860, and was most likely half Swedish and half English, Scottish, or German, or some combination thereof. (Note, the actual 1894 marriage license makes no claim of Cherokee ancestry.)
But wait, there's more ...
Jonathan Crawford, O.C. Sarah Smith Crawford's husband and apparently Ms. Warren's great-great-great grandfather, served in the East Tennessee Mounted Infantry Volunteer Militia commanded by Brigadier General R. G. Dunlap from late 1835 to late 1836. While under Dunlap's command he was a member of Major William Lauderdale's Battalion, and Captain Richard E. Waterhouse's Company.

These were the troops responsible for removing Cherokee families from homes they had lived in for generations in the three states that the Cherokee Nations had considered their homelands for centuries: Georgia, North Carolina, and Tennessee. (emphasis added)
The Trail of Tears, Warren. You own it.
Now, it's pretty obvious that people in the stands at a Braves game doing the "tomahawk chop" are as Indian as Elizabeth Warren, yet she had no problem making this claim for decades, based on nothing more than a rumor, to take advantage of the Democrats' check-the-box system of racial spoils.
Of course, she couldn't be bothered to keep up even the vaguest of appearances. She's crusading for Social Justice™, man. Don't bring her down by asking her to powwow with actual Indians. Besides, she lives in Cambridge, Massachusetts, and they aren't exactly easy to find around there. Oh, wait ...
Senatorial wannabe Elizabeth Warren, aka Fauxcahontas, said she listed herself as a minority in law school directories because she was hoping to meet others with Native American roots. So isn't it a shame that Liz took a pass on last weekend's 17th annual Harvard Powwow????

The Harvard Law School prof was campaigning on the North Shore last Saturday while Harvard's Native American Program filled Radcliffe Yard with Native American singers, dancers and drummers.
Why would they have such a thing at Harvard, you ask? Well, according to the school's 1650 charter:
WHEREAS, through the good hand of God, many well devoted persons have been, and daily are moved, and stirred up, to give and bestow, sundry gifts, legacies, lands, and revenues for the advancement of all good literature, arts, and sciences in Harvard College, in Cambridge in the County of Middlesex, and to the maintenance of the President and Fellows, and for all accommodations of buildings, and all other necessary provisions, that may conduce to the education of the English and Indian youth of this country, in knowledge and godliness: ... (emphasis added)
My, how far we've fallen from such noble purposes. Somewhere along the way, Harvard, which refuses to comment on whether Warren is the person listed as their sole Native American professor, forgot about both godliness and the Indians. In all but a thin veneer, anyway.
On a related note, the Warren campaign recently offered the photo below the fold as conclusive proof of her Native American ancestry, but I'm not buying it.
Update [ace]:
You know what I need?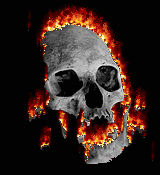 A flaming skull with a feather sticking out the back of the skull.
Anyway, Fauxcohantas didn't attend Harvard's rich diversity of Native American cultural heritage lbahohhoohho. Sorry, that sentence got so full of meaningless PC buzzwords I fell asleep.
She didn't even attend 1/32nd of them -- and really, she should have.
1/32nd. That wouldn't have been so hard. Pretty much like once a year for three hours.
But no.
Never.
Shelly Lowe, executive director of Harvard University's Native American Program (HUNAP), told Breitbart News today that U.S. Senate candidate Elizabeth Warren had not, to her knowledge, participated in the program's events while Warren was a professor at Harvard.

Last week, Warren explained that she had listed herself as Native American "in the hopes that it might mean that I would be invited to a luncheon, a group something that might happen with people who are like I am." However, she had not been involved in HUNAP, the most obvious avenue for meeting fellow Native American faculty and students.

posted by Andy at
02:32 PM
|
Access Comments