« The Fox Panel on That "Heroes Don't Spike the Football" Ad
|
Main
|
Overnight Open Thread (5-03-2012) »
May 03, 2012
Wisconsin Recall Projection Updated 5/3/2012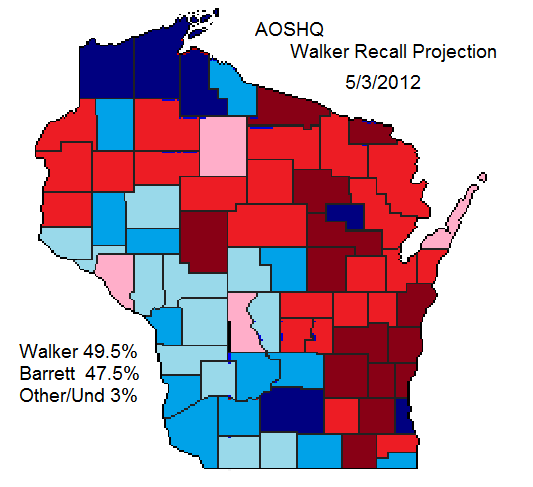 A drop for Walker, a rise for Barrett, with Walker still leading the race. Barrett will beat Falk, barring enough Republican voters causing mischief, next Tuesday.
Barrett benefits from re-framing the election, unfairly in my opinion, to "jobs" when the whole point of the recall was payback from the unions for Walker daring to actually balance the budget at their expense, rather than (as it always has been) the expense of the taxpayers. If I were Kathleen Falk, I would be privately seething right now that a guy who used Walker's reforms and oversaw job losses himself is going to be...the guy to unseat Governor Evil. But that's just me using, you know, logic.
How the projected share is calculated:
First, I calculate available two-name polling in same screens (LV), averaging the two. I then weigh the polls based on "freshness", and see if a particular trend pops up, and whom that trend benefits. That trend in favor of one candidate is applied to much of the remaining undecideds/leftover vote and voila.
How the map is generated:
Maps are based on available county data from previous cycles. Walker's 2010 win over Barrett serves a nice data point, with him carrying the state by roughly 6. Prosser's 2011 election serves as another good source, wherein he carried the state by under half a point. Bush's 2004 race is the most recent close loss for a Republican, that data is also considered. I simply watch the counties as their share for R/D move relative to R support statewide, and there you go.
I hope we start to see a lot more polling data out of this state, being that all political eyes are going to be on Wisconsin for the next five weeks. Rasmussen, Mason-Dixon, Survey USA, Opinion-Dynamics, hell even the major news networks have all been absent through the process. Rasmussen did a generic recall/don't recall number in March, Marist the same. But much of my data is based on two existing polls: Marquette U and the PPP poll commissioned by Daily Kos. Here's to seeing a wider sample in the coming weeks.
Follow me on twitter for more polling and projection updates.


posted by CAC at
08:16 PM
|
Access Comments