« Ted Nugent Meets Secret Service
|
Main
|
Holy Shit I Am Watching A Movie Nearly Ejaculatory In Its Awfulness »
April 19, 2012
Overnight Open Thread (4-19-2012)
"Teaching as a Subversive Activity"
Here Zombie exposes what goes on at a typical educational conference - this time at UC Berkeley:
Because this was a presentation aimed at education insiders only, the lecturer, retired professor H. Douglas Brown from S.F. State, seemed perfectly willing to let the cat out of the bag about political indoctrination on college campuses. Fortunately, I had my trusty camera with me, so I was able not only to snap a few pictures but also record several key portions of his speech, which I found so eye-opening that I felt the general public deserved to hear it as well.

...Let it be noted that Professor H. Douglas Brown is no wild-eyed extremist; in fact, he's rather bland and respectable and not the most thrilling of speakers, as you will soon hear. But that's what made his presentation so disturbing: radical and self-admittedly "subversive" attitudes that affect the future of society are discussed with matter-of-fact nonchalance.

The main drawback of Professor Brown's verbal style (at least from my point of view) is that he often resorts to the academics' tried-and-true escape hatch, which is to rephrase statements as questions, so as to have plausible deniability if later confronted. Thus, for example, instead of just flatly saying something like "We should indoctrinate students with leftist ideologies," he asks "Should we indoctrinate students with leftist ideologies?" and only after five minutes of talking in circles eventually concludes "Yes."
Read the whole thing but I just want to point out that is a classic example of a common (perhaps even universal) affectation on the left: which is that they are all oppressed dissidents in the US and their most minor protests somehow make them members of the brave underground American Maquis.
Even when in fact they're actually in charge of large parts of the establishment and the worst oppression they face daily is having to park in the old faculty parking structure which requires an extra 2 minute walk to get to the fair-trade coffee co-op in the morning.
But then it's always more fun to live out a fantasy of being a secret freedom fighter against The Man rather than say the less thrilling reality of trying to do your job well and sweating the little details that keep the wheels of society running.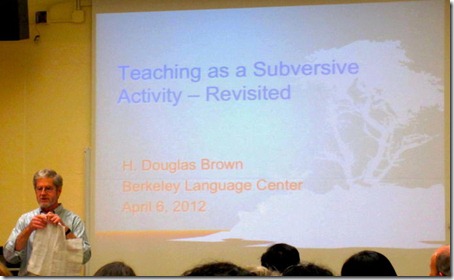 Amish Spring Break: Girls Gone Kinda English
I had no idea but it turns out that Pinecraft, FL is a popular spring vacation destination for Amish and Mennonites, where the usual social rules don't apply and they can even <horror> use cellphones, electricity, and even the inter-webz. There might even be Amish reading this sordid little website even now. And best of all -  what happens in Pinecrest, stays in Pinecrest.
Walking around Pinecraft is like entering an idyllic time warp. White bungalows and honeybell orange trees line streets named after Amish families: Kaufman, Schrock, Yoder. The local Laundromat keeps lines outside to hang clothes to dry. (You have to bring your own pins.)

.Many travelers I spoke to jokingly call it the "Amish Las Vegas," riffing off the clich'e that what happens in Pinecraft stays in Pinecraft. Cellphone and cameras, normally off-limits to Amish, occasionally make appearances, and almost everyone uses electricity in their rental homes. Three-wheeled bicycles, instead of horses and buggies, are ubiquitous.

"When you come down here, you can pitch religion a little bit and let loose," said Amanda Yoder, 19, from Missouri. "What I'm wearing right now, I wouldn't at home," she said, gesturing at sunglasses with sparkly rhinestones and bikini strings peeking out of a tight black tank top. On the outskirts of the village, she boarded public bus No. 11 with six other sunburned teenagers. They were bound for Siesta Key, a quartz-sand beach about eight miles away.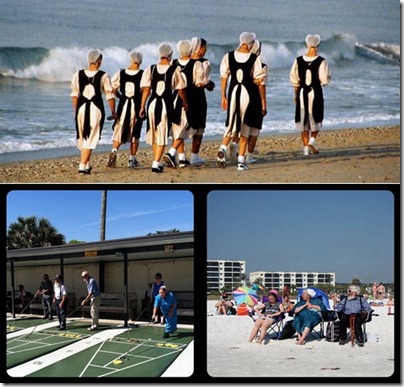 Remembering the Doolittle Raid
I was remiss yesterday in not pointing out that it was the 70th anniversary of the famous Doolittle Raid on Japan.
The Raiders, unaware of their mission, departed from the USS Hornet 965km east of Japan. A chance encounter with a Japanese fishing boat, which they destroyed, forced the Raiders to leave early, meaning they would not have enough fuel to make it to their planned landing in China.

As a result, following the bombing, 15 of the planes crash-landed in rural China, while the 16th bomber made it to Russia. The Raiders were aided by Chinese peasants, thousands of whom were later killed by the Japanese for their support of the Americans, Glines said.

Of the 80 Raiders, three died during the landings and eight were captured by the Japanese. Three of those captured were executed, one died in captivity, and four remained prisoners of war and survived the war.

The attack, which did not do much damage to Japan's munitions factories, shifted momentum in the Pacific conflict.

"The Japanese were completely surprised," Glines said. "They did not think the United States had the range for that type of attack." Japan brought more troops home to protect the mainland, leaving it vulnerable in the Pacific. Rejuvenated US troops took advantage, defeating the Japanese at the Battle of Midway two months later, turning the war for good.
Amazingly 5 of the Raiders are still alive and 4 were able to attend the Annual Doolittle Raid reunion in Dayton, OH yesterday.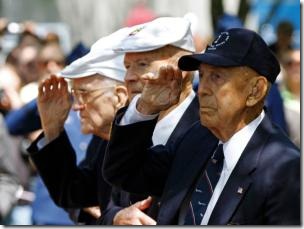 Pretty much everything you've ever seen online is just the surface part of the web. In fact there's an entire subterranean web network, the 'deep web', that lives hidden on the same networks:
Onion sites, so named because they end with ".onion", are hosted as Tor hidden services - a completely anonymous way to host websites. They're part of the deep Web - an invisible part of the Web that's not visible to search engines and normal users. It's full of websites for users obsessed with privacy and anonymity online.
Some of the seedy underbelly of the Web is located here, too, although many of the websites are probably scams, hoaxes, or just traps designed to catch people buying illegal services. There are good uses for .onion sites, though- for example, a political activist in a repressive country or a whistleblower could use a .onion site to upload and share sensitive data or communicate anonymously.

While browsing the deep Web, be careful what you click. While much of the content is no doubt entirely made-up, there's some horrifying imagery you could see if you're not careful - but then, there's horrifying stuff on the normal Web, too.
As always surf the web (and the under-web) at your own risk.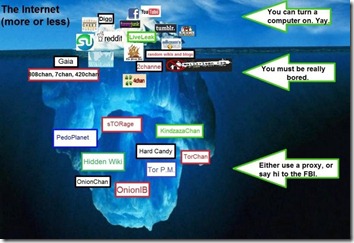 The Boston Busing Crisis of the 70's
Here Neo-neocon shows how a single judge, W. Arthur Garrity Jr., managed to come up with a school integration plan so unworkable and ill thought out that it enraged both black and white parents and more or less destroyed the Boston public education system. I remember seeing Boston busing protests on the news as a kid - little did I know how truly fucked up the whole situation was.
But Garrity showed little interest. He gave the city only 11 weeks to prepare for the biggest social experiment in its history. Worse, six days after the court order, he unabashedly admitted he had not even read the Master Plan prior to ordering its implementation.

...During Garrity's tenure as de facto school superintendent, public-school enrollment dropped from 93,000 to 57,000 and the proportion of white students shrank from 65 percent of total enrollment to 28 percent.
Well the May catalog is out and the current models are looking pretty good. According to reviews they're 20% less stabby than last year and are now totally 110% guaranteed not be Russian spies.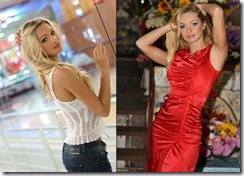 News You Probably Can't Use: Kangaroos Have 3 Vaginas
Apparently marsupial plumbing is..complicated:
This set-up is shared by all marsupials - the group of mammals that raise their young in pouches. Koalas, wombats and Tasmanian devils all share the three-vagina structure. The side ones carry sperm to the two uteruses (and males marsupials often have two-pronged penises), while the middle vagina sends the joey down to the outside world.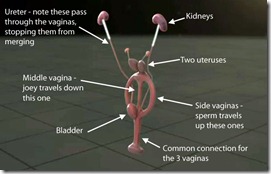 Yahoo group. That is all.
And my Twitter spew.
Tonight's post brought to you by not taking any chances with your health: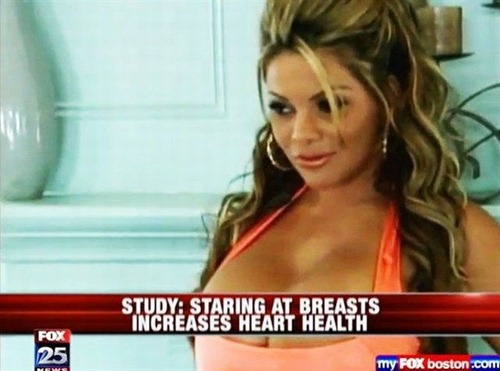 Notice: Posted by permission of AceCorp LLC. Please e-mail overnight open thread tips to maetenloch at gmail. Otherwise send tips to Ace.

posted by Maetenloch at
10:11 PM
|
Access Comments