« Zimmerman Prosecutor Beams A Smile As She Announces Murder Charges, And New Snapple Flavor, "Crangerine"
|
Main
|
Fox Mole: You Didn't Find Me
Fox News: Yeah We Did »
April 11, 2012
It's The Most Wonderful Time Of The Year... (tmi3rd)
Good evening, Morons and Moronettes, and we're pleased to continue the tradition of the last couple of years in bringing you AoSHQ's coverage of the Stanley Cup Playoffs.

I'm tmi3rd, and Drew M. and I will be doing weekly-ish posts to coincide with the weekend games on NBC. NBC has elected to team up with the NHL Network to cover every game live (utilizing CNBC, the NBC Sports Network, the NHL Network, and the free channel), so you'll be able to watch pretty much everything unfold in real time.

Below the fold, we'll have a brief preview of the three series openers going this evening.
First, a refresher on the rules...

So, we've got three series getting underway tonight. The first series to get started will likely be a memorable one, as these two teams DO NOT LIKE EACH OTHER.

#4 Pittsburgh Penguins vs. #5 Philadelphia Flyers

7:30 EDT, NBC Sports Network

First of all, pass the popcorn. Pittsburgh boasts two of the best players in the game in Sidney Crosby and Evgeni Malkin, and RW James Neal also chipped in 40 goals this season. There's a ton of Stanley Cup experience on the team (they won in 2008-09), a superb goaltender in Marc-Andre Fleury, and they have astonishing scoring depth.

Philadelphia are no slouches in the skill department either, boasting the likes of Claude Giroux, Scott Hartnell, Jaromir Jagr, and Max Talbot up front. Defensively, Kimmo Timonnen anchors a stellar back line, and this is a young Flyers team with tons of upside.

The story of this series may turn out to be goaltending... the Flyers' Ilya Bryzgalov has been somewhat inconsistent this year and has battled some injuries. He's backed up by Sergei Bobrovsky, who has finals experience from two years ago against Chicago.

I predict the Penguins will win this on firepower alone, but it should take at least six games. If you like the notion of two teams who have a visceral hatred for one another, I leave you with the following video:

#4 Nashville Predators vs #5 Detroit Red Wings

8 PM EDT, CNBC

As many of you know, the Predators are my team, and I got to know a few of those guys when I was doing news in Nashville. The Predators finished ahead of the Red Wings in the standings for the first time in the team's history, and this is a big year for the Predators in terms of their future.

The Preds signed their all-world goaltender Pekka Rinne to a long-term contract in the offseason, and Shea Weber and his defensive partner Ryan Suter (largely considered the best defensive pairing in the game) have made it clear to the team that they're willing to re-sign for the future IF the team commits to putting a winning team on the ice.

The Preds responded to this by going out and trading for C Paul Gaustad and D Hal Gill at the trading deadline to increase their depth, and they managed to coax RW Alexander Radulov back from Russia at the end of the season. Radulov is widely considered the best player in hockey that wasn't in the NHL, and optimism runs high in Nashville. There are six twenty-goal scorers on the team, and Nashville boasted the league's top power play. Optimism is high in Nashville, but so are expectations. It'll be interesting to see how this one plays out.

The Red Wings have been one of the best organizations and teams in hockey in the 20+ years I've been following the sport. They last won the Stanley Cup in 2007-08 (defeating Pittsburgh), and their lineup is a cavalcade of All-Stars and probable Hall of Famers. They boast one of the best defensemen to ever play the game in Nicklas Lidstrom, and he's accompanied by superb forwards like Pavel Datsyuk, Johan Franzen, Todd Bertuzzi, and Darren Helm. G Jimmy Howard was the best netminder in the league in the first half of the year, but battled injuries in the second half.

I can't give you a non-emotional prediction here, so I'm not going to try. These teams don't like each other, and the fans utterly hate each other. Both barns are loud, but I'd give a very slight edge in volume to Nashville. Either way, this should be an AWESOME series, and I'm going to take my Preds in 7.

#1 Vancouver vs. #8 Los Angeles

10:30 EDT, NBC Sports Network

This one actually shows some promise, which is not always the case with the 1 vs 8 matchup. Both teams come in a little banged-up... Vancouver is missing its all-star center in Daniel Sedin, who is sitting out with a concussion via the elbow of Chicago's Duncan Keith. Los Angeles is short C Jeff Carter due to an ankle injury.

Vancouver are the defending Western Conference champs, and winners of the President's Trophy (best regular-season record). It's been an off year for C Ryan Kesler, who scored 40 goals last year. This year, it's closer to 20. Nonetheless, the Canucks picked up monstrous winger Zack Kassian, faceoff specialist Sami Pahlsson, and augmented their top six forwards with David Booth. They're deeper than they were last year, and their top four defensemen (Dan Hamhuis, Kevin Bieksa, Alexander Edler, and Sami Salo) are excellent.

There is something of a question mark in net, however... Roberto Luongo will show you flashes of true brilliance, but will then flail around and give up the occasional head-scratcher goal. He is backed up by Cory Schneider, who will make a ton of money next year as the starting goaltender for someone else. The hook will be quick on Luongo if he starts to implode like he did last year.

Los Angeles has a ton of skill up front in Anze Kopitar, Jeff Carter, Justin Williams, Dustin Brown, and Dustin Penner, and are a mighty #2 in goals against and #4 on the penalty kill, but are a mind-bogglingly-low 29th in goal scoring. The story for LA is G Jonathan Quick (another reason to feel good about the future of USA Hockey), who has ten shutouts on the year. If LA had any scoring punch at all, they'd be Cup favorites.

Vancouver has a lot to prove to themselves and to the world, but that doesn't mean they're going to walk all over Los Angeles. Vancouver should win this one, but it should take them at least six games.

I'll be floating around this evening to answer questions, and hopefully, we'll get Drew to sneak through at some point... he's been crazy-busy of late, but we're excited to bring you another year of playoff hockey! Thanks for reading.

--tmi3rd

P.S.- Sorry, forgot to add cheerleader pic. Here's a pic of Mrs. Mike Fisher of the Nashville Predators, Carrie Underwood.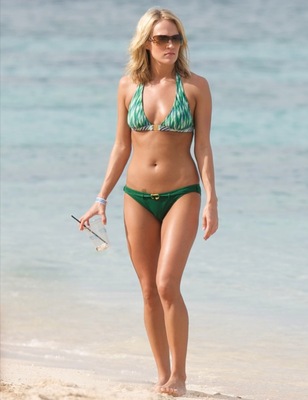 posted by Open Blogger at
06:08 PM
|
Access Comments