« Bobby Fischer vs. Yefim Geller, 1961
|
Main
|
Sunday Morning Open Thread »
March 24, 2012
Overnight Open Thread
Well, since it looks like gas prices are going to be a major staple in this election or at least the summer, I thought it might be beneficial to see how much our government takes out of your wallet. The American Petroleum Institute has a handy dandy link (updated quarterly) that shows just how much the government makes takes. California, yeah, you're boned. Do note that the states with the highest taxes are mostly Democrat which could make the election very interesting if they don't buy into the oil companies are evil and stealing us blind BS. As a bonus, EagleSpeak had an excellent blog post on energy.

Of any given barrel, according to the Texas Oil and Gas Association, only about 19.5 gallons of gasoline are derived from an average barrel of crude. That's less than 1/2 of the barrel, but let's say we could actually by that 1/2 barrel for 1/2 the price of a whole barrel - it would cost $52 for 19.5 gallons or $2.67 per gallon (at $120 barrel it would be $3 per gallon). According to the U.S. Energy information agency, 76% of the price of gas at the pump is attributable to the cost of crude (see here), 11% to distribution, marketing and refining and - 12% to taxes. Your local taxes may vary. Here in North Carolina, it's about $.35 gallon. According to this site, Exxon (for example) makes about $.02 per gallon profit, or about 1/15 of what the state takes in.
Yeah, that's right. The government takes the biggest cut. Oh by the way, this won't help gas prices.
East Coast To Lose 50% Of It's Refining Capacity
. Gee, I wonder why that is?
New Air Force Bomber Sighted
Damn those budget cuts.
Sex News
That sound you hear? Just a bunch of egos going pfffftttt. Why Women Moan During Sex.

Last year, Gayle Brewer of the University of Central Lancashire and Colin Hendrie of the University of Leeds published their research on the topic - technically known as "copulatory vocalization" - in the Archives of Sexual Behavior. In the study, they asked 71 sexually active heterosexual women between ages 18 and 48 for more details about vocalization during sex.

The researchers found that many of the women did make noise, but not necessarily while they were having an orgasm. Instead, 66% said that they moaned to speed up their partner's climax, and 87% stated that they vocalized during sex to boost his self-esteem.
Bonus news for the 'ettes who ride a bike: Bicycle Handlebar Position Affects Female Genital Sensation. If your handlebars are lower than the saddle, you could suffer permanent loss of good sensations.
Science Kitteh
h/t I Love F'in Science
Brain Training
This is pretty cool. Fun for the whole family! Play Games And Increase Brain Power.

Essentially, this site is meant to be like a gym for the brain. It's supposed to be able to improve memory, attention, and other cognitive areas, including better face-name recall, faster problem-solving skills, and a quicker memory. And like with a regular gym for physical fitness, regular training is required for results to show.
Man Island
Where's The Women At? I don't think this is gonna work. I hear that Andrew Sullivan and Barney Frank have already booked their trip though.
Doggeh vs Kitteh
Public Education
I guess one school district is finally establishing some standards after hearing of other school district teachers having relations with their students or finding out some Teachers Are Pron Stars (probably slightly NSFW although it is The Smoking Gun). School Bans Pron Star From Attending Prom With Student. He should've kept it on the down low.
Katy Perry A Marine?
Clown Terrorists?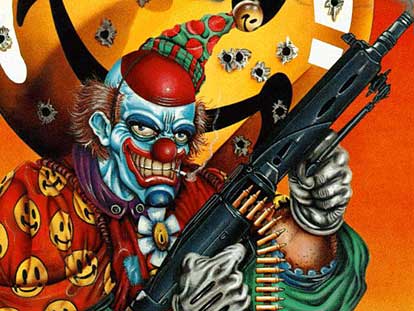 Beware of the Al Queda Clown Posse. Clown Caught Trespassing On Bellingham Rail Road Tracks. Nothing to see here. Just Saudi college students.
h/t Genghis
MSN Elite Cars
I really can't take this list of 8 Elite American Cars seriously when they list the Chevy Volt as the top American hybrid car. Really? The one that just got recalled and can't sell worth shit without the Prez increasing subsidies? The Ford Escape hybrid is far better than the Volt for that category.
New Titanic Images
Well we're coming up on the 100 year anniversary of the sinking of the Titanic and National Geographic has published a new article on it with some amazing new images. Unseen Titanic.
Tonight's ONT brought to you by Chemjeff's pron collection:
Notice: Posted by permission of AceCorp LLC. Please e-mail overnight open thread tips to maet or CDR M. Otherwise send tips to Ace.
PUT TEXT YOU WISH TO USE AS VISIBLE LINKING-LANGUAGE HERE
&topic=world_news">

posted by CDR M at
10:05 PM
|
Access Comments