« The Skeptics' Case Against Global Warming
|
Main
|
Top Headline Comments 3-1-12 »
February 29, 2012
Overnight Open Thread (2-29-2012)
The Incredible Shrinking Papers
The death spiral of newspapers continues:
The decline in newspaper ad revenues to a 60-year low is amazing by itself, but the sharp decline in recent years is pretty stunning. Last year's ad revenues of about $21 billion were less than half of the $46 billion spent just four years ago in 2007, and less than one-third of the $64 billion spent in 2000.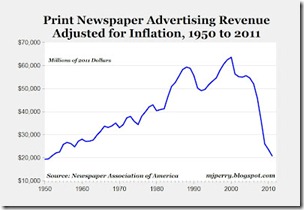 Given this many papers have grasped at online readership as way to save themselves but have managed to screw that up as well.
One of the few papers that's succeeding online is the UK's Daily Mail who seem to have found  a winning formula: Giving readers the kinds of stories they actually want to read - celebrity and crime news, stories about health and bikinis, and some sports and politics - along with lots of pictures and punchy titles. Basically everything that makes J-school graduates weep.
And not only are papers' revenues and readerships shrinking - but the papers themselves are getting physically smaller too. Here you can see a 2011 issue of the Los Angeles Times compared with the same paper in 1966.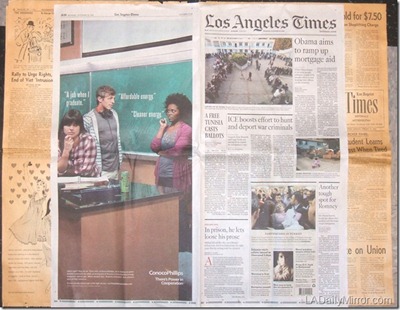 Guys Beware: Today Is Leap Day
So if a moronette tries to get you alone tonight to 'talk' - be afraid sure to mention that your new anti-virals sure help the oozing:
But a century ago, proposals by women were not only acceptable, they were a common occurrence-at least on February 29th.

The legend goes that St. Bridget of Ireland was frustrated that all the non-nun ladies in 5th century Ireland had to sit around waiting for proposals that might never come. She complained about it to St. Patrick who, probably impressed by Bridget's ability to turn her used bathwater into beer, finally proclaimed that women could have the chance to propose themselves once every four years on the leap day. This became known as "The Ladies' Privilege."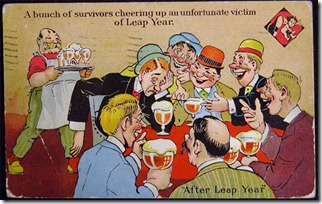 Shame of Britain: Man Drowns in 3 Ft of Water, 25 Emergency Workers Stand and Watch
This was Walpole Park in Gosport, Hampshire, on an overcast lunchtime last March when no fewer than 25 members of the emergency services, including a press officer, descended on a 3½ft-deep model boating lake minutes after Simon Burgess, 41, fell into the water when he suffered a seizure. But as an inquest heard last week, he lay floating face-down for more than half an hour while firemen, police and paramedics watched and did nothing.

The reason? Even though they could all swim, the first fire crew to arrive hadn't been 'trained' to enter water higher than ankle-deep. Instead they waited for 'specialists' to arrive to retrieve his body. They had decided Mr Burgess must surely be dead because he had been in the water for ten minutes. When a policeman decided to go in anyway, he was ordered not to. A paramedic was also told not to enter the water because he didn't have the right 'protective' clothing and might be in breach of the Personal Protective Equipment at Work Regulations 1992.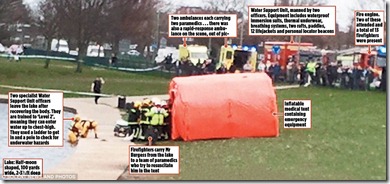 Okay correlation ain't causation but the bloom may be coming off the pork sandwich:
This is not a message that will go over well in the bacon-loving paleo world, but it is what it is. Pork consumption strongly correlates with cirrhosis of the liver (even more so than alcohol consumption), liver cancer, and MS. Even though most pork has a high omega-6 polyunsaturated fat profile, Jaminet doesn't believe that's the whole story.

Enter pathogens. Pigs have certain biological commonalities with humans, which make them a more dangerous vector for disease compared to other animals. For whatever reason, the types of viruses and bacteria that thrive in pigs also thrive in humans, and frequently jump from one to the other. And it's these pathogens, like Hepatitis E, that are contributing to liver disease and MS, argues Jaminet.

Jaminet's takeaway is to avoid pork products containing liver, intestine, and blood. Pork ribs or pork bellies may be a better choice. Just be sure to wash and cook them thoroughly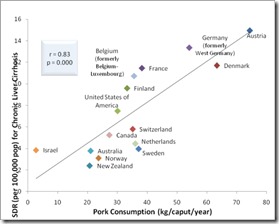 What The Sharp Dressed Army Officer Was Wearing in 1941
Weapons and tactics weren't the only things that evolved over the war.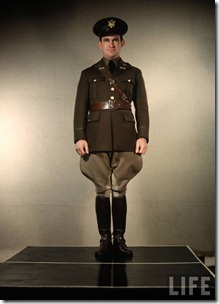 The World's Most Dangerous Golf Course
Yep the Korean DMZ has its own golf course.
Panmunjom's one and only hole is a 192 yard par three with an AstroTurf putting green, a gun tower, and LIVE MINE FIELDS in the rough! The hole is surrounded by the mine fields on three sides and it's been reported that at least one mine has exploded due to a big slice off the tee.

The hole was build to provide a bit of recreation for the 50 soldiers stationed there. Camp Bonifas (formerly Camp Kitty Hawk) was named in honor of U.S. Army Captain Arthur Bonifas after he and 1st LT Mark Barrett were murdered in the axe murder incident of 1976. Camp Bonifas is the UN's Joint Security Area that keeps an eye on the Armistice Agreement of 1953 made between the North and South.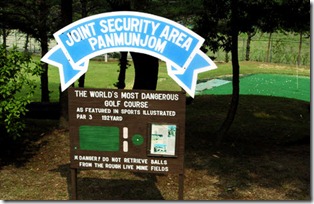 "We Will Rock You" Bagpipe Style
Pretty damn awesome. But I wouldn't advise letting this guy know where your post-apocalyptic gas refinery is located.
Don't seem very prepared for non-scripted doomsdays:
Very few people had thought their preparations through as well as they thought they had. One family had literally tons of food put by, but all in one location. One prepper in Houston planned to escape to Mexico (?!?!?), but didn't have enough gas to get there. Some didn't take practical steps to ensure their safety. It isn't difficult for someone to latch on to an idea or plan, but getting them to adapt is an entirely different matter. It is the ability to read changing conditions and adapt to them that often separates the survivors of a disaster from those that become victims.

Unsurprisingly, quite a few of the preppers were very resistant to suggestions from the experts. If disaster strikes, and scenarios don't unfold precisely the way they have envisioned, then these people, despite all their preparations and supplies, are little more than delayed victims.
Well I suspect that for many people on the show disaster prepping is more a Walter Mitty-eque fantasy than serious planning. Having multiple options and adaptability is the real survival trait.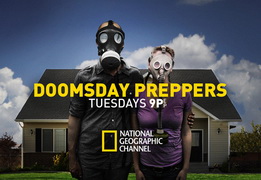 Teh Tweet!
Tonight's post brought to you by the Port Promenade of the Hindenburg: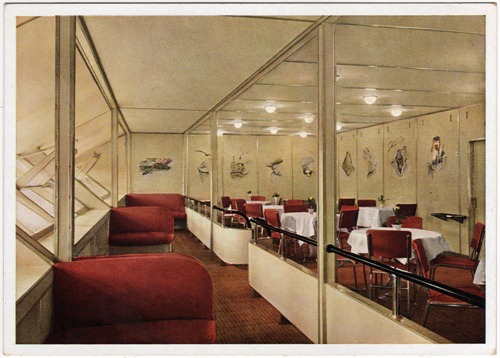 Notice: Posted by permission of AceCorp LLC. Please e-mail overnight open thread tips to maetenloch at gmail. Otherwise send tips to Ace.

posted by Maetenloch at
10:42 PM
|
Access Comments