« Saturday Morning Open Thread
|
Main
|
Unicorn Farts Are an Impractical Substitute for Oil »
February 25, 2012
Feb 25 1942: The Battle of Los Angeles
When people are freaked out they do freaky things.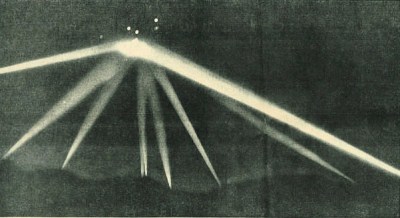 Shoot first and ask questions later becomes official policy of War Dept.
Shortly after the Japanese submarine I-17 successfully shelled an oil refinery near Santa Barbara, fear moved from the depths of the sea to the heights of the sky. First put on edge after the attack on Pearl Harbor, and then frightened two-fold by the ability of the Japanese to reach our coast as proven with the bombardment of Ellwood, the jumpiness of the military and civilians alike was more than reasonable. When Army radar spotted a blip 120 miles off the coast of southern California, an alert was sounded and shortly thereafter a blackout was ordered.

The varying reports of the morning's events represent the mass confusion and paranoia of the time. Some reported there were just a few planes, while others claimed to have seen several dozen aircraft. There were even reports that planes were shot down, when in reality, nothing was hit by the AA guns—except three civilians killed and a few buildings damaged by friendly fire. Guns fired at the flying object for more than an hour between 3:15 and 4:15 a.m. on 25 February 1942.
I guess that silly movie 1941 was more historically accurate than I thought.
via twitter feed WWII Today

posted by Dave In Texas at
10:16 AM
|
Access Comments