« Un Dead? Rumors Fly That Kim Jong-un Has Been Assassinated in Beijing
|
Main
|
Obama-Volt 2012: New Website Seeks To Make the Chevy Volt Obama's Running Mate »
February 10, 2012
Right on Cue: MSNBC Headline, Obama: Religious-backed organizations won't have to pay for birth control
That headline has now been changed to
Obama revamps contraceptive policy
Correction: No, it hasn't. Slublog tells me the headline above is the headline on the main page -- the headline below heads the actual article, on its own page. So on MSNBC's entry page, they're telling everyone that King Obama has fixed everything.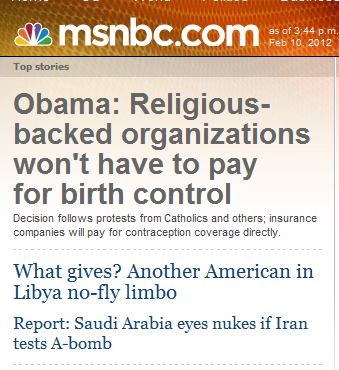 The story still claims he's compromised, which he has not.
There is no quote from a critic in the story, pointing out how absurd this is.
President Barack Obama announced Friday that the administration will not require religious-affiliated institutions to cover birth control for their employees.

Capping weeks of growing controversy, Obama said he was backing off a newly announced requirement for religious employers to provide free birth control coverage even if it runs counter totheir religious beliefs.

Instead, workers at such institutions will be able to get free birth control coverage directly from health insurance companies.
"Free" in what sense? Is it really free? Does it cost the insurer something? If it costs something (and it does), from what account does MSNBC imagine those costs will be paid?
The Pile of Free Money Just Sitting Around Looking For Some Use account?
"Under the rule, women will still have access to free preventive care that includes contraceptive services no matter where they work. That core principle remains," he said from the White House briefing room.

"Religious liberty will be protected and a law that requires free preventative care will not discriminate against women," Obama added.
Thanks to @slublog.
Rush rants about losing our liberty inch by inch, but I think that metaphor is wrong. This is a full foot, maybe a foot and a half.
He's taken one unconstitutional, tyrannical mandate and, to deflect criticism, simply asserted a new unconstitutional tyrannical mandate to cover the first.
Nevergiveup asked about possible legal action. I do not remember this area of the law (or any of them, really).
I do think there is a potential first amendment challenge here (free expression of religion).
Past cases have involved stuff like Indian shamans seeking first amendment protection for the use of illicit hallucinogenics (peyote) in ceremonies, similar claims about the use of marijuana in Rasta-type cults, and claims that practitioners of Santaria are exempt from animal-cruelty laws and thus can slaughter chickens and stuff in rituals.
In all of those cases, the first amendment challenge was rejected, on the idea that the government interest in these laws was high, and the laws were generally applicable, and thus a religious exemption should not be carved out to excuse people from general compliance with necessary and proper laws.
On the other hand, the courts have recognized a conscience objector status in war.
This case would be an easier call in one sense-- there is no very strong interest in the government mandating this (indeed, it seems like it has no true authority to do so in the first place).
But in the various Strange Cults cases, those involved religious organizations themselves, not people engaged in ordinary business affairs claiming a religious exemption. So that would be a harder call -- the courts would have to create a much bigger exemption, similar to the conscience objector status to war (which the courts found doesn't even need to be premised on a religiously-based objection, but a general moral aversion).
Is Anthony Kennedy a Catholic? The Internet thinks so but I don't know. If he is Catholic at all, he doesn't seem to much influenced by his Catholicism in his rulings.
Recent Ministerial Exemption Case: Commenters, such as Greg Q here, tell me a recent case played in this ballpark:
The Supreme Court recently decided that the "ministerial exception" to employment discrimination laws applied to basically anyone the religious organization said was a minister. No direct application to this case, but evidence that 5 Supremes do believe the 1st Amendment matters.
Interesting. But that involves direct interference in a religious organization. The exemption sought here would involve people not acting as part of a church contending their right to free expression of religion exempts them from following a law that offends their beliefs.
In that way, this would be tougher sledding, a bigger and broader exemption. And the courts don't like big, expansive rulings (unless they tend in the liberal direction, in which case they often are willing to roll the dice, as Barney Frank would say).

Lawsuit Filed: I'm sure there will be more complainants.

posted by Ace at
03:27 PM
|
Access Comments