« A Blatant, Frontal Assault On The Constitution's Separation of Powers, Thanks To The Weird Foreign Drifter in the White House
|
Main
|
Obama's Not Satan »
January 04, 2012
Overnight Open Thread
This is the special end of the year version of the Bill O'Reilly weekly quiz (that BOR has almost nothing to do with) and it's hard.
Even with educated guessing I only managed this score:


In my defense I did eat a lot of paint chips over the holidays so that may have played a role.
But the average score so far is only 10.73 so I'm an above average retard. And that's all it takes to make me Philosopher-King of all of Gardasilia.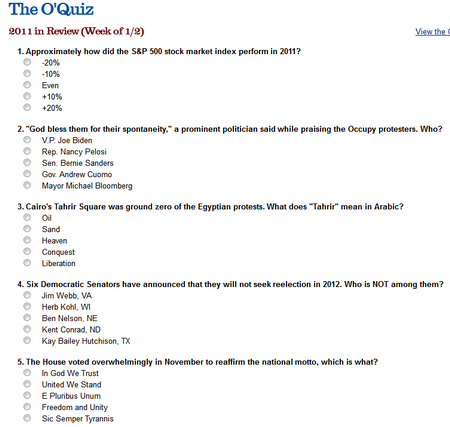 Do they actually have to support me, or can I just terrify them into supporting me by threatening them with death?

No, they absolutely have to support you on some level. You can't personally go around and terrorise everyone. Our poor old struggling Syrian president is not personally killing people on the streets. He needs the support of his family, senior generals who are willing to go out and kill people on his behalf. The common misconception is that you need support from the vast majority of the population, but that's typically not true. There is all this protest on Wall Street, but CEOs are keeping the people they need to keep happy happy—the members of the board, senior management and a few key investors—because they are the people who can replace them. Protesters on Wall Street have no ability to remove the CEOs. So in a lot of countries the masses are terrified but the supporters are not.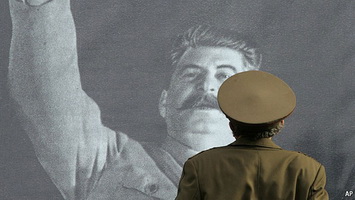 Shocker: Liberal Democrats Love Teh Socialism
Well maybe it's just never been really tried...oh wait.

Fox Nation pointed out this new Pew poll. There's a lot to look at but the real highlight in my view is the results for liberal Democrats aka progressives. Based on this survey, 59% of liberal Dems consider "socialism" a positive compared to just 31% of the population as a whole. Since that 31% includes liberal Dems as part of the total, the percentage would be even lower if they were removed from consideration.
The odd part is that even 12% of Tea Party supporters liked socialism.
Why Do Theaters Charge The Same For All Movies?
This has been one of my peeves for a longtime and I always assumed sheer Hollywood greed and idiocy, but here are some theories as to why they haven't gone to different prices:

So how come we're still stuck with $12 tickets for both blockbusters and indie flicks? A few theories:

1) Theaters do price discriminate already, kind of, but they do it with space. At the multiplex, not all theaters are alike. Bigger movies get more theaters with better technology. Smaller movies get older theaters with smaller screens.

2) You can't consistently cut prices after a successful opening weekend. If people knew that ticket prices would fall after a big opening, many more would wait until the second or third weekend to see it, which would, ironically, destroy the meaning of opening weekends.

3) Price can repel as easily as it attracts, because it's a signal of quality. If your a theater showing one movie for $6, one movie for $10, and another for $12, perhaps fewer people will see the $6 movie because they assume it's garbage.
How To Make Your Online Shopping Cart Suck Less
Would it kill them not to use letters that look the same in upper and lower case in CAPTCHA fields?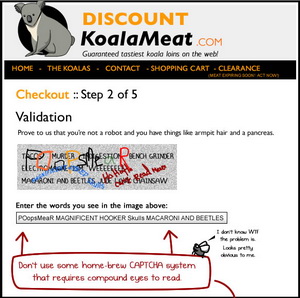 Dating Sites for Terrible People to Find Terrible Love
Why are so many women prudes who are always looking to disqualify available men?

"I like my coffee like I like my women," I said, sidling up to her.

"I don't like where this is going," she answered instantly. God, she was sharp. She saw it coming early, and if her ass kept bouncing around nervously like that, she'd see something else coming early soon enough.

"Full of my own semen," I suavely finished.

"Yep. That was it," Brooklyn answered, then stomped her way out of the double doors at GameBryoz, and my heart, forever.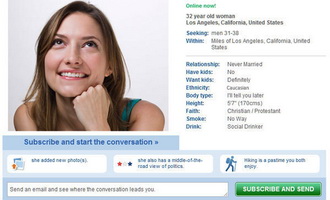 Dick Cheney's Kitteh
Thanks to the notorious Aries, shibumi.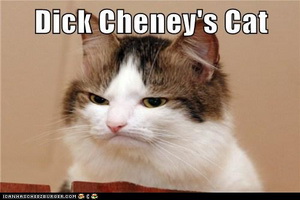 If You Were A Disaster, What Kind Would You Be?
Take this test and find out what your disaster personality is. Thanks to rdb.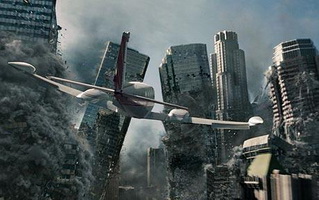 Tonight's post brought to you by enemy traps: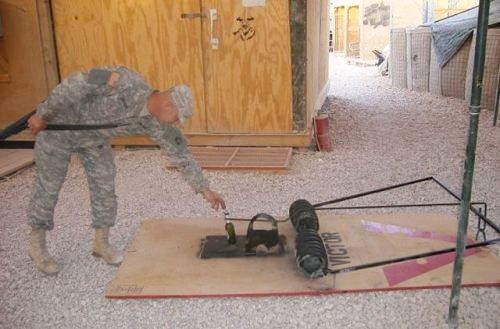 Don't make Ackbar cry.
Notice: Posted by permission of AceCorp LLC. Please e-mail overnight open thread tips to maetenloch at gmail. Otherwise send tips to Ace.

posted by Maetenloch at
09:49 PM
|
Access Comments