« New York Times: Look At All These Arrogant Presidents And Candidates Who Are So Smitten With Themselves*
*By The Way: Not Obama
|
Main
|
Top Headline Comments 12-Festivus-11 »
December 22, 2011
Overnight Open Thread - Pre-Pre-Christmas Eve Edition
Modern Christmas Songs
For some reason stations insist on playing the same old collection of Christmas songs over and over again until every bit of enjoyment has been leached from them and they become just so much annoying background noise. Which is a shame because there are lots of Xmas songs with some recent ones classics in their own right.
So here are a couple that I think are worthy of being declared modern carols. Feel free to suggest your own in the comments. And yes I totally stole this from myself from last year. As momma always said if ya gonna plagiarize, be sure and steal from the best the non-litigious.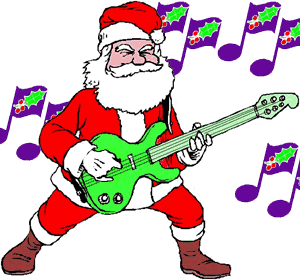 [videos below the fold]
Throughout 2011, an average of 17% of Americans said they were satisfied with the way things are going in the United States. That is the second-lowest annual average in the more than 30-year history of the question, after the 15% from 2008. Satisfaction has averaged as high as 60% in 1986, 1998, and 2000.
If you're the morbidly curious sort and always wondered what a second Carter term would have been like, well next November is your chance to find out.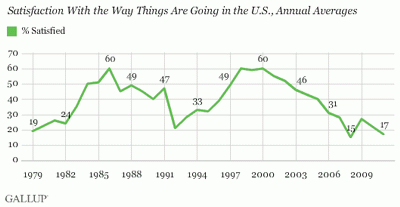 Assorted Tips For Life
From productivity expert Seth Godin. Usually he's too zen koan-ish for me, but these seem like decent tips.



No stranger or unknown company will ever contact you by mail or by phone with an actual method for making money easily or in your spare time. And if the person or company contacting you asserts that they are someone you know, double check before taking action.


Don't have back surgery. See a physiatrist first, then exhaust all other options before wondering if you should have back surgery.


Borrow money to buy things that go up in value, but never to get something that decays over time.


Placebos are underrated by almost everyone.


It's almost never necessary to use a semicolon.


Seek out habits that help you overcome fear or inertia. Destroy those that do the opposite.


Cognitive behavioral therapy is generally considered both the quickest and most effective form of addressing many common psychological problems.


Backup your hard drive.


Get a magnetic key hider, put a copy of your house key in it and hide it really well, unlabeled, two blocks from your house.


A rice cooker will save you time and money and improve your diet, particularly if you come to like brown rice.


Consider not eating wheat for an entire week. The results might surprise you.


Taking your dog for a walk is usually better than whatever alternative use of your time you were considering.
Fascism Skips Over America
And lands again in Europe - as usual. This time it looks as if Hungary will be the testbed for a new kind of millennial fascism.

The government of Hungary, led by Prime Minister Viktor Orbán and his Fidesz Party, is pushing the country away from democracy and toward authoritarian nationalist rule with anti-Semitic undertones. A draconian media law severely restricts free speech, cultural leaders like the head of a prominent theater have been dropped in favor of extremists and openly anti-Semitic friends of the Party, and a new constitution going into effect on January 1 threatens to slash the power of the independent Constitutional Court and the central bank. Oh, and the economy is headed off the cliff.
Quote of the Day - Corrected Edition
Here's the correct version of the QotD from yesterday which I like even better.

"The problem with defending the purity of the English language is that the English language is as pure as a crib-house whore. It not only borrows words from other languages; it has on occasion chased other languages down dark alley-ways, clubbed them unconscious and rifled their pockets for new vocabulary."
—James Nicoll, can.general, March 21, 1992
Science Thursday!!
Dropping a Magnet Through a Copper Pipe
Thanks to induced eddy currents some of the kinetic energy of the magnet gets converted to heat. Or maybe it's just a glitch in the matrix software.

Cannonball in a Tub Full of Mercury
What will happen?
'Christmas with Colonel Sanders', 1968
My parents actually got this album through the RCA record club and every year until CDs became mainstream, it was the official family Christmas album. As I recall it was pretty good.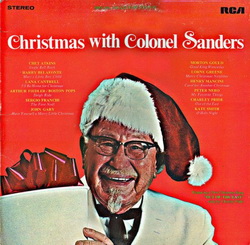 Benny Hill Yourself
If you've ever wanted to appear in a classic Benny Hill sketch, now's your chance.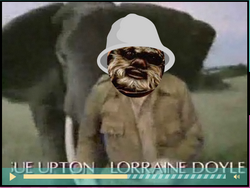 The Power of Makeup
Me - I'll take the blue pill thank-you-very-much.

Yahoo group. That is all.
Tonight's post brought to you by Holiday Specials: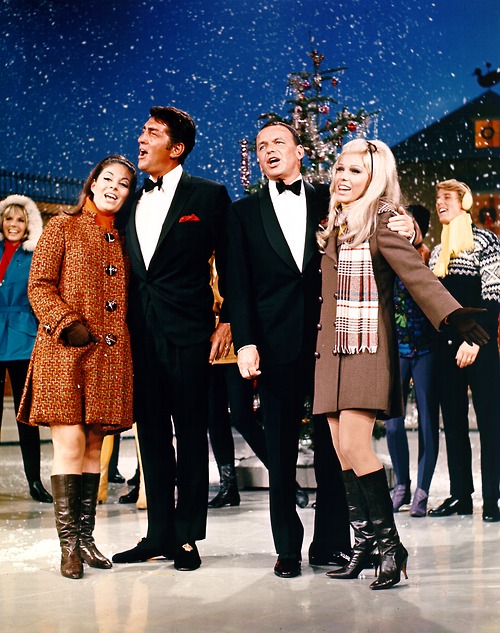 Notice: Posted by permission of AceCorp LLC. Please e-mail overnight open thread tips to maetenloch at gmail. Otherwise send tips to Ace.

posted by Maetenloch at
09:27 PM
|
Access Comments