ę Another Candidate Match Game
|
Main
|
Top Headline Comments 12-20-11 Ľ
December 19, 2011
Overnight Open Thread
Which is a weekly current events quiz off of Bill O'Reilly's website but I'm pretty sure that BOR has little to do with it.
This one was pretty hard with the average score being only 1.92. I got a 6 - but in my defense I'm been very busy the last few weeks and so my normally obsessive news reading has suffered. Plus I suspect the new higher fluoride levels have begun affecting my mind-thoughts.
You can take the full quiz here and see if you're uh, moron enough to break the big 2.0.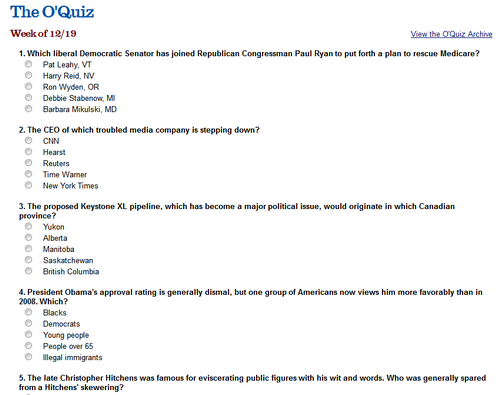 Remembering the Battle of the Bulge
Okay DiT beat me to this but anything worth posting is worth double posting.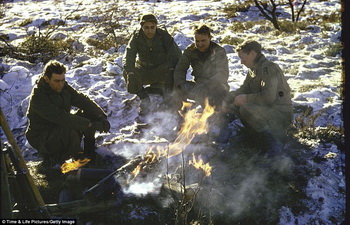 50 Economic Numbers From 2011 That Are Almost Too Crazy To Believe
In case you were getting a little too jolly:

#17 The U.S. Postal Service has lost more than 5 billion dollars over the past year. [that's about $17 per person]
#18 In Stockton, California home prices have declined 64 percent from where they were at when the housing market peaked.
#19 Nevada has had the highest foreclosure rate in the nation for 59 months in a row.
#20 If you can believe it, the median price of a home in Detroit is now just $6000.
#21 According to the U.S. Census Bureau, 18 percent of all homes in the state of Florida are sitting vacant. That figure is 63 percent larger than it was just ten years ago.
#22 New home construction in the United States is on pace to set a brand new all-time record low in 2011.
#23 As I have written about previously, 19 percent of all American men between the ages of 25 and 34 are now living with their parents.
#24 Electricity bills in the United States have risen faster than the overall rate of inflation for five years in a row.
Why Are Indian Reservations So Poor?
Usually alcoholism and racism are blamed but it turns out the real problem is more the commune-ism:

The vast majority of land on reservations is held communally. That means residents canít get clear title to the land where their home sits, one reason for the abundance of mobile homes on reservations. This makes it hard for Native Americans to establish credit and borrow money to improve their homes because they canít use the land as collateralĖand investing in something you donít own makes little sense, anyway.
Plus tribal courts tend to be reluctant to enforce contracts with the white man, making business wary of making any investments. Basically reservations are run like mini third-world socialist countries and the residents are about as well off as you'd expect.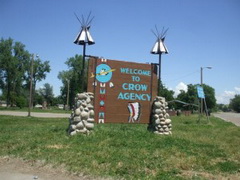 Swedish Tank Drifting
This is the Swedish "Stridsvagn 122", a modified version, of the German Leopard 2A5. I believe a similar stunt resulting in a damaged tank got a young Schwarzenegger in big trouble in the Austrian Army.

Lesser Known Horriblest Music Videos
These videos are so embarrassing that the normally shamelessly self-promoting artists have disabled them from being embedded anywhere - which is why you only get a picture instead of a video. You have been warned.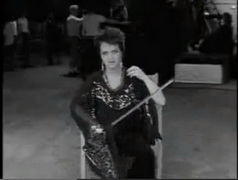 "America is pretty empty without you kids"
Groucho Marx's 1943 letter to a soldier stationed in the Pacific.

Anyhow, we miss all you boys (I have a son in the Coast Guard) and we wish you were all back again raising hell and children. We are doing what little we can to further the war effort -- we buy bonds, play service camps and short-wave broadcasts to our soldiers on the foreign fronts. We drive carefully, we take no vacations and, in general, do what we can. God knows it's little enough. We all know that you boys are doing the real job.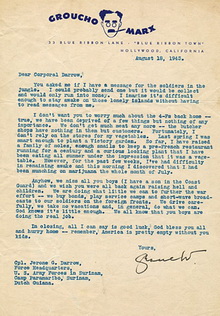 Preventing Wrinkles
Getting old sucks but Neo-neocon has some suggestions on how to not look old. I don't know about the chocolate thing but sleeping on your face does cause creases.

The Yahoo AoSHQ group. Bla bla bla. And don't forget about the Job Bank.
Tonight's post brought to you by point - now invalidated: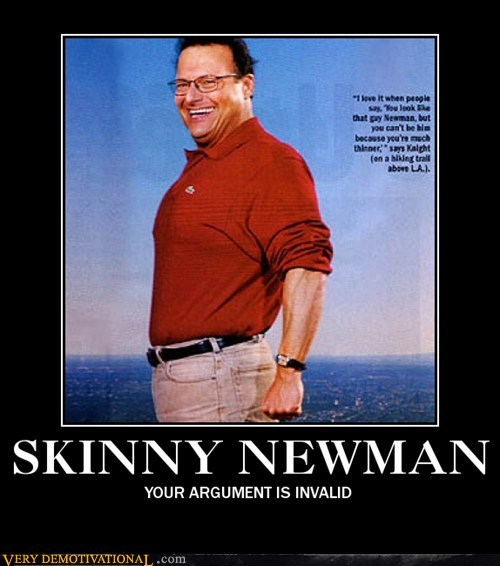 Notice: Posted by permission of AceCorp LLC. Please e-mail overnight open thread tips to maetenloch at gmail. Otherwise send tips to Ace.

posted by Maetenloch at
09:22 PM
|
Access Comments