« Sunday Night Football, Giants v. Cowboys
|
Main
|
Top Headline Comments 12-12-11 »
December 11, 2011
Overnight Open Thread - End O'the Week Edition
The Red Cross and Video Games - Or Why You Might Already Be a War Criminal
So the International Red Cross seems to have run out of things to worry about despite the multiple on-going human rights abuses in Syria and pretty much all of Africa and so they've turned their eye towards ...video games:

Delegates at the 31st International Conference of the Red Cross (ICRC) and Red Crescent raised the concerns over the potential "International Humanitarian Law" violations – which can constitute war crimes – during a workshop in Geneva.
"Exactly how video games influence individuals is a hotly debated topic, but for the first time, Movement partners discussed our role and responsibility to take action against violations of IHL in video games," the Red Cross wrote in its daily bulletin.
"The aim for the ICRC is that they send the right signals to their hundreds of millions of players by rewarding respect for IHL and penalising violations," the spokesperson said.

The Red Cross said if it finds the conventions have been violated, they may ask game developers to conform to international laws or encourage governments to create laws that regulate the gaming industry, Kotaku reported.
Realizing how insanely stupid this sounded to normal people i.e. ones who don't make their living off the human rights industry the PR department at the ICRC quickly jumped into action and
declared the whole concern moot
.
So the good news is that it's not a war crime to play Call of Duty. On the other hand the 32nd ICRC conference is less than a year away so be wary of what the delegates will come up with next.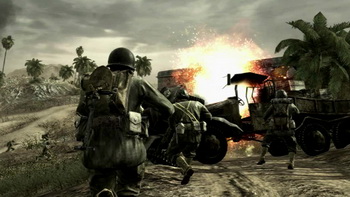 When F-16s Gather
Be afraid. Here 27 F-16s taxi down the runway, fully armed and loaded, as part of an "elephant walk" during a Dec. 2, 2011 exercise at Kunsan Air Base, South Korea.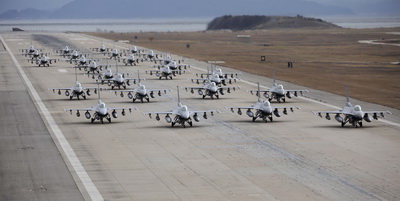 The World According to San Francisco
Well JesusLand should have a MoromonLand subsection. And SoCal really ought be considered part of Aztlán these days.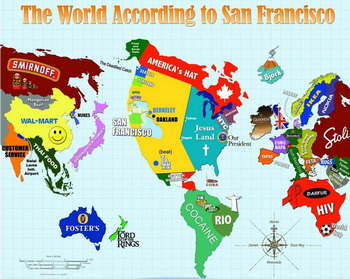 This Actually Happened
Note that for thousands of years the swastika was considered a good luck symbol until the Nazi party appropriated it in the 20's. Many early fliers had it on their planes as a good luck charm. Even KKK fliers apparently.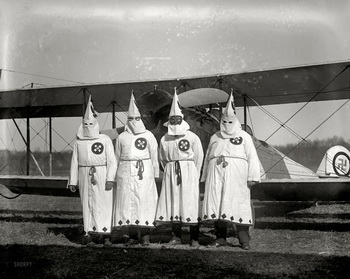 Dodd's Serta Trek
Set your mattress to sleep.

Ms. Hannah Minx Has A New Video
And here she talks about things she likes to put in her kuchi.

18 Celebrity Tramp Stamps
See if you can match the tramp stamp to the celebrity.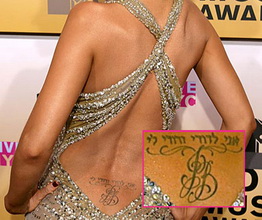 Weekly AoSHQ Commenter Standings
Top 10 commenters:
1 [498 comments] 'MissTammy' [69.91 posts/day]
2 [387 comments] 'soothsayer'
3 [331 comments] 'AllenG (Dedicated Tenther) says 'No' to RINO Romney'
4 [279 comments] 'Vic'
5 [273 comments] 'CoolCzech'
6 [270 comments] 'Robert'
7 [257 comments] 'toby928▒'
8 [245 comments] 'garrett'
9 [225 comments] 'Scott J'
10 [224 comments] 'George Orwell what knows Obama is a stuttering clusterfuck of a miserable failure'
Top 10 sockpuppeteers:
1 [68 names] 'kbdabear' [9.55 unique names/day]
2 [59 names] 'al-Cicero, Tea Party Jihadist'
3 [37 names] 'Jared Loughner'
4 [29 names] 'CoolCzech'
5 [28 names] 'George Orwell what knows Obama is a stuttering clusterfuck of a miserable failure'
6 [28 names] 'fluffy'
7 [25 names] 'Count de Monet'
8 [25 names] '18-1'
9 [25 names] 'Mike'
10 [23 names] 'toby928▒'
The group. Yeah.
Tonight's post brought to you by the mayor of San Juan, Puerto Rico's Christmas card: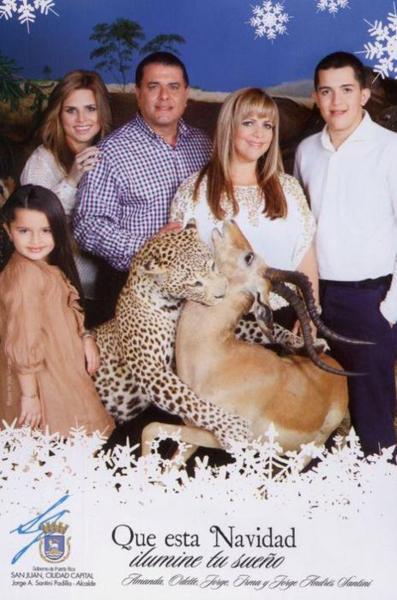 Notice: Posted by permission of AceCorp LLC. Please e-mail overnight open thread tips to maetenloch at gmail. Otherwise send tips to Ace.

posted by Maetenloch at
09:13 PM
|
Access Comments