« Comments Are Back Up
Whoops, Not Quite Yet
|
Main
|
Sweet Baby Jesus on a Popsicle Stick: Obama Administration Classifies Maj. Nidal Hassan's Terrorist Attack on Ft. Hood as "Workplace Violence" [Truman North] »
December 07, 2011
Overnight Open Thread
On this date 70 years ago 2,459 US military members and civilians were killed during the Japanese attack on Pearl Harbor. Until 9/11 it was the deadliest enemy attack ever on American territory.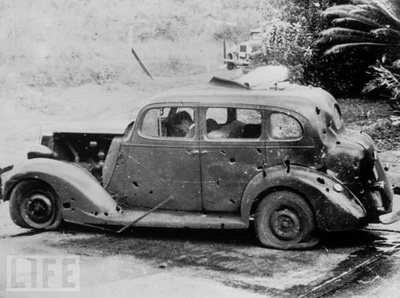 Sadly it might have been prevented if some warnings had been heeded:

While the debate over FDR's actions continues to rage, there is one incontrovertible fact: the surprise attack on Pearl Harbor could have been easily prevented, had President Roosevelt followed the advice of his previous Pacific Fleet commander, Admiral J.O. Richardson. During his tenure as CINCPAC, Richardson repeatedly warned of his fleet's vulnerability at Pearl Harbor, and requested that most of his ships return to their home port in San Diego. When FDR refused, Richardson stuck to his guns and paid a high price: he was fired as CINCPAC in early 1941 and replaced by Admiral Kimmel.
And Bookworm points out that Dec. 7th wasn't just an attack on the US - the Japanese also attacked Dutch and British possessions across the Pacific at the same time. Her own mother was taken prisoner in Java and barely survived being held in a Japanese internment camp during the war:

Of course, the main problem with camp was the deprivation and disease. Rations that started out slender were practically nonexistent by war's end. Eventually, the women in the camp were competing with the pigs for food. If the women couldn't supplement their rations with pig slop, all they got was a thin fish broth with a single bite sized piece of meat and some rice floating in it. The women were also given the equivalent of a spoonful of sugar per week. My mother always tried to ration hers but couldn't do it. Instead, she'd gobble it instantly, and live with the guilt of her lack of self-control.

By war's end, my mother, who was then 5'2″, weighed 65 pounds. What frightened her at the beginning of August 1945 wasn't the hunger, but the fact that she no longer felt hungry. She knew that when a women stopped wanting to eat, she had started to die. Had the atomic bomb not dropped when it did, my mother would have starved to death.
The Math That Saved Apollo 13
Back in my teaching days whenever my students would whine about how they're never going to need to use math I would point out the scene in Apollo 13 where the astronauts had to hand calculate the new course angles shortly after the explosion or be lost in space forever - you just never know. And note that the astronauts didn't have any calculators - just pencils, paper and knowledge. Well here are the mission checklists where they wrote down the results of their calculations.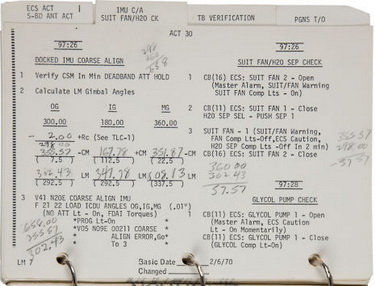 How To Catch A Russian Spy
If you can name the colors of these words just as fast in both language, well then we might have us a damn dirty piroshki-guzzling commie spy.


Thanks to the Stroop effect:
"the Stroop task became a tool for American intelligence officials during the cold war. A covert agent could claim not to speak Russian, but he'd take longer to answer correctly when looking at Russian words for colors."
Extreme Skydiving
Skydiving without an attached parachute just seems insanely dangerous since you're only a sudden gust away from having it torn out of your hands. No doubt skydiving aficionados will inform me that it's not all that dangerous but from my point of view this seems 20x more likely to make you dead and at most maybe 8% more exciting than plain old parachuting. Not a good ratio in my opinion.

George Lucas: It's Not My Fault the Movies I Had Complete Control Over Sucked
It was all because of 'them'. Okay he doesn't say this explicitly but that's what he's implying.

Still, the plan to redo the original trilogy in 3D is out there, and now Lucas is claiming it wasn't his fault the latest trilogy sucked so bad, it was that technology hadn't caught up to his vision, and he was rushed so the Phantom Menace script wasn't ready yet, and on and on. In the Lucasfilms interview he blames "certain people" he won't name for having JarJar Binks in the film and so on. Basically despite having total control, no editor, and making the movie entirely on his own dime, Lucas is blaming other people for how his movies suck.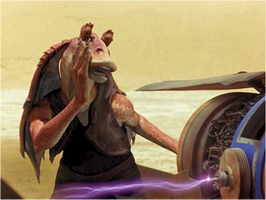 Are You Fugly?
Well there are apps that will let you know exactly how hideoso you are.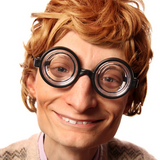 Tonight's post brought to you by keeping the human touch in medicine:

Notice: Posted by permission of AceCorp LLC. Please e-mail overnight open thread tips to maetenloch at gmail. Otherwise send tips to Ace.

posted by Maetenloch at
09:28 PM
|
Access Comments