« RIP Debt Super Committee (8/1/11-11/21/11)
|
Main
|
Top Headline Comments 11-22-11 »
November 21, 2011
Overnight Open Thread
The Ugly Truth About Student Loans
Even savvy investors expect only 70% of student loans at best will ever get repaid:

Investors like Mr. Ades have a unique view on the future for America's job-seekers. Their investments depend on accurately predicting young people's ability to repay their loans, which means they obsess about everything from employment rates by profession to the long-term earning potential of young graduates.

Historically, investors have assumed 25% to 30% of student loans bundled into their bonds will default. But today they are baking in between 30% and 40% default rates among the current crop of graduates…
If over a third of student loans are going into default, I say it's time to review lending requirements and cut
way
back.
So get ready for more calls for a student loan bailout.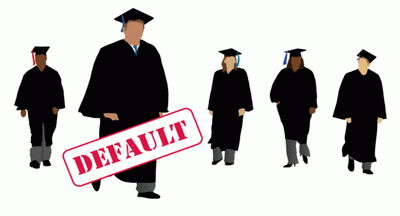 Fourth 'Great Escape' Tunnel Uncovered
For those who remember the movie there were 3 tunnels - Tom, Dick, and Harry - and Harry was the one that led to the big breakout.

The third tunnel, Harry, became the stuff of folklore on the night of March 24, 1944, when Allied prisoners gathered in hut 104 before crawling along the 100ft tunnel to a brief taste of freedom. Only three escaped; 73 were rounded up by the Germans and 50 were summarily executed.
But it turns out that there was a 4th tunnel - 'George' - kept so secret that only a few ever knew about it.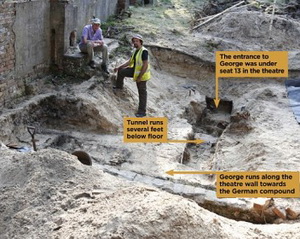 Bad News For Dieters: Dieting Really Does Make You Hungry - And Keeps You That Way

Appetite hormones spike when obese people diet, and stay high even a year after they have lost weight, researchers reported on Wednesday in a study that shows keeping weight off is more than a mere matter of willpower.

..."Furthermore, the activation of this coordinated response in people who remain obese after weight loss supports the view that there is an elevated body-weight set point in obese persons and that efforts to reduce weight below this point are vigorously resisted," Priya Sumithran of the University of Melbourne and colleagues wrote.
So people who've lost a lot of weight are still biologically fat people in a thin body.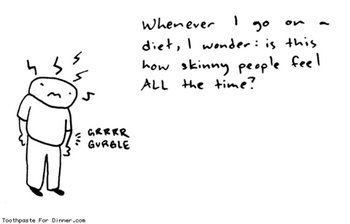 What Sport Should Your Child Play?
Don't just guess - do what all the other helicopter parents are doing and have their DNA tested:

"Parents are being sold on the idea of buying DNA tests for their kids, to find out which sports they will be better at. The company called Atlas is based in Boulder, Colorado; and is selling DNA tests for $160. They are looking for what's called the ACTN-three gene, the gene behind what is called 'fast-twitch explosive muscles.' Children that don't have ACTN-three will be better suited for endurance sports like long distance running or swimming. Children that have a lot of it will be better suited for sports like football, rugby, wrestling, or hockey. Kids that have some ACTN-three will not be the fastest and not the slowest, they don't burn out the quickest and they don't last the longest. They are categorized as capable of playing just about any type of sport they like."
And it's never too early to start them off on a little HGH - you know just to top'em off and keep them even with the other genetically-gifted superchildren.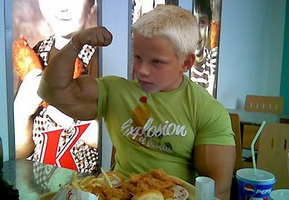 Insanest Police Chase Ever?
Quite possibly.

Ron Jeremy Expands Into Liquors
Now you can buy Ron de Jeremy rum:

It's not often that you walk into a party and people are genuinely interested in what bottle of booze you brought, but that's exactly what will happen when you come toting the choad-like bottle of Ron de Jeremy.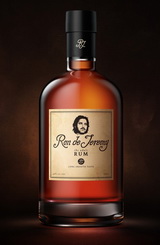 Are You Manly Enough to Rock This?
Because only the XYest of dudes can pull off wearing the coyote mountain man hat.

It was…hideous. And yet, you couldn't look away. You were held rapt by its slack ears lying dormant above your boyfriend's sparkling blue eyes. You gazed in wonder at Coyote Hat's bushy, long tail. Suddenly, you saw your boyfriend in a whole new light. He was a warrior–a warrior who had gone online and paid $299.95 to have a dead animal shipped to your house so that he could wear it atop his head.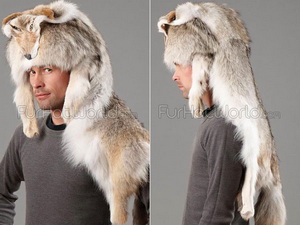 Kelly Osbourne Wants to 'Retire' the Word 'Tra*ny'
Why? Because she complained in a tweet how humiliating it was to be cheated on with a tra*ny:

"Having to tell my parents my ex-fiancé Luke [Worrall] had cheated on me with a tranny was so humiliating. Everyone kept telling me that Luke was cheating on me, but I never believed them. It's hard enough to get your head around someone cheating on you… but when when someone is a chick with a dick? I'd always thought the worst way to get cheated on would be with an ugly girl."
Well the LGBT mafia swung into action and after an abject apology Kelly is now demanding the world stop using the word, 'tra*ny', because it's hurtful and disrespectful. And also so the He-She mob will call off their scheduled hit on her.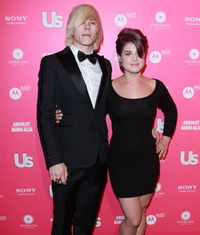 The Yahoo AoSHQ group. Bla bla bla. And don't forget about the Job Bank.
Tonight's post brought to you by the continuing standoff: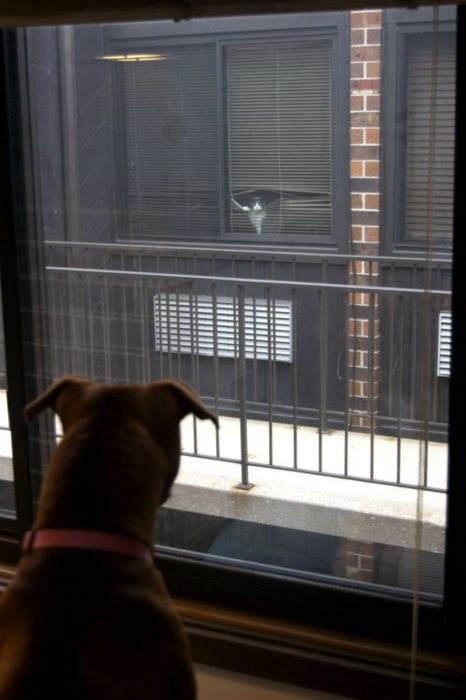 Notice: Posted by permission of AceCorp LLC. Please e-mail overnight open thread tips to maetenloch at gmail. Otherwise send tips to Ace.

posted by Maetenloch at
09:28 PM
|
Access Comments