« Resumes and work experience... (tmi3rd)
|
Main
|
Robert Kennedy, Jr.'s BrightSource Lands $1.4 Billion Bailout »
November 16, 2011
US Debt Tops $15,000,000,000,000.00
At about 3:30 Eastern, the United States debt topped $15 Trillion dollars. From ABC:
The deficit has ballooned to nearly $48,000 for every man, woman and child in the U.S. This year alone, the U.S. will spend $1.3 trillion more than it takes in.

The debt has expanded at an alarming pace, from $7.5 trillion in 2004 and $5.6 trillion in 2000. At the current rate, Debtclock.org reckons that the debt will top $23 trillion in 2015, though the nonpartisan Congressional Budget Office puts the estimate at $17.6 trillion.

Back in August after a protracted fight, Congress voted to raised the national-debt ceiling by $2.7 trillion to $17 trillion, while requiring $2.7 trillion in deficit reduction by 2021.

Compared with other developed nations, the U.S. has a debt to GDP ratio of 85 percent, compared with Germany at 74 percent and Japan at a whopping 194 percent. World debt clocks can be found here.
Real time debt numbers from USDebtClock.org.
Ten thousand dollars: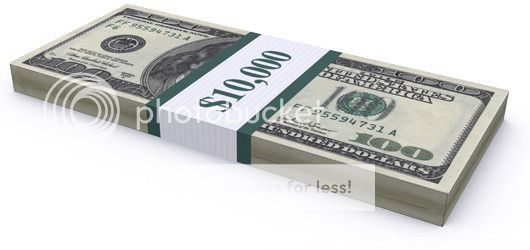 One million dollars:
One hundred million dollars:
One billion dollars:
One trillion dollars:
One trillion dollars again:
Fifteen trillion dollars:
Graphic from USdebt.Kleptocracy.us.

posted by rdbrewer at
04:40 PM
|
Access Comments