« Politico Runs Story on Nancy Pelosi's Political Acumen; Original Headline? "Nancy Pelosi Still Has The Golden Touch"
|
Main
|
Open Thread [Truman North] »
November 15, 2011
Overnight Open Thread
If you think money isn't worth what it used to be, well you're right. In fact the intrinsic metallic worth of US coins has been steadily going down over the last century as the Mint switched over to cheaper metals.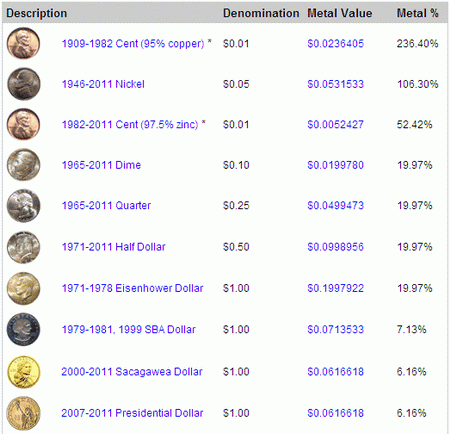 And no your eyes aren't fooling you - the nickel is really worth 6.3 cents for its nickel content [typo in the Metal Value column aside]. But lest you get any coin-arbitrage ideas, it's illegal to melt down US coins for their metal. And no you can't ship your warehouse of nickels to Chinese 'collectors' either.

Under the new rules, it is illegal to melt pennies and nickels. It is also illegal to export the coins for melting. Travelers may legally carry up to $5 in 1- and 5-cent coins out of the USA or ship $100 of the coins abroad "for legitimate coinage and numismatic purposes
WRM: The War Against The Young
While the #OWS protesters have been focusing on the gap between the wealthy and the poor, one little noticed detail is that this is also very much a generation gap: a typical US household headed by a person over the age of 65 is 47 times wealthier than a typical household headed by someone under the age of 35.

The median net worth of households headed by someone 65 years or older was $170,494, up 42 percent from 1984. Meanwhile, households headed by someone 35 or younger had a median net worth of $3,662, down 68 percent from that same year.
Now people do tend to accumulate wealth as they get older but in recent years the gap between old and young has been accelerating:
But the gap between the two groups has doubled since 2005. Even adjusting for inflation, the disparity is nearly five times the 10-to-1 ratio recorded over 25 years ago.
Generational inequality this extreme doesn't bode well for social harmony. And just wait until the boomers start drawing Social Security and Medicare - gooood times. As WRM points out nobody ever wins a war against the young.
Eurocrats: When Smart People Go Stupid
Here Sweasel tries to explain why the leaders of Europe are so desperate to keep the EU going despite the fact that it very well might bankrupt many if not most of their countries. Mostly they're still traumatized by WWII and determined to prevent another European war.

A huge number of those people are convinced that what caused both World Wars was nationalism, by which they mean what an American would call patriotism. They are so sure of this, it's not even an argument; it's simply obvious to everyone.

They are horrified when Americans chant "USA! USA!" at sporting events.
I guess the reasoning was that no more nations = no more nationalism = no more war. Unfortunately no one asked the Greeks, Spanish, Italians, French, Germans, or the Brits what they thought about this. Oh and don't forget to throw in a huge dollop of America-envy/hate into the mix.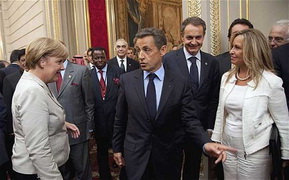 Science: It's Good For Kids To Play in the Dirt

Children who come home splattered in mud after playing are less likely to develop allergies as they get older, the researchers found.

Their developing immune systems are exposed to a greater variety of bacteria than those of their cleaner counterparts, so they can cope better when germs are encountered later in life.

One in four of us now suffers from some kind of allergy, a figure that has risen in recent decades – as parents have become more worried about hygiene.

Researchers at the University of Copenhagen studied 411 children for 12 years from birth, and identified a direct link between the number of different bacteria found in their bodies and the risk of developing allergies later in life.
Luckily my parents had no qualms about letting me eat/play in dirt (or more likely were simply unable to stop me) which is probably why I've never suffered from allergies and have a generally robust immune system. Our immune systems are actually optimized for a dirty environment and when things are too clean, we're much more prone to auto-immune diseases. You gotta keep those T-cells busy or they'll turn on ya.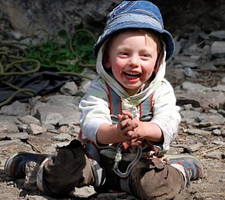 Simple Ideas That Are Borderline Genius
I'm not sure if all of these are commercially available - but they ought to be.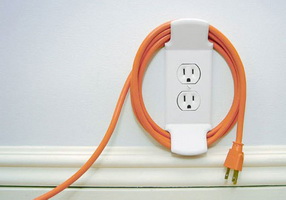 10 Seconds Of Every Hit Song Of The '70s
Here's 1979. At least the music that year was good - otherwise everything else was just depressing.

Natroe - 1979 by vondutchbabygirl
Picture of the Day
Here the oldest and youngest Congressional Medal of Honor recipients, Nicolas Oresko and Dakota Meyer, pose together.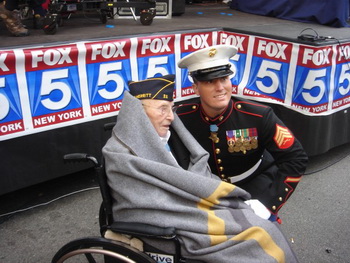 The Yahoo AoSHQ group. You know the way.
Tonight's post brought to you by Shirley: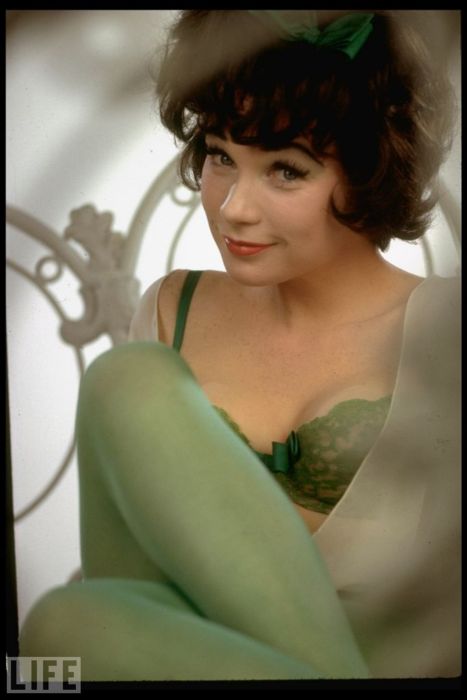 Notice: Posted by permission of AceCorp LLC. Please e-mail overnight open thread tips to maetenloch at gmail. Otherwise send tips to Ace.

posted by Maetenloch at
09:19 PM
|
Access Comments