ę Bum Rush: Ex-Cop Drags OWS Runt Out of Bob Turner Swearing-In By Scruff of Neck
|
Main
|
Massive Explosion Kills Iran's Head of Missile Development Ľ
November 14, 2011
Lots of Democrats Traded on TARP Non-Public Information, Too
Despite 60 Minutes' laser-like focus on Republicans (4 Republicans, 1 Democrat), in fact 80% of the corruption detailed in Scheweizer's book is, I'm told, on the the Democratic side.
"September 17, 2008, was by far [Rep. Jim] Moranís most active trading day of the year," writes Schweitzer. "He dumped shares in Goldman Sachs, General Dynamics, Franklin Resources, Flowserve Corporation, Ecolabs, Edison International, Electronic Arts, DirecTV, Conoco, Procter & Gamble, AT&T, Apple, CVS, Cisco, Chubb, and a dozen more companies." Schweitzer actually counts ninety companies that Moran dumped, helping him avoid big losses.
And of course we're not even talking about Professor Solyndra.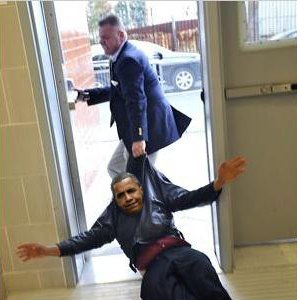 P-shop thanks to Hotspur from the Hostages.

posted by Ace at
02:53 PM
|
Access Comments