« Elections Results Thread
Control of VA Senate Rests On One Race, With Democrat Ahead By 124 Votes
|
Main
|
Top Headline Comments 11-9-11 »
November 08, 2011
Overnight Open Thread - Boringest Night Edition
Why Liberals Hate E-Cigarettes
Currently one of the most promising techniques for getting hard-core smokers to quit is weaning them onto e-cigarettes and then slowly lowering the amount of nicotine.
Reduces harm and doesn't produce any annoying smoke. Sounds great right?
Yet guess who would like to see them banned:

Though this was just a small pilot study, the results fit with other encouraging evidence and bolster hopes that these e-cigarettes could be the most effective tool yet for reducing the global death toll from smoking.

But there's a powerful group working against this innovation — and it's not Big Tobacco. It's a coalition of government officials and antismoking groups who have been warning about the dangers of e-cigarettes and trying to ban their sale.

...When it comes to nicotine, though, the abstinence forces tend to be more liberal, including Democratic officials at the state and national level who have been trying to stop the sale of e-cigarettes and ban their use in smoke-free places.
Dennis Prager has long argued that anti-smoking zealotry was a manifestation of the inherent meanness of the left. And I used to think he was taking the point too far but in this case there really is no justification for banning e-cigs except wielding the power to deny others pleasure.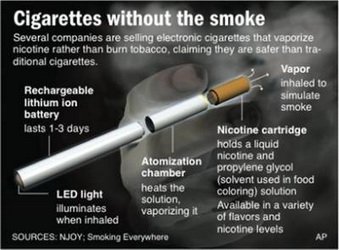 Get Your Own Damn Counterculture
On Occupy L.A.:

I mean, come on, people. This is like a bad parody. It's bad enough that kids today have no culture of their own — they're still listening to the Beatles, the Stones, and a bunch of new groups from the seventies, for crying out loud. It would be as if we Boomers marched into battle against Daley's pigs to the strains of Paul Robeson singing "Ol' Man River" and Al Jolson's "My Mammy," both of which were huge in 1928.

Really, it's pathetic. At an age when they should be manufacturing their own pop music, their own movies (the sea of sequels and remakes continues unabated), their own fashions, their own outrage, what we get is a load of hand-me-down attitudes, tie-dyed and ready-to-wear. Because manufacturing anything would require, you know, work.
Well as one pundit pointed out the participants in #Occupy* aren't so much protesters as protest reenactors, aping the counter-culture styles of their grandparents.
Greg Gutfeld on the #Ocupiers
A little old but still relevant.

The Ultimate Rage Comic: 86th Birthday Rage
In case you aren't familiar with them rage comics are an internet thing. And this one is probably one of the most entertaining and moving one I've seen to date. It appeared on reddit and I can't vouch for the veracity of this story. But much of it has the ring of truth to it so I'm going to go with it. Sorry for the length.


How to Solve "Jewish" Math Problems

Back in the seventies, the mathematics department at the Soviet Union's Moscow State University (one of the most prestigious departments in the USSR at the time) used a special collection of math problems, informally referred to as "Jewish" problems or "coffins" ("coffin" problems translating roughly to "killer" problems in English), to keep Jewish students and other so-called "undesirables" out of the department.

The problems were notoriously difficult to solve, but had seemingly simple solutions, allowing the department to avoid criticism of the wait-a-minute-what-you're-doing-is-completely-unethical variety.
But over time students through word of mouth managed to build up a collection of answers to these 'jewish' problems.

Airline To Offer In-Flight Pr0n

The boss of budget airline Ryanair wants to launch a pay-per-view pornography service for passengers to watch during flights, it has been claimed.

Ryanair chief Michael O'Leary said he hopes to launch an app for the airline where travellers can watch sex scenes on their iPads or smartphones while in the air.
genghis says he can think of no downside but I can think of at least two: 1) the Mile High Club - Solo Division is going to become far less exclusive and 2) airlines will probably start charging for tissues and blankets.

The Yahoo AoSHQ group. You know the way.
Tonight's post brought to you by Frankie's ablutions: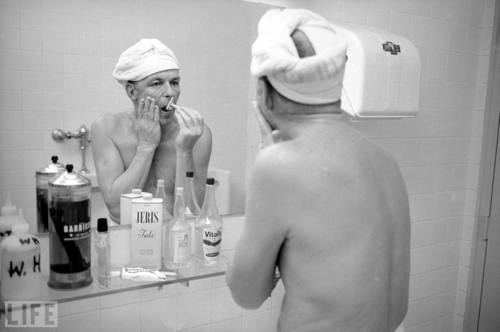 Notice: Posted by permission of AceCorp LLC. Please e-mail overnight open thread tips to maetenloch at gmail. Otherwise send tips to Ace.

posted by Maetenloch at
09:42 PM
|
Access Comments