« CAC's US Senate Projections (11/4/2011)
|
Main
|
Saturday Morning Open Thread »
November 04, 2011
Overnight Open Thread
This has bugged me a lot about some military movies. Most Don't Get The Dang Uniforms Right. It's not that hard. To this day Crimson Tide bugs me.

"They figure that the wardrobe people will do their research," Dye said. "The problem is wardrobe people who've never worn a uniform can do their research but they don't know what they're talking about. They don't know how to wear it. They don't have the insight."

In some cases, wardrobe folks like certain uniforms for the way they look, not whether they are authentic, he said.
Triumph The Insult Dog Visits OWS
North Korean Disneyland
For all you guys that bitch about Disneyland/World, I think you'll change your minds after seeing this amusement park in North Korea. Good lord it's depressing as hell. At least there aren't long lines.

Tactical Baby Strollers
This is just awesome! Probably need to pack hearing protection for the baby though.

DIY Weaponary
This is a nifty little homemade weapon.


Honey Badger
Hmmm. Bad-ass you say? I don't know. Things To Know About The Honey Badger.

Do honey badgers have bad attitudes?
Absolutely! But they need to, because they're often surprised.

Honey badgers are very vulnerable. Often they're digging—they're quite small [weighing 10 to 20 pounds), they don't see very well, their noses are in the ground—and they're completely oblivious to what's going on around them. When they eventually realize that the leopard is standing right behind them, they just put on this incredible show to try to protect themselves. They do the same in reaction to humans.

So that is where the bad attitude comes from. It's a protective mechanism.

Quiz Time!
Alright, time for a pop quiz (no pun intended). Do you think you can tell the difference between a sex toy and a kitchen utensil? If so, then CLICK HERE.

Fail Compilation October 2011
Thank God for stupid people.


Cowboys and Iranians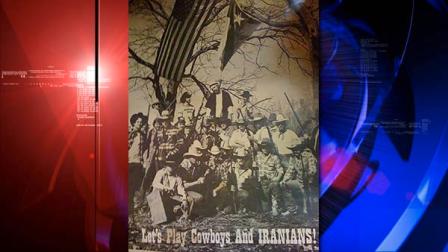 Wow. Seems some folks sure are sensitive. It would seem these guys made this poster back in 1979 when those Iranian students took over the American Embassy and held Americans hostage for 444 days (Today is the 32nd anniversary of that event). Does the depiction of hanging someone automatically make it racist?
Well, that's all I got tonight. Not feeling well so I'm cutting it short.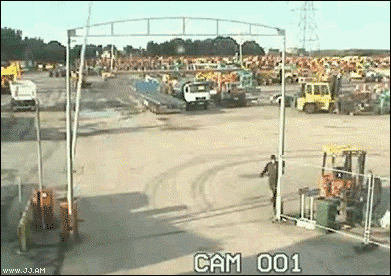 Tonight's ONT brought to you by:
Notice: Posted by permission of AceCorp LLC. Please e-mail overnight open thread tips to maet. Otherwise send tips to Ace.
PUT TEXT YOU WISH TO USE AS VISIBLE LINKING-LANGUAGE HERE
&topic=world_news">

posted by CDR M at
10:15 PM
|
Access Comments