« Open Thread [Truman North]
|
Main
|
Top Headline Comments 11-4-11 »
November 03, 2011
Overnight Open Thread
News You Can Use: How to Fly a Rocket Belt
Yes rentals and personal trainers are available.

How To Make Your Own Hard Candy
Any chemistry knowledge gained is a bonus.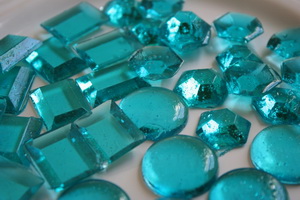 How to Break Down a Door Without Hurting Yourself
Assuming you don't have Mr. Shotgun-Sledgehammer.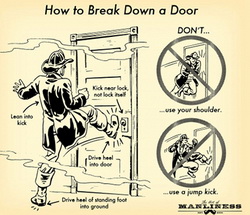 Will You Get Sick From Zombie Stench?
Interestingly Mark twain actually has something to add to this question. But the short answer is no:

However funky their smell, dead bodies aren't especially dangerous, setting aside those that are trying to eat your brain. Precautions may be in order when the cause of death is an infectious disease. (Tuberculosis is said to be especially problematic.) But for the most part toxic pathogens are waterborne, not airborne. True, some germs can be spread by aerosol droplets, but these are exhaled only by the living. The dead have stopped breathing, and one assumes the undead have, too.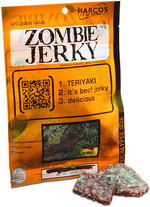 Wisdom of the Juice-Boxers
So Matt Yglesias of ThinkProgress proposed (semi-jokingly I think) that the vote in the US be extended to kids - no matter the age.

Via Jonathan Bernstein,Sally Kohn writes about a campaign in Lowell, Massachusetts to let seventeen year-olds vote in local elections. More power to them, but I say let any American citizen vote in any American election he or she wants to.

Objections to this usually take the form of imagining a highly disciplined party of seven year-olds reliably delivering bloc votes to whichever candidate credibly promises endless kindergarten.
But as Last points out that there actually is a scheme similar to this that's been gaining popularity:
It's called Demeny Voting. Contra Yglesias, the goal of Demeny voting is to amplify the power of parents, since low-fertility countries often find themselves in a vicious cycle where the young are increasingly taxed to provide benefits for the growing proportion of aged, creating disincentives to have children, which makes the pension system even more unsustainable. But Demeny and the other grown-ups who've toyed with the idea realized that you can't just hand the vote to 3-year-olds (they cannot read; they cannot get to the polls; etc.). So he proposed handing proxy votes to parents–an extra vote for fathers for every son, and for mothers for every daughter.
Stealth Weapons From Around the World
You didn't think we'd stay the only country with stealth planes did ya?

The J-20 is China's foray into the world of stealth jets. The jet's capabilities aren't yet fully known, and it's still just a prototype. Nonetheless, it's renowned for its ability to make American defense analysts panic about the erosion of U.S. stealth dominance at just a glimpse of a blurry picture.

Photos of the jet hint that it's more bomber than fighter, likely slower and less agile than its American fifth-generation counterpart, the F-22.

How many 22-year old cars still look modern and up-to-date in 2012?
Very few if any. It's funny how cars can seem so dated even after just a few years. Remember that people paid top dollar to be seen riding in these back in the day. Scroll to the bottom to see the winner.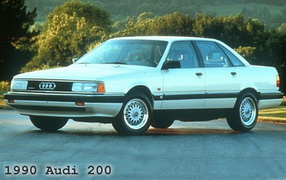 Video: Nearly Every Single Toy From The '80s
Mostly for boys but odds are that you've played with at least one of these at some point.

Everyone Has A Dream
But only a few have the courage to actually go for it.

A New York City man referring to himself on Twitter as Mister PeePee has taken it upon himself to masturbate in every single Starbucks bathroom in New York City and then "rate" the "results" on some newfangled Boner Scale. ...According to the blog Gothamist, he has ambitiously signed up for wanks in over 298 public restrooms. Mister PeePee publicizes his findings in the form of a podcast and reportedly tweets his ratings, as well.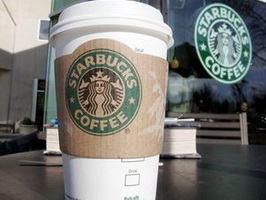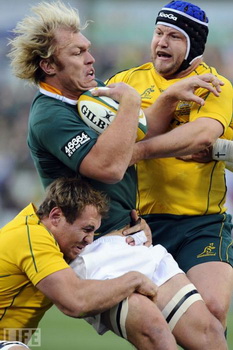 Okay to make up for that I give you this: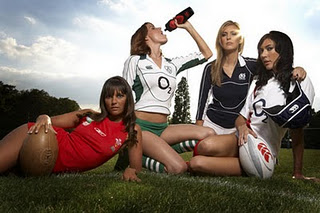 Yahoo group. That is all.
Tonight's post brought to you by France is bacon: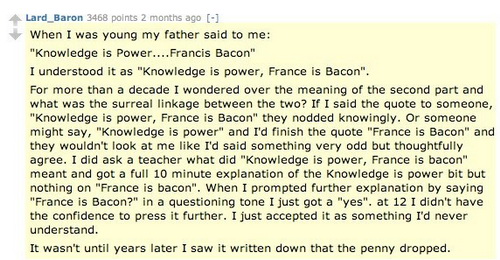 Notice: Posted by permission of AceCorp LLC. Please e-mail overnight open thread tips to maetenloch at gmail. Otherwise send tips to Ace.

posted by Maetenloch at
09:56 PM
|
Access Comments