« BigGovernment.com Contributor Puts Lech Walesa Some F'n Knowledge About OWS
|
Main
|
Top Headline Comments 10-22-2011 [Truman North] »
October 21, 2011
Overnight Open Thread
Yes. It's Friday. Drink up and get comfortably undressed. It's time for the ONT.
This headline grabbed my eye for obvious reasons. Disney Hotel Workers Answer To Electronic Whip. Oh yeah, I was thinking they were gettin' some kind of taser whip treatment but alas, it's just electronic monitoring. Can you imagine this at the Post Office? They'd have a friggin' riot!

Isabel Barrera, a Disneyland Hotel laundry worker for eight years, began calling the new system the "electronic whip" when it was installed last year. The name has stuck.

"I was nervous," said Barerra, who makes $11.94 an hour, "and felt that I was being controlled even more."

Measuring productivity is commonplace in the hotel industry, and manual tallies were kept in Disney hotels until last year. Disney says the electronic system, which it also uses at its Florida resort, is becoming more common at hotels, though I haven't found much evidence of that.

Employees in the Anaheim hotels are required to key in their ID when they arrive, and from then on, their production speed is displayed for all to see. For instance, the monitor might show that S. Lopez is working at an efficiency rate of 37% of expected production. The screen displays the names of several coworkers at once, with "efficiency" numbers in green for those near or above 100% of the expected pace, and red numbers for those who aren't as fast.
Friday Night Music Video
This little ditty was sent in to me by tmi3rd. Enjoy!


The 10 Best Diss Songs In History

Heh. Number one is a recent hit. I would've thought that Alanis Morissette would've ranked higher.

After being fired from Monday Night Football for a remark he made recently on Fox and Friends about President Barack Obama, Hank Williams Jr. was a little bit angry. He'd been kicked off a program that had been using his song for 20 years, and he felt like he'd been set up to say something stupid about the president. The only reasonable response was to put his thoughts into a song blasting the administration and news networks. The result was "Keep the Change," a country ballad blaming Obama for the poor state of the country and proposing the name of the nation be changed to United Socialist States of America. Williams didn't dance around his point at all here. Within the first day of being released, though, the song was downloaded 150,000 times. No one can resist a good diss.
Random Dog Imagery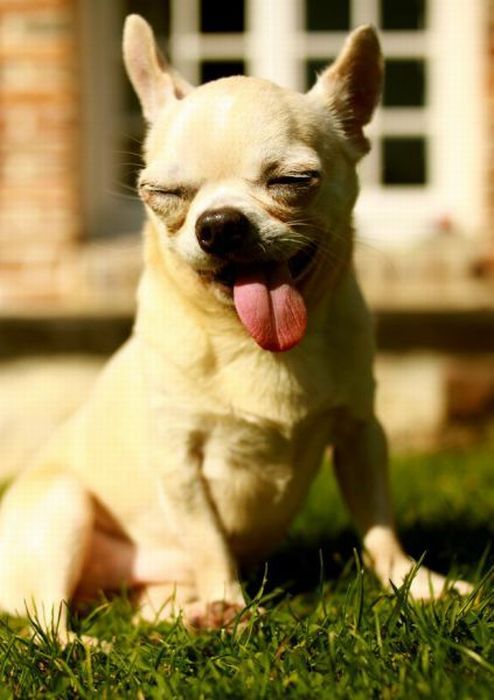 A Republican Said What?
N.J. Candidate: Sex Tip Was 'Great'. Was there something bad that he said?

Mitsch, a retired real estate broker running in a heavily Democratic district in Camden County, told The Philadelphia Inquirer he was actually advising men with his Twitter post. He told his 44,000 followers on Sept. 2: "Women, you increase your odds of keeping your men by being faithful, a lady in the living room and a whore in the bedroom."

Coffin Ads From Poland
I just might have to order their catalog even though I'm not in the market for a coffin. The Risque 2012 Lindner Coffin Calendar. NSFW probably. I have a feeling that ChemJeff is going to Poland when he gets back from Argentina. h/t mpfs.

Chocolate Bikini
Ok, ok. I know it's not bacon but still. Looks yummy. Chocolate is a survival food. Just sayin'.
Aha!! Chocolate DOES make your ass look bigger!
More chocolate clothing pics.


A Dog's Dilemma
Poor doggeh. Kinda reminds me of the OWS crowd with their decision making.


A Man And His Puppeh Phobia
Seriously. OK, it is a pit bull puppy, but still. It's a puppy man!
UPDATE: I tried embedding the video but it won't work. Here's a link to watch the video over at Animal Planet.

50 Things I Learned From The Movies

This is a pretty good list. I'm sure we can add to it. I can only imagine what the list would look like if you used pron movies instead!

1. All telephone numbers in America begin with the digits 555.

2. Medieval peasants had perfect teeth.

3. The ventilation system of any building is the perfect hiding place. No one will ever think of looking for you in there, and you can travel to any other part of the building you want without difficulty.

4. Any person waking from a nightmare will sit bolt upright and pant.

5. It is always possible to park directly outside the building you are visiting.

Handy Dandy Employment Flowchart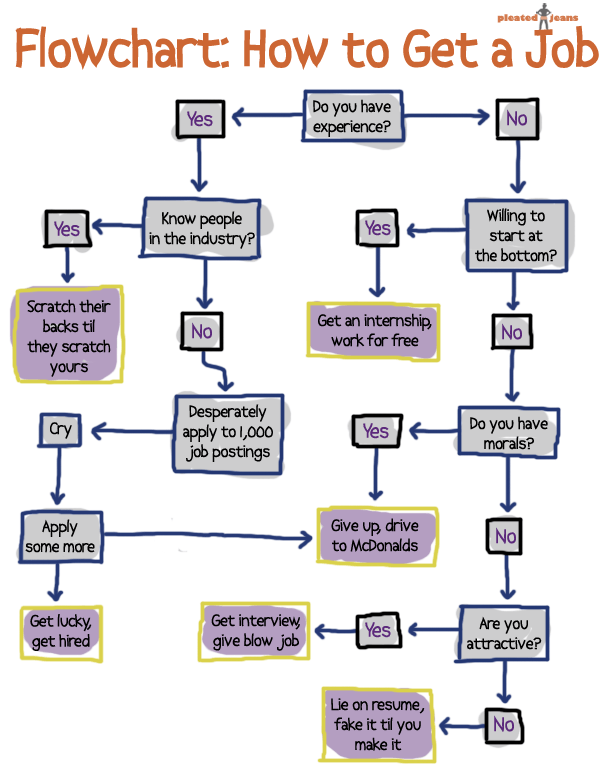 Tonight's ONT brought to you by:
Notice: Posted by permission of AceCorp LLC. Please e-mail overnight open thread tips to maet. Otherwise send tips to Ace.
PUT TEXT YOU WISH TO USE AS VISIBLE LINKING-LANGUAGE HERE
&topic=world_news">

posted by CDR M at
10:05 PM
|
Access Comments