« Resident Tuition in Texas
|
Main
|
NRO Ponzi Debate [ArthurK] »
September 24, 2011
Time for College Football
What is the relationship between the words "college" and "collagen"?
They seem close, but I don't know why. Please investigate and get back to me.
It's a beeyooteeful day in Texas this morning, and I'm ready for some football. Also the Rangers clinch the AL West cause the Angels lost. HAHAHAHA. Best way ever!
The Big 12 tries to breath life into itself. CLEAR!
Top 25 clashes: FSU (11) and Clemson (21) who taught Auburn a lesson last week, around 3:30 EDT today. Alabama (3) vs. Arkansas (14), same time, Oklahoma State (OSU according to Gabriel), (7) vs. Texas A&M (8), same time, LSU (2) vs. West Va (116). Something.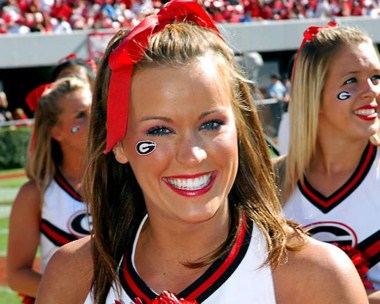 Girls from Georgia have really cute smiles.


posted by Dave In Texas at
11:19 AM
|
Access Comments