« A Democrat President, on Taxes, 1962
|
Main
|
Top Headline Comments 9-20-11 »
September 19, 2011
Overnight Open Thread
Okay as late last night's commenters may have read I suffered a minor sword wound last night. And no I'm not kidding or exaggerating - my thumb really did get sliced open by a Japanese katana. Which meant I got to spend 2 hours in the ER, get multiple shots, and leave with 5 stitches. Joy.
But contrary to the rumors, Breitbart's goons weren't involved in this particular incident - sadly this was what the authorities would term a 'solo sword accident'. So a now chastened Maetenloch has learned 3 important lessons from this episode:
1. Always lift a sword by the handle - never the scabbard. (yeah this is like Samurai 101)
2. Do not multitask while handling the sword.
3. Always keep your tetanus shots up to date.
Okay tonight's Moron PSA is now concluded.
Is This Really True About North Dakota?
If you have a license and no criminal record, you can get a six-figure trucking job almost overnight.
Well Tyler Cowan was initially skeptical but after poking around a bit, it seems to be only a modest exaggeration:

You can find some of the ads here, and more broadly here. My poking around showed that some of them start at 75k a year, though with raises for good performance. It is also required that you have no DUI convictions.
Some commenters claim that this is only for independent operators and glosses over the difference between gross and net pay. But others point out that company drivers without child support garnishments or DUIs who can pass a drug test are at quite a premium. And some companies are even willing to pay for your CDL training if you commit to working for them for a while.
This site has lots of ND trucking jobs listed but the ones with salaries shown seem more in the $50K range than $100K. So now I'm skeptical again. I guess we'll need some Moron input to definitively answer the question.
But if you're fed-up, unemployed, or just bored, all this could be yours (maybe):

Looking back at George W. Bush
Lauraw covered this last week but here are a few more tidbits from the article.

But perhaps the most interesting part of the article is when Harrington visits his old friend GW at the White House in 2003, and asks him what it's like to be president. Bush answers only after ascertaining that his response will be off the record:

And he began to talk—and talk and talk for what must have been nearly three hours. I've never told anyone the specifics of what he said that night, not even my wife or closest friends. I did not make notes later and have only my memory. In the journalism world, off the record is off the record. But I have repeatedly described the hours as "amazing," "remarkable," "stunning."…

As he talked, I even thought about an old Saturday Night Live skit in which an amiable, bumbling President Ronald Reagan, played by Phil Hartman, goes behind closed doors to suddenly become a masterful operator in total charge at the White House. The transformation in Bush was that stunning to me.
Presidents, Investments, and Blind Trusts
All recent presidents have put their investments into blind trust in order to avoid even the appearance of a conflict of interest. Well all recent presidents except for one:

Presidents put their investments into blind trusts when they take office in order to avoid the appearance of conflicts of interest. Well, most modern Presidents do, anyway. It seems that Obama considers himself an exception to this rule, or at the very least he did until April 2010. The Washington Post's Michael Shear reported at that time that Obama had refused to establish a blind trust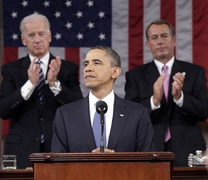 How Vaccine Paranoia Kills Children
This time in Afghanistan and Pakistan:

In Pakistan, the government is threatening to arrest parents who do not allow their children to receive the polio vaccine. Those refusing families that are Afghan, will be forced to return to Afghanistan. For years, Islamic radicals, including some clergy, urged parents to refuse vaccination, as the radicals believed the vaccination was a Western plot to poison Moslem children. This particular fantasy has been rattling around for nearly a decade, and has prevented the UN from wiping out polio.
Polio can only exist in human hosts so once the last person has it, it's gone forever. But currently there are four countries in the world with active polio infections - Afghanistan, Pakistan, Nigeria, and India - and radical Islam is responsible for keeping it going in three of these.
Oktoberfest Gets Underway
So CDR M already got to teh Oktoberfest beat before I did but that doesn't mean we can't have updates along the way.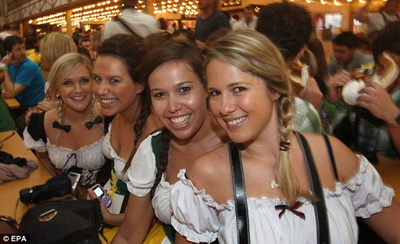 The Ford Bailout Ad
I'm not sure if this ad by Ford has been covered here or not (I suspect it was), but here it is again just in case. And not taking government bailout money ought to be a selling point for companies.

Wondering Which NFL Games Are Going To Be Broadcast in Your Area?
Check here each week and find out.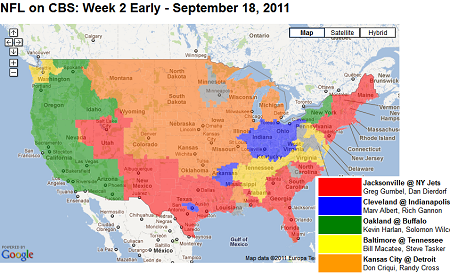 Heh: Star Trek Vertical Comics
And there's plenty more like this one...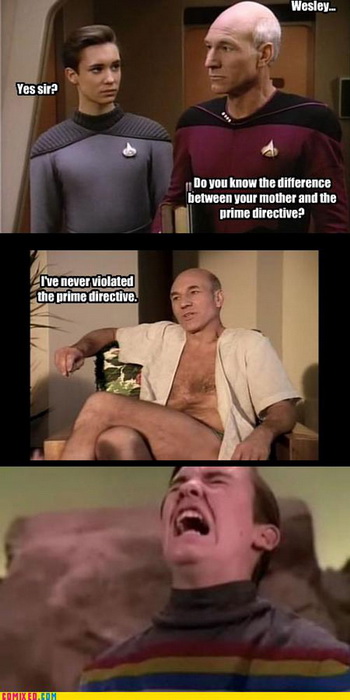 Not Your Usual Cookbooks
Not at all like how Momma used to cook.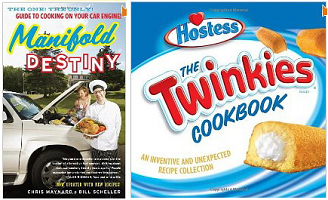 The Yahoo AoSHQ group. Bla bla bla. And don't forget about the Job Bank.
Tonight's post brought to you by birth certificates: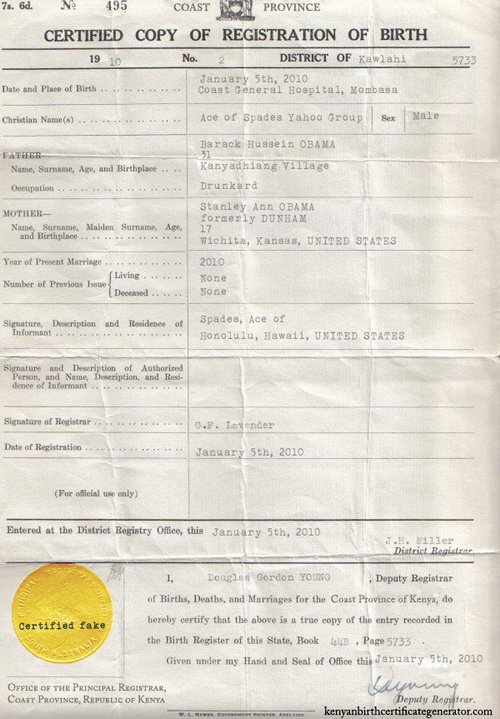 Notice: Posted by permission of AceCorp LLC. Please e-mail overnight open thread tips to maetenloch at gmail. Otherwise send tips to Ace.

posted by Maetenloch at
09:42 PM
|
Access Comments