« Sergeant Dakota Meyer Receives Medal of Honor, First Living Marine Recipient In 38 Years
|
Main
|
Perry Blowing Chance To Slam Door Shut On Rivals »
September 15, 2011
Global Warming - A Long Term Perspective. [ArthurK]
I've been following the Global Warming controversy for years and it's easy to forget that not everybody has seen the same info I have. For example, the long term temperature records extrapolated from Greenland and Antarctic ice cores. It was mentioned in the Planet Gore blog the other day and I thought, "oh yeah - lots of people haven't seen this!".
Here's a animated graph of temps covering the last 420,000 years. When people say the Earth's warming is getting out of control keep this graph in mind.

The longest time frame graph isn't displayed very long - here's a stationary version for you to ponder.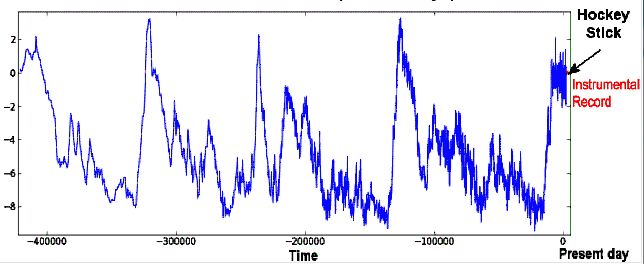 Look at that graph and tell me again that the less than 1 degree C change over the last century or so is a big deal.
(Posted out of draft by Ace.)