« Humiliating: Time Reporter Who Claimed Solyndra Was In Good Fiscal Health Nine Weeks Ago Is Forced To Report On Its Bankruptcy
|
Main
|
The Truth Is Out There. Bill Whittle's Newest Afterburner. [dri] »
September 04, 2011
Overnight Open Thread
Okay this is kinda old but still hilarious. Be sure to read it to the final paragraph.
Pro Tip: Always check out who's collecting for charity before you lift a laptop and start getting stabby.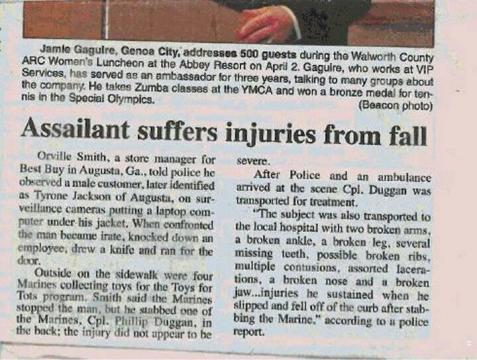 Sadly according to Snopes the last paragraph is an exaggeration but it should have been true.
The Worst Decade of All Time?
So Ron Brownstein has declared the ten years since 9/11 to be the worst 10-year stretch for the US since the Civil War and the Great Depression. But Neo-neocon disagrees:

I disagree. I think that the decade beginning some time in the late 60s (let's choose 1968, for instance) and ending with the close of the Carter administration was the worst since then. True, the years I'm referring to constitute a bit more than a decade. We can tweak the length a little, but the principle remains.
I have to agree with Neo on this. It may not have had the number of deaths of the Civil War or the unemployment of the 30's but it was an utterly miserable time with more cumulative damage done to this country's fabric than any other time I can recall. Pretty much every aspect of life other than technology got worse during that time.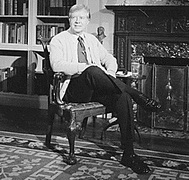 US Marines vs. Ancient Romans?
Over on reddit someone started wondering if a modern Marine unit could have taken down the entire Roman empire. A Moron-ic discussion ensued:

Let's say we go back in time with a Marine Expeditionary Unit (MEU), since the numbers of members and equipment is listed for our convenience in this Wikipedia article, could we destroy all 30 of Augustus' legions?

We'd be up against nearly 330,000 men since each legion was comprised of 11,000 men. These men are typically equipped with limb and torso armor made of metal, and for weaponry they carry swords, spears, bows and other stabbing implements. We'd also encounter siege weapons like catapults and crude incendiary weapons.

How to See a Supernova This Weekend From Your Backyard

Starting this weekend, the closest supernova found in at least 25 years will be visible from your backyard with just binoculars or a small telescope. The exploding white dwarf star is currently brightening in the Pinwheel Galaxy, nestled, from our perspective, within the Big Dipper.
Five Untrained Civilians Who Took On Armies
Pretty much any of these true stories would make a good movie. And why isn't Shalom Yoran more well known?

Yoran and his family fled Poland when the Nazis took over and kept moving through Eastern Europe until the Germans finally caught up with them in Lithuania in 1941. There, they spent a year living in a Jewish ghetto until the Nazis started dragging them off. Only Yoran, his brother and a few others managed to hide, and as his parents were taken away by soldiers they told him, "Avenge our death and tell the world what happened."

...Yoran and his crew finally decided to form their own group. Operating out of a swamp, they managed to get weapons by ambushing German troops and started fighting back. Their numbers swelled to over 200 Jews. And, while they wouldn't get a chance to shoot Hitler at a theater, the climax of their movie would be at Stalingrad, where Yoran's band of misfits would join the Soviets in giving hell to retreating German troops, blowing up bridges and taking out railroads.

Oh, and the guy is still alive, by the way. He wrote a book about the whole thing.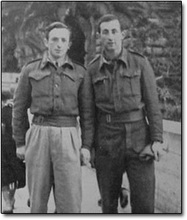 Remembering 'Planet of the Apes'
Lots of fun details on how the original 'Planet of the Apes' came to be made including this tidbit on the political transformation of Charlton Heston:

A lifelong Democrat, Heston had been shooting the historical drama, The Warlord, on location in Northern California in 1964 (the film was released in 1965). Each morning on his drive to work the Lyndon Johnson supporting Heston passed by a campaign billboard that pictured GOP nominee Barry Goldwater with the caption, "In your heart you know he's right." One day, it simply hit Heston that the sign was true, Goldwater was right! Heston still voted for Johnson in 1964 but was on his way to becoming a well-known champion of conservative causes.
$99 D.I.Y. Homes
Need a house but don't have much money? Then consider getting a mini-house from the Tumbleweed Tiny House Company with models starting at just $99. If our current recession turns into a depression, I wouldn't be surprised to see people starting to live off the grid in tiny homes until things improve.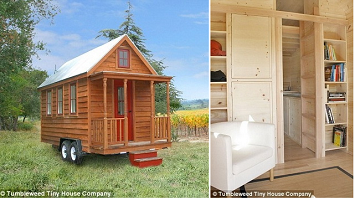 Bored UCLA Student Joins Libyan Rebels

Bradley Hope, a reporter covering Libya's uprising, writes in Abu Dhabi newspaper The National that he recently made a curious discovery near An Nawfaliyah: Chris Jeon, a 21-year old University of California–Los Angeles math student. That's Jeon in the picture above, very unsafely resting his rifle on the ground with the barrel pointed up while his new buddies crowd around. Spoiler: He doesn't have any military experience.

Why'd he make the long trek from L.A. to L-iby-A? "It is the end of my summer vacation, so I thought it would be cool to join the rebels," Jeon told Hope. "This is one of the only real revolutions."
Okay Jeon may be kinda kooky but I do have to give him points for actually getting off his butt and doing something as opposed to just BSing about it in dorm bull sessions.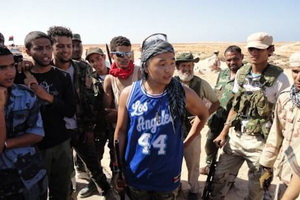 How Many Shoes Are Enough?
Well if you're a woman, the answer is probably more than 39 pairs:

And in her quest to find the perfect shoes for every occasion, the typical woman has now amassed an astonishing collection of 39 pairs, according to a survey.

More than a quarter (27 per cent) of the women questioned admitted to owning upwards of 50 pairs, with one in ten saying the higher the heels, the better.

...Four in ten admitted they had at least five pairs they have worn no more than once.
Despite this, 57 per cent said they thought little of spending more than £100 on a pair.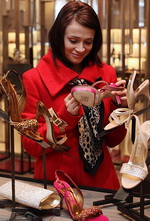 Weekly AoSHQ Commenter Standings
Top 10 commenters:
1 [868 comments] 'sven10077' [121.78 posts/day]
2 [593 comments] 'CoolCzech'
3 [436 comments] 'AllenG (Dedicated Tenther) is tired beyond tired of the trolls'
4 [400 comments] 'buzzion'
5 [362 comments] 'Jane D'oh'
6 [361 comments] 'toby928▒'
7 [345 comments] 'Merovign, Dark Lord of the Sith'
8 [335 comments] 'sifty'
9 [301 comments] 'Y-not'
10 [298 comments] 'Kratos (Ghost of Sparta)'
Honorable Mention:
11 [267 comments] 'ace'
Top 10 sockpuppeteers:
1 [60 names] 'kbdabear' [8.42 unique names/day]
2 [59 names] 'al-Cicero, Tea Party Jihadist'
3 [55 names] 'toby928▒'
4 [53 names] 'CoolCzech'
5 [38 names] 'Fish the Impaler'
6 [34 names] 'Utah guy'
7 [32 names] 'Romeo13'
8 [31 names] 'Waterhouse'
9 [30 names] 'nostradamus'
10 [25 names] 'The War Between the Undead States'
The group. Yeah.
Tonight's post brought to you by your move: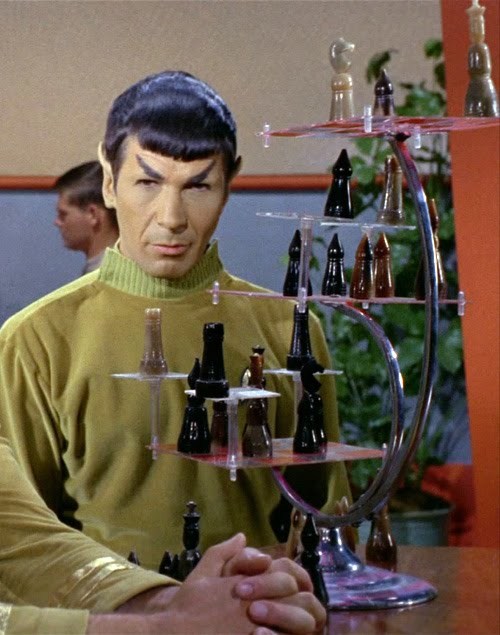 Notice: Posted by permission of AceCorp LLC. Please e-mail overnight open thread tips to maetenloch at gmail. Otherwise send tips to Ace.

posted by Maetenloch at
09:34 PM
|
Access Comments