« Bob Turner, Seeking to Replace Anthony Weiner, Secures Endorsements of Giuliani, Koch, and... The New York Daily News
|
Main
|
Artist Has Pretty Neat Trick »
September 02, 2011
This Is What Happens When You Let a SCOAMF Pick Winners and Losers
Exurban Jon noted on Twitter that the bankrupt rent seeking solar firm Solyndra's web site still contains this visual endorsement from the Industrialist-in-Chief (screencapped for posterity):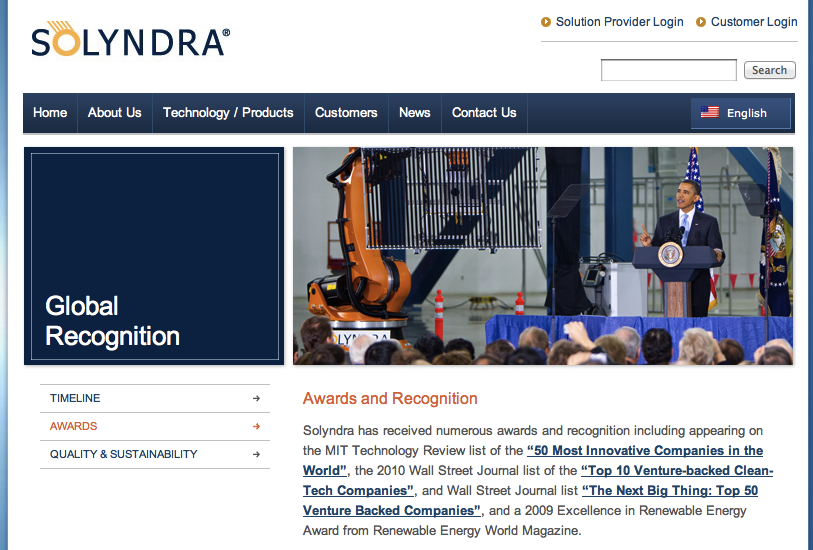 He should have checked out their profits-to-earnings ratios first, but hey, being a SCOAMF means you never have to feel sorry about blowing a half-billion dollars worth of Other People's Money™, amiright?
Rich Lowry over at NRO suggests calling this Obama's Enron.
If the praises of high-ranking Obama-administration officials were a viable business plan, the solar-panel maker Solyndra would be an industrial juggernaut. Vice President Biden insisted that the jobs created by the California-based firm would "allow America to compete and to lead like we did in the 20th century."

In a visit to Solyndra in May 2010, President Obama called it "a testament to American ingenuity and dynamism." He all but redefined the traditional statement of Americanness to encompass motherhood, apple pie, and the conversion of sunlight into electricity through cylindrical thin-film solar cells, the specialty of Solyndra.
You mean a guy with no practical experience at ... well ... anything would believe this crap? Shocking! As they say, read the whole thing.
Jonathan Alter, can you hear us now?