« More On The Michigan Consumer Sentiment Index
|
Main
|
Man Decapitates Self When Police Come Following Domestic Disturbance »
August 31, 2011
The AoSHQ Pepe Serna Interview. [dri]
With the 30th anniversary of the epic film Scarface fast approaching, AoSHQ sent out entertainment reporter Zee to Balboa Island CA to interview the film's multi talented star Pepe Serna. Mr. Serna you no doubt recall played the role of Angel Fernandez who met a grisly demise at the business end of a chainsaw in a Miami motel room shower. Pepe Serna has acted in over 100 films and has worked with an amazing collection of Hollywood's biggest stars and directors.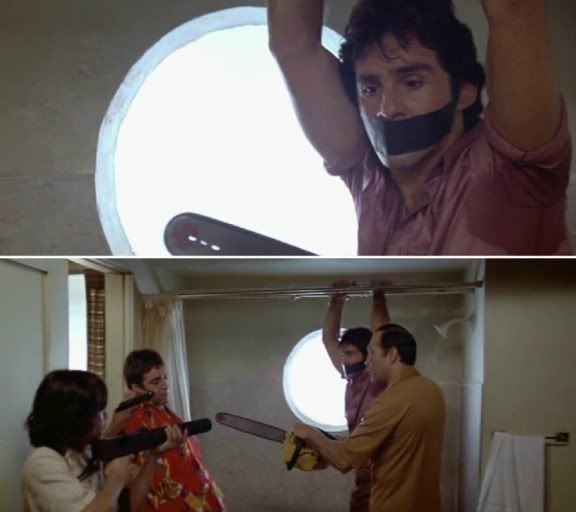 Pepe Serna in Scarface.
You grew up in Corpus Christi, TX. What influences there led you to become an actor, a writer, and an artist? Do you have any crazy personal stories about that beach that you can drive on for miles?
"Growing up, I always knew I wanted to be an actor. I was always performing in some way. I had the most energy of anyone around me. I was always enthusiastic, which came from my "entheo" (the god within)…. There are no excuses, one must tap into their own pep."
"As a child, I considered my older brother my mentor. I was raised by my beautiful mother who was always singing, and so hands on. She was such an influence on me as an artist. My father was not so hands-on, but a brilliant man nonetheless. My grandmother was the storyteller, the healer, a "La Mona Reza" which means a "woman in our life that picks us up." She had a profound influence on my development as a boy and as a man."
"That beach that one could drive for miles on runs all the way into Mexico. I remember rehearsing there as a young boy for my acting roles. I recall looking out onto that beach in mirrored sunglasses…. Driving up and down that beach, games of cowboys and Indians… That beach also holds my saddest memory growing up of a friend who drowned there."
You are an actor, a writer, and an artist. Which of these talents best represents the "real" Pepe Serna?
"All of it! My motto is - Life is Art…the artist is in there, in all of us. My wife is a designer and creator, and has always been my great muse."
Pepe recently created the "Pepefied Sernafied" breakthrough method of teaching improv to young people. He takes a "playground mentality" to teaching, keeping it fun and seeing it as a game, despite the difficulties inherent in most of life's great endeavors.
Pepe recalls the words of his good friend William "Pila" Chiles, a guru and a decorated Vietnam veteran with Fleet Marine Forces, Pacific and survivor of a Top Secret experimental program in guerrilla warfare: "Find something you love to do…find somewhere to do it…and find somebody to enjoy it with."

You have had a long and successful acting career. Most fans remember you from films such as Scarface, Red Dawn and Car Wash, but few probably realize you were in one of Chuck Norris' first movies: "A Force of One." What was it like working with Chuck Norris? Did you get to kick his butt in the movie?
"It was great! I took it easy on Chuck. He's such a cool guy." While working with Chuck on this movie, Pepe was pleased to discover that Chuck was studying with David Alexander, who was also Pepe's acting teacher.
The 30th anniversary of Scarface is coming up. Have you participated in any anniversary events? How is the cast holding up?
"On August 23, 2011, I attended the 30th anniversary event for the Scarface cast at the Belasco Theater in Los Angeles, CA. Ludacris performed as musical guest. I really enjoyed listening to Al Pacino describe what this movie meant to him and its impact. I have always been inspired by Pacino's passion for the movie."
Your part in Scarface has you killed by a chain saw in the shower by a crazed Colombian drug dealer. How did you prepare for that scene?
I am an improvisational actor. For me, it was all about "being in the moment… standing there, chained to the shower rod, hearing the roar of the chainsaw, smelling the gasoline engine, feeling the palpable fear…just looking into each of their eyes… just going into that awful, violent moment." Pepe noted that the guy who "killed" him with the chainsaw was a jazz pianist off the set!
Scarface is such an iconic film. What do you think is so special about this movie that has made it such a cultural phenomenon? Especially when you consider all the big budget movies being made today that will hardly stand the test of time.
"The rags-to-riches story. Everyone wants to hit the lotto - to make it big." And even though Tony, a prisoner from Cuba, achieves this feat, Pepe recalls the story of Icarus who flew towards the sun only to have his wings melted by it, "and to the dust we shall return." Tony also paid this price. Pepe believes that the Hip Hop world took Scarface to its zenith. "It took typical gold plating and turned it into solid gold."
How was Al Pacino to work with? During filming did he act like Tony Montana when the camera was off?
"Al never went into character until the movie began shooting." "During rehearsal, He read his lines normally" - "the stew had not cooked yet, and he wasn't tasting it until it was done" Pacino said. "But once shooting began, Pacino never came out of character – He was Tony Montana on and off the set." "Al Pacino was "very serious" and when I asked him if he got out or went anywhere he answered, "No man, I can't go no place."" Pepe remembers having a copy of "Holy Blood, Holy Grail" in his hand and "Tony" walking by and telling him "…don't buy no wooden nickels man.""
Another movie you were in that can be considered a cultural landmark is Red Dawn. What was it like working with so many future Hollywood stars on Red Dawn? Did you have any inkling that so many would become so successful?
Pepe really enjoyed working on this film. He was not intimidated on set; he had the feeling "he belonged." Pepe knew Charlie Sheen's dad Martin Sheen before starting work on the movie. "Who knew they would become such big stars! I would not have predicted the success that they had." Pepe regrets the "instant gratification society" of today and how much has changed in terms of the work ethic of actors.

Pepe Serna today
What projects are you currently working on?
Pepe spends a lot of his time as an artist these days, and his paintings draw influence from his Mexican roots. He is perpetually inspired by his wife of over 40 years. Gardening is a great pastime of his these days.
His Improv workshops teach kids that they are the "stars, writers, directors, producers of their own movies." He is especially attached to the community where he grew up in Texas and conducts his workshops here.
Continuing his outreach to the young people in his community, Pepe has created a one-man show where he stars as a "Curandero", a Mexican soothsayer. He performs this show in verse, "where every word started as a poem and every poem was a picture." The children respond so strongly to this form, and to his workshops in general, and many leave "Pepefied." He reminds the kids about their uniqueness, like that of each of our thumb prints and encourages them to tap into their own pep.

I had the privilege of listening to Pepe perform part of this show and was indeed Pepefied! -ED
Early in his career, Pepe remembers his agent telling him that he couldn't just put him up for anything, that he wanted Pepe to be a star. Pepe's response: "I just want to work." And work he did. Pepe has enjoyed a long and successful career as an actor, writer and artist. Pepe reflects: "I have never worked a day in my life. I never made a lot of money, but I was consistent."
About the interviewer. Zee does freelance entertainment reporting and is a colleague of AoSHQ blogger dri. She is based in Los Angeles.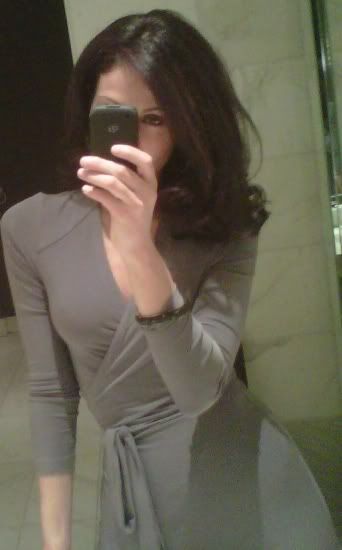 Zee
"Scarface" will be re-released theatrically Wednesday, August 31st for just one night in more than 475 movie theaters nationwide. The 30th anniversary Blu-Ray release of the film will be on Sept. 6.

posted by Open Blogger at
03:29 PM
|
Access Comments