« Sunday Book Thread
|
Main
|
Obama Has Been Hurt by the Media's Leniency »
August 28, 2011
Tropical Storm Irene Update (tmi3rd)
A good Sunday morning to you, Morons and Moronettes. Lots of good news this morning, not the least of which is Irene starting to move out of the area. It has now been downgraded to a tropical storm, which just means that sustained winds are now below 75 mph.

There are currently no tornado watches up for the affected areas as Irene came ashore over New York City (!) at about 9 AM EDT. To give you some idea, in my 30+ years living in New Orleans, I've never seen an eye pass right over the city.

We now turn our attention to inland effects from tropical storms. Believe it or not, this is usually when people start getting killed. So if you're in the path, there's still plenty of storm to deal with.

In honor of CoolCzech, more below the cleavage...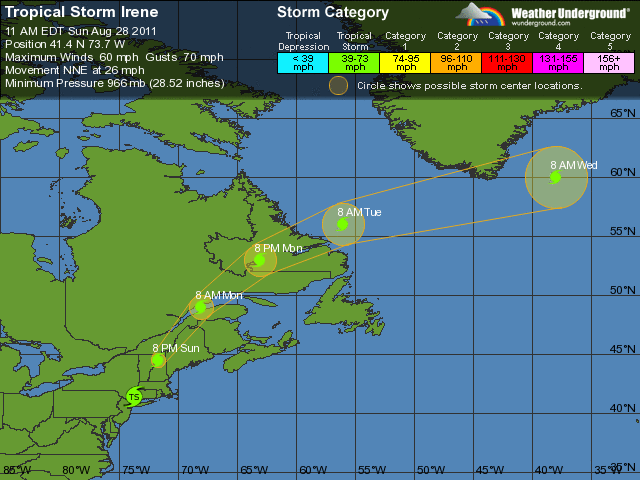 Okay, so Irene's center of circulation is near the western CT/MA border, and looks like it's going to follow the VT/NH border north-northeast into Quebec along the Maine-Quebec border. As is usually the case with tropical systems as they break down and become what we call extratropical, you can expect the forward speed to continue to pick up (last I saw, the storm was moving 23 knots on bearing 020) and haul ass out of the neighborhood.

You'll notice as well that as Irene interacted with land, the nice radial symmetry of the rain bands fell apart, and the eye began to close up. This means that the storm's warm-core (tropical) characteristics are beginning to fade as it no longer has warm, open water to feed it.

Inland, you can expect tropical storm force winds all the way up the Northway in eastern New York, all of Vermont, all of New Hampshire, all of Maine, and you're already there in Massachusetts, Rhode Island, and Connecticut.

Rain estimates have ranged from 7.5 inches around Hartford to 2 or so inches in West Gloucester, RI. As the storm picks up speed and exits the area, you can expect totals to have a harder time getting to six inches. However, given the fact that it's been a pretty wet summer, you're still under a risk of flooding.

Flood watches and warnings are up for all of New England except for the northern third of NH, VT, and NY around Lake Ontario.

So, New England, let's call our rainfall guesses 4 to 6 inches, and I'm aiming high to be on the safe side. Irene, again, should haul ass out of the neighborhood and largely be confined to Quebec and the Canadian Maritimes by this time tomorrow morning.

For those of you on the back end of this system, the rainfall totals have been pretty impressive... but this is a trademark characteristic of landfalling hurricanes. Highlights... Kent and New Castle Counties in Delaware report 8+ inches, Caroline and Talbot Counties in Maryland check in with 11+ inches, the NJ counties are largely reporting 7-9 inches, and the eastern Pennsylvania counties are reporting 4-8 inches.

During the cleanup, local emergency management officials are going to ask you to stay off the streets. Check your property for damage, to be sure, but please don't go out in this. Adam Baldwin (whom I respect and admire) was bitching about Bloomberg urging people to stay indoors (granted, Bloomie shouldn't have said it was illegal to be out- it's a state of emergency, not martial law), and the reason that we ask you not to go out during the storm and immediate damage assessment following it is that it's real easy to impede emergency traffic. Just about every medic unit is going to be looking for sick and injured, and most law enforcement officers I know regard anyone they encounter out in the storm as a probable bad guy.

Bottom line- let us get out there and secure damaged areas, cordon off downed power lines, and so forth. People out even in the immediate aftermath wind up driving into flooded areas or getting into other kinds of trouble. Sure, it means another full day of mindless boredom, but it beats becoming part of the statistics.

Finally, you've probably already heard this, but New York's MTA is not going to be up and running for the Monday rush, and probably not for the evening, either, while they do their inspections. Sucks, but you can basically plan for no mass transit on Monday.

There'll be a final AoSHQ Advisory on Irene this evening, and probably a wrap-up post on this later. I'm curious to hear about damage in NYC... it sounds like Maryland, Delaware, Philadelphia, and the Jersey Shore really got the crap kicked out of them. I hope everyone's safe and can just kick back and enjoy the day.

As ever, I'll be floating around. It's been my pleasure and honor to cover this storm with you, and if you would, please think about ways we can improve our coverage of this. Hopefully, this has been a less hysterical way of following things than the breathless prognostications of DOOOOOOOM you get if you turn on the TV.

Thanks!

-tmi3rd

posted by Open Blogger at
11:27 AM
|
Access Comments