« 38%: SCOAMFOTUS Hits New Low In Gallup Approval; Also Hits New Low on Rasmussen
|
Main
|
Caption Contest! - Updated! [ArthurK] »
August 23, 2011
Byron York: Hey, You Know What the Current Main Driver Of Our Deficit Is? Not Entitlements-- Spending
It's important to distinguish from short-term deficits and the enormous structural deficits just five or so years off, as the Baby Boomers retire (and demand that younger people be taxed at higher rates to honor promises they made to themselves years ago).
Entitlements are causing part of the current deficit, but to the extent they'd already been predicted to cause to cause it.
And a big driver of the deficit is just the downturn -- Byron York does some calculation and finds that over $681 billion (in combined higher spending due to unemployment insurance and foodstamps, and lower tax receipts) was built in.
But the rest? All Obama, and all by his choosing.
There is no line in the federal budget that says "stimulus," but Obama's massive $814 billion stimulus increased spending in virtually every part of the federal government. "It's spread all through the budget," says former Congressional Budget Office chief Douglas Holtz-Eakin. "It was essentially a down payment on the Obama domestic agenda." Green jobs, infrastructure, health information technology, aid to states -- it's all in there, billions in increased spending.

As for the Troubled Assets Relief Program, or TARP -- it has no specific line in the budget, either, but that is because it was anticipated to pay nearly all of its own cost, which it has.

Spending for Social Security and Medicare did go up in this period -- $162 billion and $119 billion, respectively -- but by incremental and predictable amounts that weren't big problems in previous years. "We're getting older one year at a time, and health care costs grow at 7 or 8 percent a year," says Holtz-Eakin. If Social Security and Medicare were the sole source of the current deficit, it would be a lot smaller than it is.

The bottom line is that with baby boomers aging, entitlements will one day be a major budget problem. But today's deficit crisis is not one of entitlements. It was created by out-of-control spending on everything other than entitlements. The recent debt-ceiling agreement is supposed to put the brakes on that kind of spending, but leaders have so far been maddeningly vague on how they'll do it.

This issue could be an important one in the coming presidential race. Should Republicans base their platform on entitlement reform, or should they focus on the here and now -- specifically, on undoing the damage done by Obama and his Democratic allies? In coming months, the answer will likely become clear: entitlements someday, but first things first.
Right, so true, and further, older people certainly will not agree to benefit reform when so much of federal spending is as far from reformed as conceivable.
We must push relentlessly for Obama himself to agree to repeal ObamaCare, for starters.
Of course Obama is going to break the all-time cumulative debt record, beating Bush's 8 year record in only 2 and a half years, and he still has eighteen months worth of damage yet to be done.
This Rich Lowry column isn't really related, but it's good.
It's easy to pinpoint the moment when Pres. Barack Obama became a tireless advocate of compromise — when he no longer had the power to force whatever he wanted through Congress.

Then, he suddenly switched his pitch from "Hope and Change" to "Gee, I Hope We Can Work Something Out."

Obama the Compromiser depends on short memories. The Jefferson-Jackson Day speech that fueled his rise in the 2008 Iowa caucuses was a ringing statement of principle and implicit rejection of compromise. He condemned "triangulation," the dastardly word associated with Pres. Bill Clinton's work with a Republican Congress in the 1990s.

Many of the same commentators who hailed Obama's voice of righteous purity in 2008 now praise his call for splitting differences in 2011. To them, he's equally thoughtful and brave whether he's passionately extolling "principle" and "conviction," or doggedly insisting that progress is possible only through "common ground and compromise." By definition, whatever is Obama's current tack deserves the support of all right-minded people.
Funny that.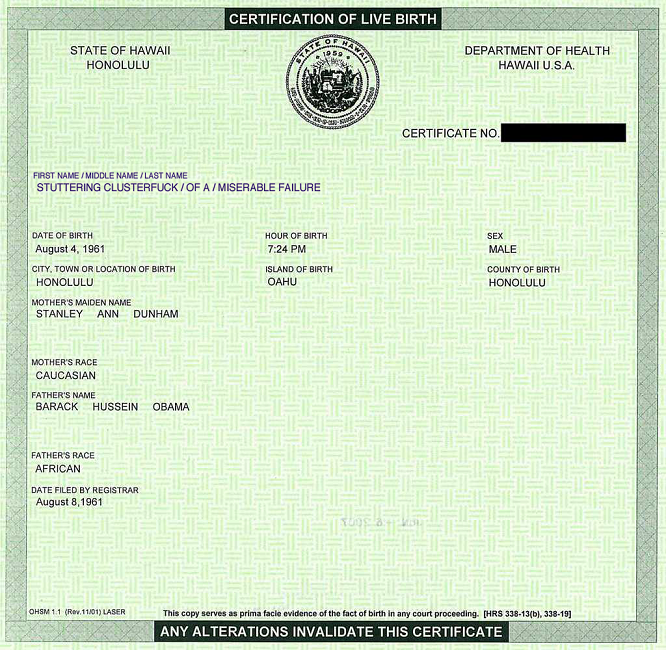 Best one yet, John E.

posted by Ace at
04:00 PM
|
Access Comments