« Iowahawk Headline: "London Rioters Resent Media Image of Hooded Teen Thug" UPDATED
|
Main
|
Top Headline Comments 8-11-11 »
August 10, 2011
Overnight Open Thread
Despite being lauded by the MFM as a wondrous speaker who fills the air with soaring, inspirational oratory, the truth is that when it comes to speeches Obama is just a plain bore.
After almost three years as President it's clear that he really only can give one speech well - the standard campaign-style talk full of gauzy vagueness and platitudes built on stock straw-men arguments and false choices. Now he does execute this speech very well with a nice melodious voice, but that single speech is pretty much all he's got.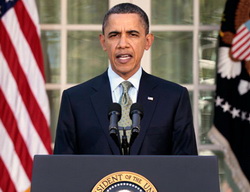 Here Don Surber makes a point I've long made as well: the proof that Obama truly is an absolutely boring speaker lies in the fact that no one can name a single memorable line from any one of his speeches since he became president. It's all well-spoken fluff that evaporates from the mind within seconds of entering it.
I have for some time pointed out just what a bore Barack Obama is to listen to. His speeches are come from an observer, not a leader. His mother, after all, was an anthropologist and whether he will ever admit it, he is his mother's son.

His speeches lack heart.

Maybe it is the writers. Maybe he is too cautious. In 2002, he said, "I don't oppose all wars. What I am opposed to is a dumb war. What I am opposed to is a rash war."

I challenge readers to — off the top of their heads — come up with one quote from a speech that Obama has given since taking office.
How boring and predictable are Obama's speeches?
Well so much so that a female fan of his has been able to create a keyboard-based Obama speech speech synthesizer that does a good rendition of pretty much any Obama appearance. Now that is the ultimate in boringness.

Actually at this point his speeches are worse than boring - every minute he talks makes things worse and things actually get better when he cancels a speech.
Britain: A Criminal's Paradise
Crime - petty and major - is so risk-free in Britain these days that the wonder is that so many people stay honest despite the obvious cost-benefit advantages of being a criminal.

Detection rate of crimes is 5 per cent. Of these cases only 2 per cent are processed in court. Only a mere 0.3 per cent of all crimes result in prison sentence. Offenders deem themselves untouchable. Fines are seldom paid. In 2002 it was reported that tens of millions of pounds in unpaid fines were written off.

Even persistent offenders with a long record of previous convictions and a complete lack of motivation to reform are granted probation and put back in the community.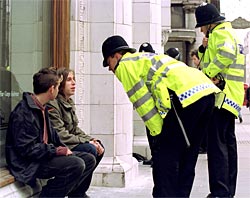 Are You Making Excuses in Life?
This is Sean Stephenson. He has osteogenesis imperfecta which left him stunted, with bones barely stronger than pretzels. And most guys reading this make more money, are better looking, and have a stronger, healthier body than Sean. Yet Sean dates hawter women and is probably happier than you.
How come? It's all in his mental attitude and how he chooses to view the world. And there's no reason why you couldn't have that too - in spite of all your life advantages. Also: Sean on creating deep attraction.

That Truck Driver You Just Flipped Off? Here's His Story

Let me tell you a little about the truck driver you just flipped off because he was passing another truck, and you had to cancel the cruise control and slow down until he completed the pass and moved back over.

His truck is governed to 68 miles an hour, because the company he leases it from believes it keeps him and the public and the equipment safer.

The truck he passed was probably running under 65 mph to conserve fuel. You see, the best these trucks do for fuel economy is about 8 miles per gallon. With fuel at almost $4 per gallon — well, you do the math. And, yes, that driver pays for his own fuel.

He needs to be 1,014 miles from where he loaded in two days. And he can't fudge his federally mandated driver log, because he no longer does it on paper; he is logged electronically.
Read the rest
here
.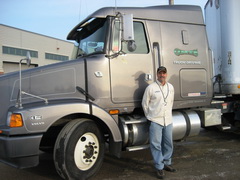 The Man Who Didn't Salute Hitler
Read the article to find out why. And to find out what happened to him and his family.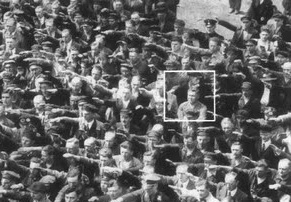 6 Beloved Characters That Had Undiagnosed Mental Illnesses
Well Asperger's, schizoid personality, and anti-social disorders always seem a lot more enjoyable when they happen to someone in the movies.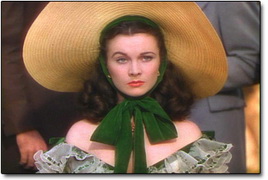 Levi Johnston's Sister Poses Nude for Playboy
And talks smack about Bristol and the Palins.

Mercede, also known as 'Sadie' to friends, claimed former Alaska governor Sarah Palin used Levi as a 'prop' as she ran for vice-president in 2008.

'I think she'd have had a mental breakdown is she was elected (president),' Mercede told Playboy. 'As governor she quit on us.

'Is she prepared to govern the whole country? Absolutely not.'
I think Todd's gonna need a bigger unmarked grave in the tundra for the inevitable brother-sister dual hunting accident.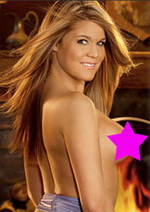 Tonight's post brought to you by SkyMall for doggehs: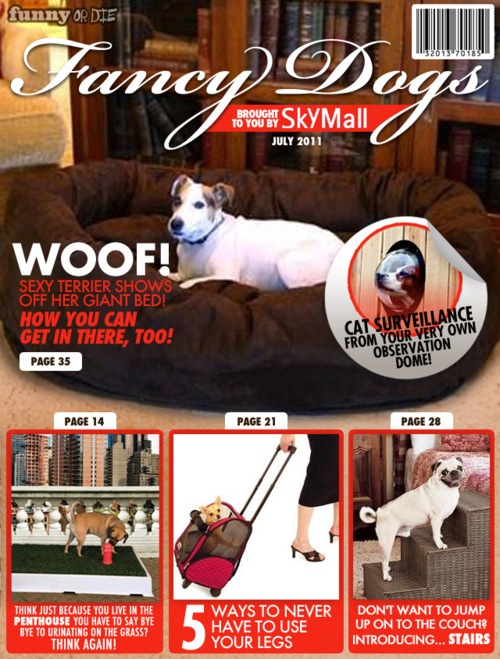 Notice: Posted by permission of AceCorp LLC. Please e-mail overnight open thread tips to maetenloch at gmail. Otherwise send tips to Ace.

posted by Maetenloch at
09:38 PM
|
Access Comments