« Paul Ryan To Run Ads In... Iowa
|
Main
|
50 Dirtiest Players of All Time »
August 09, 2011
Newsweek Runs "Lunatic" Cover Story, Setting Conservative Blogosphere Abuzz, Angering Tea Partiers and Bachmann Supporters
Have you seen this? It's outrageous.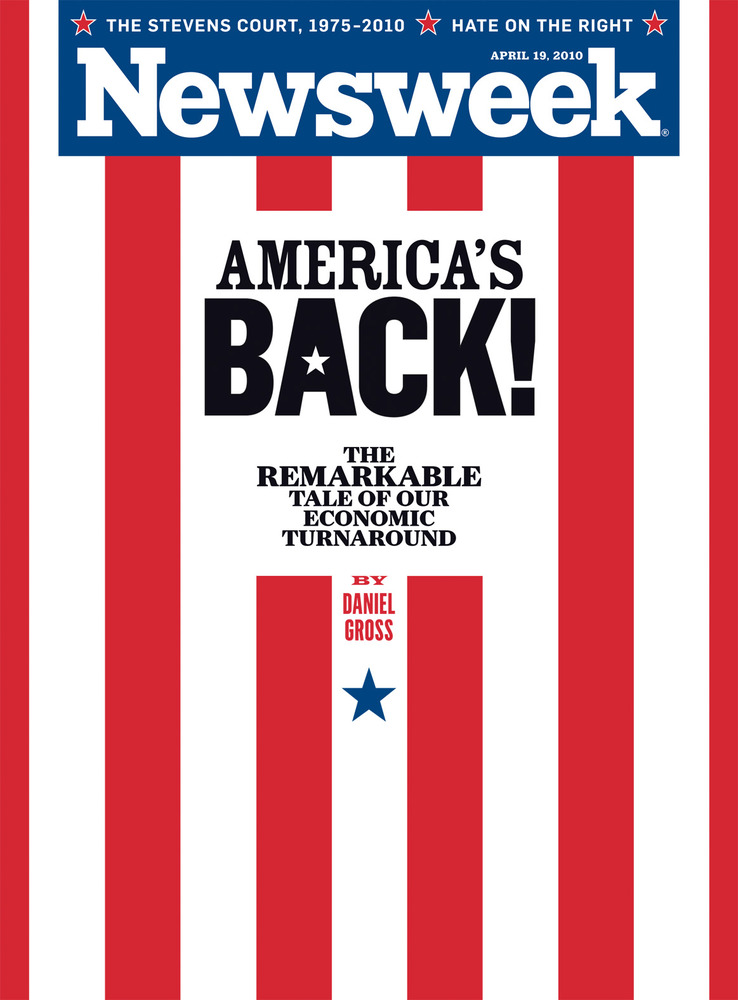 Of course this isn't the first time -- last year Newsweek pulled the same "Crazy-Town" cover gambit in order to tweak Sarah Palin.
No links for Newsweek.
As for their Bachmann "Crazy Eyes" cover -- This is a bad news/good news situation.
The bad news is that Newsweek is a strident leftist webzine, essentially a print version of MSNBC.
The good news is it's only Newsweek.
It is amusing to me that the failed magazine Newsweek must resort to the sort of attention-whoring carnival-barking that blogs used to do.
I can't say we can just ignore them -- here I am, writing about them -- but no comment should be made about Newsweek without noting the fact that it is a failed magazine, a zombie imprint, desperately attempting to find some niche for itself, and with lower readership than many large blogs.
Unflattering pictures of politicians have always been big on blogs. Newsweek is now simply a blog with a little subscribed-to print edition that reports to you late, days after the events it purports to inform you about. (That latter bit, I suppose, being this blog's niche.)
I renew my age-old complaint about the media: The media screams that lobbyists in different industries have outsized influence in public policy affecting those industries; lobbyists "help" write the laws that govern them and etc.
This is thought to be unfair. The pharmaceutical industry, it is alleged, is a national concern; why should one little self-selected group of workers in that particular industry have such enormous sway in how we think about the politics surrounding that industry? Just because they went to work in the drug industry, they should have such an outsized role in crafting legislation about drugs? Simply because they have some education in biochemistry or business they should dictate to the rest of the country what our pharmaceutical laws should be?
And yet liberals in the media never seem the slightest bit embarrassed that they, a little self-selected group of workers has an outsized influence in all areas of national policy. Like the pharmaceutical industry workers, media workers have a skill set -- graphic design, photography, the occasional photoshopping, stenography, college-level writing -- that makes them competent (barely) to work in a particular industry, but how does that thin skill set operate to make them Masters of American Policy?
If it's unfair that a group of biochemists and MBAs has disproportionate influence in one small area of policy, how is it fair that graphic designers and former college newspapers staffers are permitted such huge influence in all areas of public life?
How exactly is Tina Brown's skill set -- attention getting, champagne sipping, social climbing, networking -- at all relevant to the skill set needed for statecraft, or to judge another's abilities for statecraft?
What is galling is that the media has so little shame, so little embarrassment, so little humility about this state of affairs. Rather than abashedly confessing "Yes, we seem to have little actual training or expertise in policy and statecraft, and we are a bit chagrined to find ourselves in a position to so greatly influence public opinion on matters beyond our expertise," they instead act like they own the place -- and by place, I mean our nation -- and that God Himself has appointed them to this role.
Rather than internally check the natural tendency of the loudmouth to speak about matters beyond his understanding, they instead leverage it in an attempt to have maximum political effect.
For the media, it's always a horrible thing that one small cohort of like-minded people with similar agenda and shared interests and sharply limited skill-sets should have a great influence on public policy in any particular sphere of national interest.
Except, of course, for one example of this, which they vigorously defend as natural and right.
In that one case they are not upset that happenstance has afforded a group of people with monolithically similar beliefs and completely irrelevant skill-sets has the ability to push a particular political agenda on a nation; rather, in that one case, they give awards to each other for doing so.*
* Oh, it's not just one case; it's actually two. As the ABA agrees with their legal agenda, they are quite enthusiastic about the country's lawyers having a large (and yet not so large as the media's) influence on public policy.

posted by Ace at
03:10 PM
|
Access Comments