« The "Tea Party Downgrade" UPDATED
|
Main
|
Top Headline Comments 8-8-11 »
August 07, 2011
Overnight Open Thread
Home Sizes Around the World - And Why Americans Aren't House Gluttons
So here's a graph from the BBC comparing the average size of homes built since 2003 among the US, Europe, and Australia. And unsurprisingly the US comes in on top with an average home size of 214 square meters (2,303 sf). (Note that 1 square meter is about 10 square feet)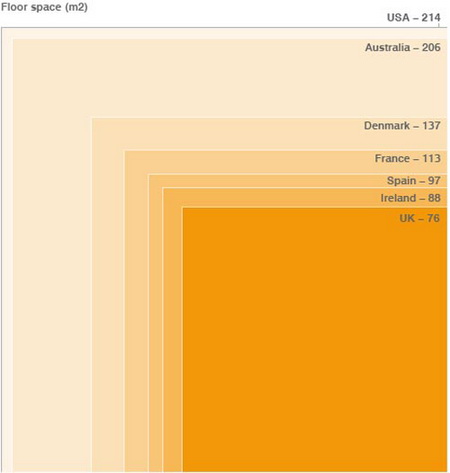 I suspect the US being so far ahead is a relatively recent trend since there's also been a housing size bubble going on in the US - well since the early 80's at least.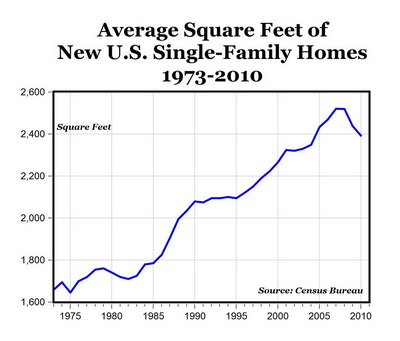 But there's a huge gap between houses in the US and even the biggest houses in Europe with American houses being at least 50% larger. UK homes are amazingly tiny at only 818sf - practically bonsai houses.
Needless to say this gives ammunition to all the usual critics who complain about Americans consuming more than their fair share of resources including housing.
Or does it?
Well Arne Salvesen ran the numbers and found that the house size rankings pretty much match the available land in each country.

This chart shows the relationship between the size of the average home, and the size of the country the homes were built in. What does it tell us? For one, I had too much time on my hands when I wrote this post. But more importantly it shows that North America is clearly under-performing in the home:country area ratio! Our homes could easily be 10 times larger based on what's happening in Europe.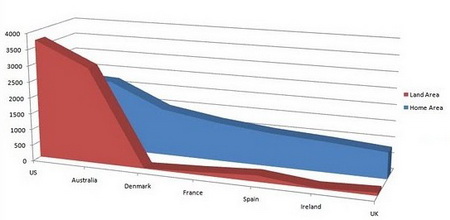 So by land area available we're actually quite the parsimonious builders - by contrast it's the Europeans who've built over-sized homes given their resources. So how about a continental down-sizing in home size
and
sanctimony?
Woo Hoo: We're in the Top 30 of Conservative Blogs!
At least according to Alexa's traffic rankings. And actually better than that since at least five of the sites listed aren't actually conservative at all. But maybe worse since they also lump in all mu.nu domains. Next target on our secret attack list: americanthinker.com.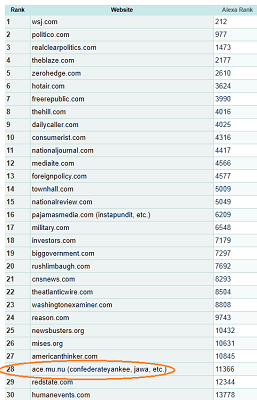 Frank Fleming: What's Wrong with Making Future Generations Pay for our Debt?
And he makes some good points. First future generations get a lot of good press - most of it completely unearned. Secondly why do we assume they'd be any better than us? More than likely they'd screw us first if they had the chance, which they don't. Third they don't - as best we can tell - have terminators:

…Unless they get so angry at us that they send terminators from the future to kill us. That's definitely a possibility, but if they try that, we can easily fight back. For instance, we could bury a bunch of time capsules that are not to be opened for fifty years. Then when future generations open them — BOOM!
So I say stiff'em now and stiff'em hard.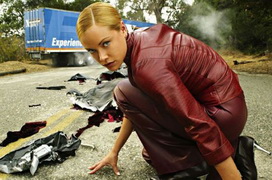 Why Men Don't Take Women Seriously in Sports: Moto X Enduro Highlights
Okay I'm curious what the back story on this is. Was it female professionals or just the girlfriends of the guys competing? By comparison here are the men riding the course.

Got .50 BMG?
Get a Barrett M82A1-K1 .50BMG for $9299.99 + S&H at CDNN.

Reach out and touch someone.

As the first and only semi-automatic .50 caliber rifle available, the Model 82A1 continues to blaze new territory. Its chamber is chrome-plated and dimensioned for both civilian and military ammunition. The extractor and ejector are proven to work under any condition, and close tolerances on every part allow it to function in all environments. The muzzle brake, dual barrel springs and long mainspring design make this iconic rifle comfortable and exciting to shoot.

Perfect for the zombie invasion, if the zombies learn how to use tanks or start to occupy hardened structures.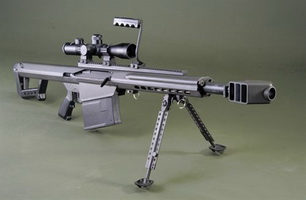 "The day the Queen did a conga into the Palace... then sang until 2am"

The Queen – then the teenage Princess Elizabeth – was allowed by her father, King George VI, to slip out of the Palace on May 8, 1945, to join the celebrations. With a cap pulled down over her face to disguise herself, she even cheered her parents when they appeared on the Palace balcony to acknowledge the crowds.
The Queen records a similar experience on VJ Day, August 15: 'Out in crowd, Whitehall, Mall, St J St, Piccadilly, Park Lane, Constitution Hill, ran through Ritz. Walked miles, drank in Dorchester, saw parents twice, miles away, so many people.' And on August 16, she wrote: 'Out in crowd again. Embankment, Piccadilly. Rained, so fewer people. Congered into house [a reference to the conga and Buckingham Palace] . . . Sang till 2am. Bed at 3am!'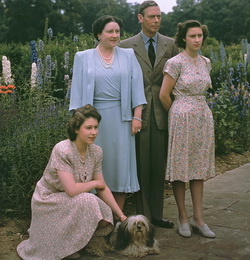 Death By Stiletto Heels
Well there is a reason they're called that.

This week, high heels became exhibit A in a crime scene. A Georgia woman allegedly murdered her boyfriend with the pointy heel of her shoe. 46-year-old Thelma Carter is in custody after her live-in partner, Robert Higdon was found dead in their trailer with stab wounds believed to have been caused by her spiked high heel.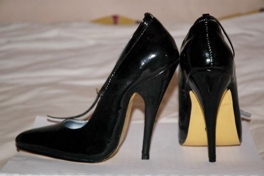 Weekly AoSHQ Commenter Standings
Top 10 commenters:
1 [560 comments] 'Jane D'oh, Tea Party terrorist, and proud of it' [78.57 posts/day]
2 [455 comments] '80sBaby'
3 [436 comments] 'sifty'
4 [410 comments] 'Vic'
5 [381 comments] 'Kratos (Ghost of Sparta)'
6 [355 comments] 'As IF...'
7 [334 comments] 'curious'
8 [287 comments] 'buzzion'
9 [287 comments] 'CoolCzech'
10 [274 comments] 'MikeTheMoose'
Top 10 sockpuppeteers:
1 [89 names] 'kbdabear' [12.49 unique names/day]
2 [70 names] 'Fish the Impaler'
3 [65 names] 'Methos'
4 [62 names] 'Blue Hen'
5 [56 names] 'toby928▒'
6 [50 names] 'A Balrog of Morgoth'
7 [43 names] 'Beefy Meatball'
8 [38 names] 'George Orwell'
9 [38 names] 'al-Cicero, Tea Party Jihadist'
10 [37 names] 't-bird'
The group. Yeah.
Tonight's post brought to you by Eisenhower's yearbook photo: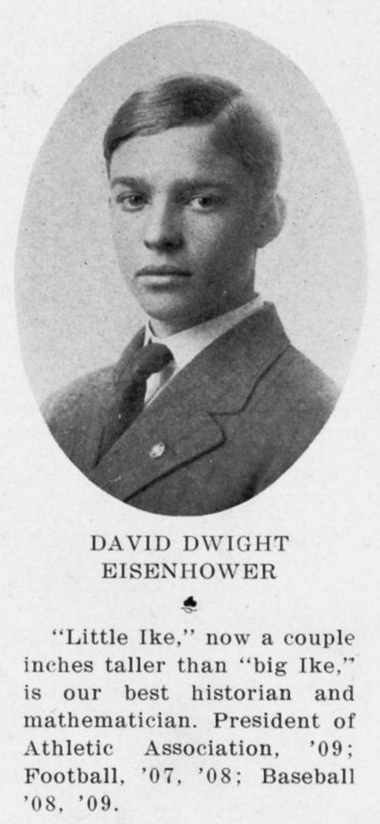 Notice: Posted by permission of AceCorp LLC. Please e-mail overnight open thread tips to maetenloch at gmail. Otherwise send tips to Ace.

posted by Maetenloch at
09:19 PM
|
Access Comments