« Top Headline Comments 8-5-11
|
Main
|
AoSHQ Style Guide - Open Thread [krakatoa] »
August 05, 2011
Unemployment Rate for July 2011 - Can We Fire Them Now?
Unemployment rate time, Obama style!! How do you add 400K200K people to the population but lose 200K from the labor force? That's Hope working overtime!
Yes, it's the first Friday of the month, and the Bureau of Labor Statistics just released the unemployment rate for July - 9.1%. Not much changed from last month (9.2%) or the month before (9.1%). Here's how that graphs up: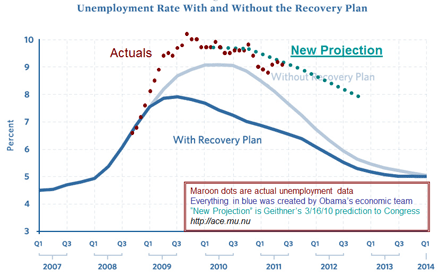 Geithner's "pulled out of his hiney" unemployment projection from almost a year and a half ago appears to be holding up pretty well. As I said at the time, though, showing that sort of projection without a solution should have gotten him fired. And the fact that we've closely tracked his projection in the 17 months since tells you that
nothing the administration has done has affected the unemployment rate
. Which means the lot of them should be fired.
But I'm pretty sure you were already planning to do that.
[Would do a little more data mining, but the BLS historical statistics are down.]

posted by Geoff at
09:49 AM
|
Access Comments