« House Passes Cut, Cap and Balance Debt Measure
|
Main
|
Top Headline Comments 7-20-11 »
July 19, 2011
Overnight Open Thread
So...this is the Overnight Thread. Nice place you've got here. It's a shame something happened to it.
I'm not sure what you people did to piss Maetneloch off so much that he's punishing you by having me do it tonight but it must have been pretty bad. I hope you enjoyed it.
Without further ado…Welcome to the ONT: Sports Edition (mostly)
First, everything you need to know about the best sport, Hockey, from the best sports movie ever, Slap Shot.
If you're anything like me, and I bet you are, you've often thought to yourself, "You know what would make the Tour De France more interesting? Randomly hitting riders with a car". Clearly this guy had the same idea and when he had the chance, he took it.
It's funny because both riders were ok (pretty much) and because, well, it's a car randomly hitting riders in the world's most important bike race.
How boring is soccer? This is what passes for wild and exciting action.
Apparently fun is frowned upon in "the Beautiful Game", so he's going to be disciplined. for that outrageous display of jocularity.
In non-sports news…..
The Ace of Spades Lifestyle is not, strictly speaking, compatible with every career path.
The Federal Aviation Administration acknowledged Tuesday it removed a Colorado air traffic controller from his post earlier this month after he failed an alcohol test.

During a routine, random test, the veteran controller was found to have a blood-alcohol level exceeding the allowed limit, the FAA said.
I'm actually a bit surprised there's an allowed limit it at all. Kind of figured "stone cold sober" would be the rule there.
Must have been a tough week.
And finally (insert sigh of relief here)....8 rules of email etiquette. Rule 8 is the most important if you're an adult and want to be treated accordingly.
8. No Unnecessary Use of Cuteness

If you enjoy using emoticons (smileys, the "surprised" face) and acronyms (LOL, BTW, TTYL), at least banish them from your professional correspondence. They can be distracting, confusing, or worse, make you seem more like a high schooler than a trusted colleague. One thing you should be including in all your business emails: a signature that provides your full name, title, work address and phone number.
Tonight's guest ONT brought to you by...one of the oldest questions known to men of a certain age: Ginger or Maryann?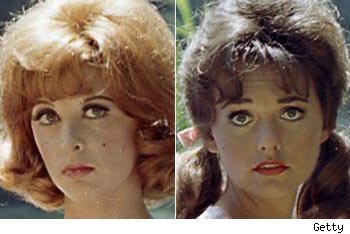 As Porky Pig used to say, "That's all folks!"

posted by DrewM. at
09:30 PM
|
Access Comments