« Laura Ingraham Juxtaposes Carter's Malaise Speech with Recent Obama Comments
|
Main
|
Top Headline Comments 7-16-2011 [Truman North] »
July 15, 2011
Overnight Open Thread
Maetenloch is on vacation or something ("vacation? What's that" you ask. "How should I know, I'm busy taking care of the soldiers who keep America safe and I'm busy" I answer), so he asked for some help while he's off doing, vacationy things.
Doing my best to stay cool here, it's been 45 days since June 1 and we've already had 30 days over 100. So I'm doing the ONT out on the deck by the pool. Nekkid. It doesn't really help with the heat but I kinda feel better about it, you know what I'm sayin?
Lego Serenity via Andy Levy via yet another guy named Andy.
Here's something from the Museum of Questionable Medical Devices in St. Paul, Minnesota (where it likely isn't 103 today), the RectoRotor.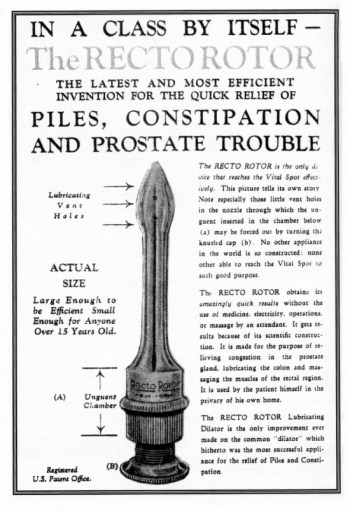 From the article 7 Summer Vacation Ideas for Bad Teachers (slightly NSFA*).
This was sold as a handy unguent dispenser for fast relief from piles, constipation, and prostate discomfort.

...

You can't argue. It's science.

Lastly, some summertime music to kick off the weekend. Cheap Trick's "Surrender Mariachi Band Mashup".
Kinda gayballz, but funny. Have a great weekend you Hornitos™

* anyone


posted by Dave In Texas at
10:12 PM
|
Access Comments