« When Taxidermy Goes Wrong
|
Main
|
Overnight Open Thread »
July 14, 2011
Trailerama: Theater Bizarre, The Thing Prequel, John Carter (of Mars)
First up, some conservative entertainment, if you consider perversion and mutilation and murder conservative, and I have it on good authority from the media that it is.
This film is a low-budget independent thing done by a friend of the site. A long time ago I mused that the Grand Guignol theater might be a good setting for a horror movie, and I guess I wasn't alone in this idea.
Called Theater Bizarre, it's getting some attention, including from Film Threat. One of the segments -- it's a horror anthology movie, with multiple stories, like Creepshow or the old Trilogy of Terror -- was directed by Hobo With A Shotgun's DP, so there's some more AoS Lifestyle linkage.
I'm linking the trailer but I have to re-warn with a very special Ultra Gore Macabre Content Horrific Imagery Just Plain Awfulness NSFW Warning. Seriously, this is not for anyone who's not into this kind of thing.
Now comes The Thing prequel, also called... The Thing. I don't know, looks a little bit exactly like the first one, except now we have two chicks and a bunch of Norwegians in it. I sort of like the chick, but I don't think chicks belong in a Thing movie. The first one was notable for not having chicks, and better for it: A bunch of men alone in the cold, with no women, subtracted virtually everything light and sexual and human from the situation, and made it into pure animal survival.
The chick in the MacReady role actually co-starred with Kurt Russell in an underrated but great kid's movie.
I was underwhelmed when I heard they were doing a prequel and still am.
I know this should get some people interested -- John Carter of Mars, but just called John Carter, I guess because People hate Mars.
I dunno about that one, either. Not as barbaric and swords & laser-ish as I was expecting. Seems a little plodding. Did they want "plodding" in the trailer?
Oh, and did you guys know they're rebooting Spiderman just like eight years after it was booted? So another origin story. No trailer, but there are pictures.
Spiderman has a new costume. The problem with the old one? Not gay enough.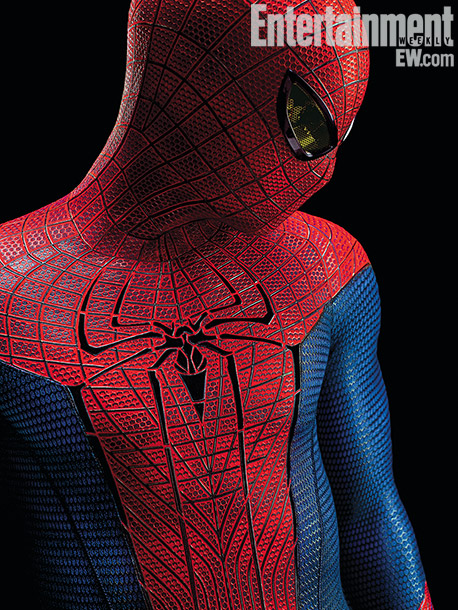 H/t to Norm MacDonald for that joke.
And more geek stuff at Geek Week Online. Including new Hobbit pictures, of the dwarves.*
* I know this sentence sucks; you try writing it. "Including new dwarf pictures from The Hobbit." Including new hobbit dwarf pictures. See? It's a problem.

posted by Ace at
06:41 PM
|
Access Comments