« National Journal: White House Very Worried About Reelection
|
Main
|
Obama's Absolutely Unbelievable Press Conference »
June 29, 2011
Overnight Open Thread - Humping Day Edition
Hey at least Ace got my name right last night. So I got that going for me.
America's Best Actor is... John Ratzenberger?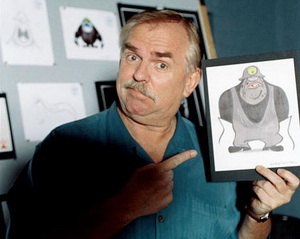 Yep that's right. If you look at the RottenTomatoes scores of his movies, Cliff 'Ratzenberger' Claven has the highest cumulative average score of all American actors. Of course a lot of this comes from the fact that he's voiced a character in every Pixar movie to date. Plus he must have an awesome agent who gets him into successful films.
For comparison here's the graph of Tom Cruise versus John Ratzenberger. Tom seems to bounce around 70% while John's scores are either near zero or 100%.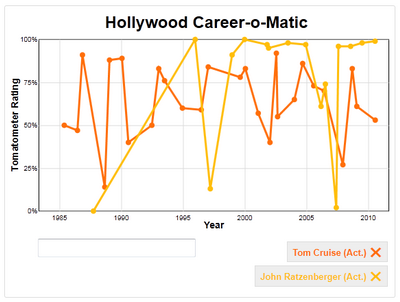 And you can create your own graph here.
You're All A Bunch of Bastards
Well okay not all but nearly half of Americans are:

The sheer numbers are staggering. In round terms, about 40 percent of all births in the United States are out of wedlock. That figure for the entire population conceals wide variation: Thirty percent of white children, 50 percent of Hispanic children, and 70 percent of African-American children are born to unmarried parents.
But note that for women with a college degree the rate is only 6%.
And why is the bastardy rate so high? Well as Insty has long pointed out we've taken away a lot of the societal benefits of being married (and parents) and added to the burdens. So it's no surprise that young people decide the cost-benefit ratio is not favorable and decide to forgo the whole marriage thing. Neo-neocon agrees:

The marriage decline (which exists in many European countries that do not have large numbers of "aimless or felonious men") is in large measure, IMHO, a result of the fact that we have simultaneously removed many of the social (although not the economic) costs of illegitimacy, and decreased the incentives to marry.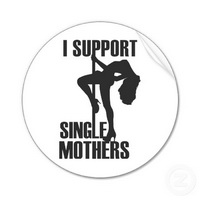 Can Tom Petty Make Michele Bachmann Stop Using His Song?
So Michele Bachman has been playing "American Girl" at her campaign events and Tom Petty doesn't like it. So he had his lawyers sent her campaign a cease-and-desist order. But can he really stop her? Well not if she has the correct performance license from ASCAP. Note that Petty was also unhappy with George W. Bush using "I Won't Back Down" in 2000.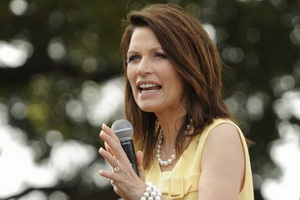 Israelis Strike Back With Their Own Lawfare
This time they're using their lawyers to undermine the third Gaza flotilla by getting maritime insurance companies to not cover the ships and they're threatening to sue individual activists for any damages caused by Gaza-based terrorism.

Already, the number of flotillistas has been whittled down from 1500 to 350, and the number of boats from 15 to ten. Most of the credit should surely go to the Israeli activist law firm Shurat haDin which believes in bankrupting terrorism through a creative use of the law.
And if the lawfare doesn't do the job, well then there's always frogmen with underwater welding torches.
The Classic Sudden Mob Prank
Nobody does cruel but funneh pranks like the Japanese. And here's the classic flash mob one. I especially like 'The Warriors' version of it.

Tech Giant Organizational Charts
Well Amazon does seem like the most functional organization of the bunch which is why you almost never hear about any internal dissension from them. On the other hand Microsoft seems to be their own worst enemy these days.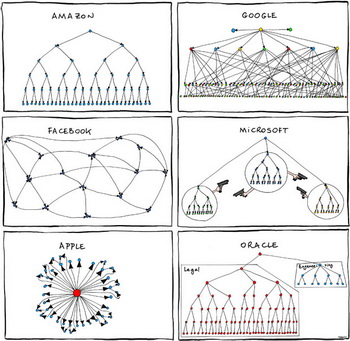 Octomom: 'I hate my babies and my older children are animals'
The bloom comes off her large family fantasy:

'I hate the babies, they disgust me,' she told InTouch magazine. 'My older six are animals, getting more and more out of control, because I have no time to properly discipline them.'

In a picture taking by the magazine, one child is seen eating dry-wall in her run-down home.
Suleman says that her dream of having a big family has now turned into her worst nightmare as she struggles to take care of her huge family.

'The only way I can cope is to lock myself in the bathroom and cry. Sometimes I sit there for hours and even eat my lunch sitting on the toilet floor. Anything to get peace and quiet,' she said.
The reality TV mother has even considered suicide.

'Some days I have thought about killing myself. I cannot cope,' she said.
Of course she's also a fame whore so who knows.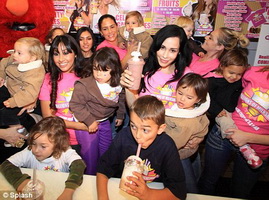 High End Mail Order Brides
Given that you're slumming around here you probably can't afford them. But maybe this will motivate you to take on some extra paper routes.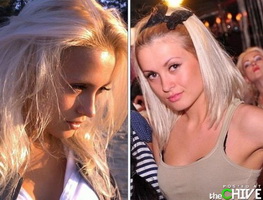 Are Hard Nipples An Under-Used Accessory?
Well I hope so since this is one fashion trend I would support whole heartily and double handedly. Of course nothing in the fashion world is ever really new. If the 80's had shoulder pads, maybe the 10's will have nipple bras.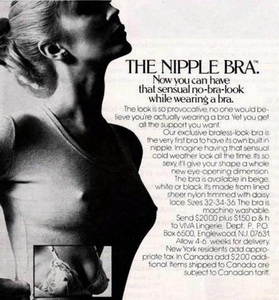 Tonight's post brought to you by connoisseurs: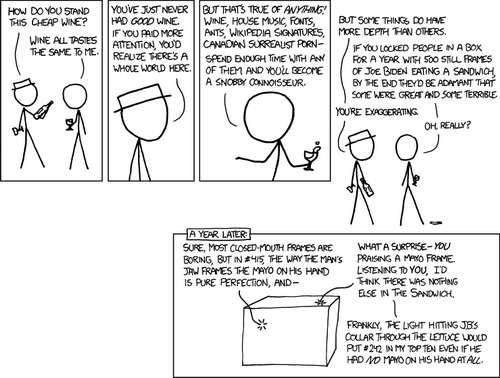 Notice: Posted by permission of AceCorp LLC. Please e-mail overnight open thread tips to maetenloch at gmail. Otherwise send tips to Ace.

posted by Maetenloch at
09:08 PM
|
Access Comments