« Rumor: Hugo Chavez Dead?
|
Main
|
Sunday Book Thread »
June 25, 2011
Overnight Open Thread-Saturday Night Fevah Edition [CDR M]
Ah yeah! Saturday night is here and it's time for another ONT. I got a ton of stuff so let's just get it on!
First up, this squirrel seems to have caught the disco fevah. A few decades too late but hey, you never know when it'll come back.
Mr. Weiner just tweeted he's jealous.
Weiner, weiner.
Speaking of Weiner, here's an updated video summary of this sordid saga.

Saturday PSA, Disco Style
Interesting PSA from the American Heart Association starring Ken Jeong. I'm not sure Disco can save lives but those ladies sure can.


Who is this masked bandit?
Now I know why Chemjeff was late to the ONT last night. Nice running shoes. So chemjeff, what did the coppers want?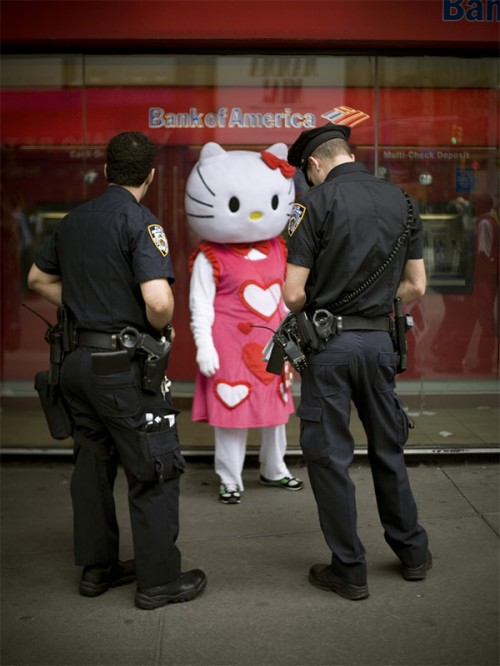 Those crazy youths.
I don't know which is worse. This story about ten friends that decided upon graduation from high school to get fitting jigsaw puzzle tattoos (can't tell if they'll fit from the photos)....

OR
This story about
extreme body manipulation
in Japan where youngins have saline solution injected into their faces to make them look like vampires or somethin.
I'm thinkin' story 2 is worse. I hope that crap stays in Japan.

Cosmetic Firearms?

I have no idea why one would want one of these instead of the real thing but hey, to each their own. Here we have a
Dutch Jewelry Designer starting something called cosmetic firearms
. I'll let the description speak for itself but for the amount of money you are spending, you could buy a whole lot of real firepower and ammo to boot!
These guns which bear strikingly close resemblance to real weapons are actually functional storages for personal belongings and beauty accessories. They have been made in two varieties; Dior 001 (white) and the Chanel 001(black), which has items dedicated to these fashion brands. The Dior 001, priced at around $11,500, has a Dior lip gloss, antique hairpin, 18 carat gold toothpick, a vile of perfume, a 50 gram 24 carat gold bar, a USB stick and a Viagra pill. On the other hand, the black Channel 001 has similar accessories from the brand but is priced higher at $17,000 apiece. For creating these fashion firearms, the designs were initially produced on the 3D printer, to get a detailed view of the structure, before being retrofitted with hand-crafted 18 carat gold components. In case the various accessories in the guns run out, Noten's studio is place to go for the refills. However, storage remains a responsibility of the customer, who might want a special holster or carrying case for these devices.

Obligatory Caturday Story/Video
Ah, it is Caturday isn't. Here's a little story about Dusty the Cat Burglar aka The Klepto Cat. You know CA is goin' down the crapper when even the kittehs are stealin'!


The Cereal Killer
This is a great short little action film titled The Cereal Killer.

Strange Animal Adaptations
Here's a list of 6 Seriously Strange Animal Adaptations.

The male anglerfish is drastically smaller than the female and he does not have a glowing lure on his head and many are so stunted that they can't eat at all, which means he has to find a female ASAP if he wants to survive. So the male quickly finds a female, bites down on her side and releases an enzyme that dissolves the skin of his mouth and a little of her body so the two can fuse together. Slowly the male atrophies until all that is left of him is a pair of gonads which release sperm whenever the female's hormones announce that eggs are being released. Scientists have found some anglerfish females with as many as 8 pairs of male gonads attached to their side.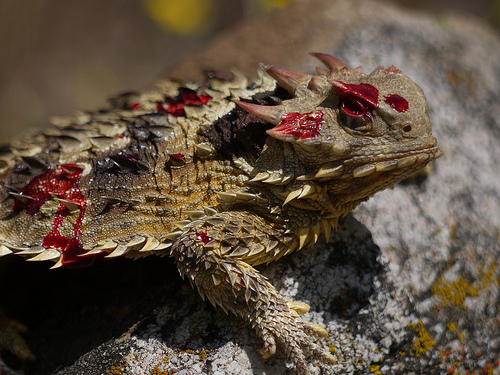 Serena Williams Plays The Race Card.
Serena Williams plays the race card. Sports reporter takes it hook, line and sinker. So she's bitchin' about the French Open champion playing on Centre Court while she had to play at Court 2. Big deal. Serena hasn't played much this year and was only ranked #7 for the tournament. Na Li is ranked #3 and had more buzz about her match. Quit bitchin' and just play. BTW, it was a nice pile on with the reporter with his jibberish of how the rich, racist, snobby Brits run Wimbledon. You'd think a reporter would actually dig a little more into how they actually pick the one woman's match of the day on Centre Court but then if he had, it wouldn't have fit the racist meme he was pushing.
The 10 Most Secure Locations.
The 10 Most Secure Locations On The Planet. Fort Knox is super, duper secure since we can't even have an audit done there.

A commercial with a horror twist.
Here's a commercial I would've never thought I would see. Rob Zombie directing a Woolite commercial.

Jessica Rabbit?

Obligatory War Pron Vid
Now a lot of you picked the A-10 as your plane of choice. In honor of that, I present to you a short video of what an A-10 can do.


OK, OK, here's another kitteh for ya!

Tonight's ONT brought to you by:

Effin A!
Notice: Posted by permission of AceCorp LLC. Please e-mail overnight open thread tips to maet. Otherwise send tips to Ace.

posted by Open Blogger at
10:00 PM
|
Access Comments