ę A Helpful Suggestion For Felipe Calderůn
|
Main
|
Rasmussen on Generic Congressional Ballot: Generic Republican 43%, Generic Democrat... 37%? Ľ
June 20, 2011
In Which I Break My Own Rule And Float A Speculation And Admit Maybe Commenters and Twitterers Were Right
(But You Have To Admit It's Hard To Avoid Speculation Given Today's Alleged DM Dump)
Since the Nikki/Marienel "fake" revelation, people have pushed the "False Flag" theory, in which the Nikki/Marienela combo are sockpuppets, but sockpuppets designed to get the #bornfree crew to bite on a false story and thereby embarrass themselves.
I have consistently thrown cold water on this claim, finding it a little too cute and too pleasing for Team Conservative. That is, I thought there was a wishcasting element in it, a desire to wrap this all up by postulating everything bad that happened here happened on the left's side of things.
Last night I realized something. I realized that most of my logical objections (as opposed to my meta objection, "it's too good to be true") to this narrative could be pushed aside if we didn't think about some vague, unknown person doing the sockpuppeting, but rather a defined, known person.
Objection 1. Who the hell cares about the #bornfree crew? Not to slight #bornfree, but one of my chief objections was -- why would political partisans seek to take out #bornfree? I never heard of them before this contretemps.
But my objection vanishes if we postulate that the person doing the sockpuppeting was personally tweaked by #bornfree and thus had a personal stake in embarrassing them.
Is there such a person? I think so.
Objection 2. The person sockpuppeting would have to have a specific psychology to do this, and that psychology is a little bit rare.
What would be the motivation of such a sockpuppeteer? Well, in FBI profiling terms, the UNSUB would:
* Have a general interest in, and aptitude for, sparring with partisans.
* Have a known agenda of rising above and beyond the call of duty in defense of Representative Anthony Weiner.
* Maybe have a professional interest in such a venture. Like, who knows, just throwing this out there, looking to write a media story.
Is there such a person?
Here's the quote that began buzzing through my brain late, late last night.
Worthing:

Let me ask you this. Looking back in 20/20 hindsight, do you think he was trying to get you into a relationship like he did with Weiss? Like was there anything that sounded innocent at the time, but took on new meaning now all this happened?

Cordova:

I hate to speculate. So Iím not sure. He wasnít inappropriate with me, though. Our talks were about people like Wolfe. I was intrigued by them. I still am. Iíve watched closely. Iím considering writing a piece on it.
Emphasis added.
You'll just have to take my word for it that that occurred to me last night.
Before someone began emailing around what are purported to be screencaps of DMs between Weiner and Genette, as well as of "Starchild" ("Betty"/Nikki) defending Anthony Weiner's honor publicly.
Note these could be f a k e. I'm not a photoshopper but I don't think it would be difficult at all to fake something that looks like a screencap of a DM exchange.
Still, this occurred to me before those screencaps/photoshops, so I'm not really relying on them too much here.
Additional bits of information which support my speculation:
Stranahan and Preston are both convinced, with near-absolute certitude, that Nikki and Veronica are fake.
How do they know this for sure? As I kept saying to Stranahan, "absence of evidence is not evidence of absence."
But what if their evidence was not merely the "absence of evidence" type? What if they had particular information about who the sockpuppetter actually was?
Through backchannels, I have heard that Jen Preston of the NYT does not suspect a rightwinger of being behind the sockpuppets.
Why? If I were her, I'd sure like the rightwinger theory. Indeed, as a rightwinger myself, I have told people I like the Vast Rightwing Conspiracy theory more than the False Flag theory.
But what if she knows, or at least strongly suspects, it wasn't them?
And note this would then account for Stranahan (who talks to Preston a lot) telling me he knows stuff is going on here he can't yet say.
And why would Jen Preston not say much about this?
Well, Gennette seems to be a source of Jen Preston's. Preston even quotes her on the dubiousness of the Betty/Veronica duo in her Friday night article. There, Preston quotes her as saying that a high schooler wouldn't make references to "The OC," a program which went off the air in 2007, four years ago.
Small chance that high schoolers would still be talking about it, Gennette figures.
But Gennette seems to know The OC. Just sayin'.
Is any of this possibly true? Well, I don't know. I would ask Gennette but she's blocked me. (And blocked Patterico as well, so he can't ask.)
There is one more implication brought up by these screencaps/photoshops I don't like. But I have to note it. I hate noting it, as it could mean I've had this all wrong from the start, and Stranahan had it right.
But it's possible.
Update: No it's not.
So I have to note it.
Update: No, I really don't. You're about to read me saying some really dumb things.
[Retracted For The Simple Reason This Is So Stupid:] If these screencaps are in fact screencaps and not photoshops -- how does the person emailing them have access to them?
The person emailing them would not have, we must assume, legal access to Gennette's or Weiner's accounts. We assume it would not be Weiner or Gennette sending these around.
So was access gained via a hack? And if a hack was used to read these DMs, that, of course, suggests the left's theory from the start -- and Weiner's claim -- that he was #Hacked! as far as the actual dic-pic is very possible.
Now the scenario would make sense:
1. Gennette plays a baiting game with the #bornfree crowd.
2. Someone in #bornfree actually gains access to her or Weiner's (or both's) accounts, and sees they're being jerked around with.
3. Someone in #bornfree decides, "Oh? Jerk around with me? I'll jerk around with you."
And then Weiner says, truthfully (per this scenario), it was a "prank," and Gennette says, truthfully (per this scenario), I was not engaged in any lewd discussion with Weiner and I don't know why that picture was sent.
Works, I have to admit, and I don't want to admit it, because I have really argued vigorously there was no #Hack and it was silly to even entertain the possibility of such.
[End retracted part of post.]
Update: Duh, Weiner himself says he sent that picture and was not #Hacked!. He says it was a "joke." Good Lord I'm dumb when I get on a speculation-riff. P
Now, I've written to the emailer to ask questions, but the emailer hasn't responded yet. I assume he or she hasn't responded to a similar request for information from Patterico.
There is another possibility, apart from #Hacked!. Gennette says she's shown "some" of her DMs with Weiner to members of the press. Some, but not all.
It is possible that these DMs were inspected by someone in the press, and have been circulated around a little bit, and now someone in the press who's friendly to the conservative side (or just wants this to come out for some other reason) has now sent them to me, and Patterico, and probably other bloggers like Breitbart & Co. too.
In that case, the #Hacked! claim is still off the table. In that case, no one gained illegal access to Weiner's or Gennette's accounts; it's just that Gennette allowed some people to see selected DMs, and then they got leaked by parties as of yet unknown.
Summing up:
I never liked the "Embarrass #bornfree" theory until I remembered Gennette's lines, "They intrigue me... I'm thinking about writing an article."
I would not bet money that Gennette is behind the Betty/Veronica sockpuppet duo, but certainly if a Weiner partisan were behind the fake accounts (assuming they are fake), it would be someone with similar circumstantial and psychological aspects as Gennette.
Old and busted: The "Get #bornfree" theory is dumb and wishcasting
New Hotness: The "Get #bornfree" theory is in play

Also, alas:
Old and busted: It is simply inconceivable that Weiner was actually #Hacked!
New Hotness: I can now conceive of it
Clarification/Correction: As I noted above, Weiner himself now specifically admits there was no #Hack! and that he himself sent the picture, as, he claims, a "joke."
So my sudden reversal on the #Hacked! possibility seems to be a case of Andrew Sullivan level lunacy.
And do note, if Weiner was #Hacked!, he would say so. Under no conceivable circumstances would he allow a #Hacker who ruined his career (and possibly his marriage) to skate free just for purposes of... I can't even imagine a motivation to admit something crucial that was completely untrue.
Irony Alert: I am aware of the irony of the fact that, in a post describing a theory in which unknown persons attempt to embarrass the right by getting them to bite on false stories, I may have in fact bitten on a false story by assuming those DMs are real.
However, I don't in fact assume they're real. As Patterico says, they're interesting whether they're real or fake.
If they're real, they raise one set of possibilities.
If they're fake, they raise another -- who is it who's so invested in all this that he or she would fake up some DMs to put the frame on someone?
Either they're real, and evidence of skullduggery by one person, or they're fake, and evidence of skullduggery by another person.
Either way, there is Skullduggery afoot.
I'm a little annoyed to be used for Skullduggery. I don't like these blind tips.
Reason To Think Those DM's Are Fake: When it was floated previously that maybe Weiner himself was behind the sockpuppets -- to get the right to make a false claim, in order to immunize him against a real one that was out there -- I said no one would do that.
A man with a body buried under his garage does not float a false rumor about a body buried under his patio. You don't know when the cops will stop digging.
Similarly, a man with an always-impending sex scandal eager to break does not stoke interest in another, false sex scandal.
Now, in this new theory, it's Gennette (or someone like Gennette) doing this, not Weiner.
But if those screencaps are real, then Weiner was... encouraging Gennette to do this?
Why wouldn't he warn her off? Why wouldn't he say, "Look, I appreciate what you're trying to do, but no one wants this kind of charge levied against him, true or false?"
Why not tell her to stop? She probably would have listened, not wanting to get him into trouble, and also believing he had good political instincts.
I don't know if people just went crazy here or what. But there is good reason to doubt these screencaps are real.
Weiner should not be anywhere near this sort of thing, and he would know that he shouldn't be near it.

Artifacts: Am hearing the screencaps have them. As if photoshopped.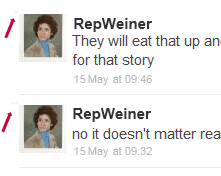 What this means, I don't know. I have no technical expertise here. I'm told there are dots here, which sometimes show up as an artifact of the cut/paste process.
Jen Preston Semi-Denies: She says, publicly,
Hi there. Been away from The Twitter. I honestly don't know who is behind any and/or all of this.

Am still looking into all this. I think the key to figuring it out is to remain open to the idea that it could be anyone.
She also said to someone else:
As I noted in DM, there is not direct evidence to link an individual at this time to a specific account.
This is a semi-denial because she seems to be saying that this never occurred to her, and it probably would have occurred to her if she saw DMs similar to the purported "Gennette-Weiner DMs."
On the other hand, she's also not flat-out saying "Those are fake, I've never seen them before."
I don't know if she's not commenting because she can't comment, or not commenting because she's writing a story and figures "Why the hell give away something on Twitter?"
She has in the past thrown cold water on off-base speculations, however.

posted by Ace at
01:34 PM
|
Access Comments