« Stanley Cup Finals Game 1, and some other hockey news... (tmi3rd)
|
Main
|
Attack of the Weinerman! [dri] »
June 01, 2011
Chris Christie, Of Helicopters And Iowa
I meant to get to this earlier but you know...Weinergeddon.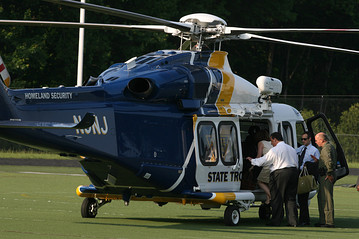 Anyway, yesterday he took a Jersey State Police helicopter to watch his son's HS baseball game. Naturally, Democrats are outrageously outraged!
Turns out, it cost the taxpayers a grand sum of zero dollars.
Gov. Chris Christie has taken the state helicopter 35 times since taking office in January 2010, including to survey flood and storm damage, according to State Police.

State Police Superintendent Col. Rick Fuentes released a statement arguing the flights don't cost the taxpayer anything.

Fuentes said the time police pilots fly the governor count as training time.

"It is important to understand that State Police helicopters fly daily homeland security missions, and use flight time for training purposes, more so lately as we acclimate our pilots to the new aircraft," Fuentes.
I don't begrudge governors and Presidents the odd perk that's beyond most people's reach. Nor do I care how much it costs any President to go anywhere, they need to be protected. But even with this not costing anything this was a mistake by Christie. The optics of a Governor who is basically making his bones on getting state spending under control using a helicopter to catch a few innings of his kid's game are simply horrible. In politics, facts are often irrelevant. This is especially true in a blue state like NJ where Republicans have to be purer than Caesar's wife. And honestly, there are a lot of busy parents with important jobs who have to miss their kids games or make other choices, why is a Governor so special?
So yeah, this is a mistake. A minor one to be sure but still a mistake.
That said, The Big Man is still my guy. Speaking of which....
And where did Christie have to rush off to? A dinner with big time Iowa Republicans who want to see him run for President. TChristie once again did say no but...he once again did something that make people say...hmmm. He's going to Iowa this summer.
"It was exactly what we intended it to be, short of him saying he'd run," Iowa ethanol entrepreneur Bruce Rastetter said of the supper at the New Jersey governor's mansion.

"What we heard from him very clearly was the same response he has given publicly: that he made a commitment to New Jersey and continuing to work to solve their problems," said Rastetter, a Hardin County Republican and one of the organizers of the effort to draft the reluctant Christie to run for president.

...

However, Christie told the Iowans he has accepted an invitation from Iowa Gov. Terry Branstad to give the keynote address at an education summit here this summer. "So we're excited his voice will be in Iowa in July and addressing education issues that are important to our state and our country," Rastetter said.
You know Governor, Presidents have helicopters and even a really cool plane too. Just saying.

posted by DrewM. at
06:33 PM
|
Access Comments