« A Different Open Thread
|
Main
|
Lowering Cain? Herman Cain's Shaky Interview on FoxNews »
May 22, 2011
Overnight Open Thread
End of the world for some, just another day for others, but all are welcome at the ONT party.
Long Live the American Dream Or Why India and China Have Nothing On Us
Amid the drumbeat of DOOM and our tendency to see all of our flaws in 20-20 it's easy to become overly pessimistic on America. But just remember that the countries that everyone is convinced will supplant us have their own flaws that are officially discouraged from ever being talked about in public.
Meanwhile the strengths of US tend to be quiet ones that you don't even think about until you've lived for a while in a country that lacks them. Yet they can make all the difference in whether a society prospers over the long run or not.

America wastes no talent

Conventional wisdom holds that America's global competitiveness is driven by geniuses flocking to its shores and producing breathtaking inventions. But America's real genius lies not in tapping just genius — but every scrap of talent up and down the scale.

A 2005 World Bank study found that the bulk of a people's wealth comes not from tangible capital like raw resources and infrastructure. It comes from intangible wealth: effective government, secure property rights, a functioning judiciary. Such intangible factors put the equivalent of $418,000 at the disposal of every American resident. In India and China, it's $3,738 and $4,208, respectively.
One of the best attributes of the US and one of the reasons we've been so 'lucky' is that we tend be naturally self-correcting:
By contrast, when America's government responds ineffectually to the recession, Americans go into panic mode. Grassroots movements like the Tea Party emerge to rein in the government. Pay Pal founder Peter Theil has even given $850,000 to the Seasteading Institute to establish new countries on the sea to experiment with government. This might be wacky, but it puts an outside limit on how out-of-whack Americans will let their institutions get before they start fixing them.

Hmmm: Sarah Palin's New House in Arizona?
Well Bristol has already moved there and rumors are that Sarah just bought a AZ house as well. Is this just a perch to keep an eye on her daughter or is it her new lower-48 base?

The move to Arizona has many wondering if this is the step one takes in preparing a run for president. Certainly, it is easier to campaign when you live in the lower 48. Or, with her media career, is this just a way to be close to LA and have a much easier flight to NY and DC?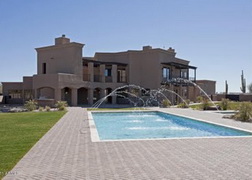 Polar Bear Population – No Change
Remember how global warmening was going to make the polar bear extinct? Well it's got some catching up to do since the population of polar bears is unchanged over the last four years:

The Polar Bear Specialist Group of the International Union for the Conservation of Nature (IUCN), the organization of scientists that has attempted to monitor the global polar bear population since the 1960s, has issued a report indicating that there was no change in the overall global polar bear population in the most recent four-year period studied.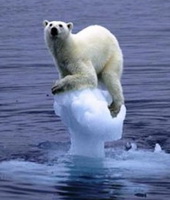 What Pope John Paul II Did with the Bullet that Nearly Killed Him

It was a little over 30 years ago (May 13, 1981) that Pope John Paul II survived an assassination attempt that came dangerously close to claiming his life. He was struck with four bullets: two in the lower intestine, one in his left hand and one in his left arm. The wounds were so bad that he lost nearly three quarters of his blood and had to endure more than five hours of intestinal surgery.
So what happened to the bullets?
The Willy Wonka 40-Year Reunion
So the Today Show reunited the original cast of 1971′s Willy Wonka & the Chocolate Factory recently. Compare and contrast then and now.


How Many Hours of Sleep Do You Really Need?
It turns out that you probably really do need 8 hours of sleep. This seems to be genetically set and no amount of 'training' or discipline can change it. And if you believe this (like my brother-in-law) you're probably fooling yourself (and not counting your many naps):

Still, while it's tempting to believe we can train ourselves to be among the five-hour group — we can't, Dinges says — or that we are naturally those five-hour sleepers, consider a key finding from Van Dongen and Dinges's study: after just a few days, the four- and six-hour group reported that, yes, they were slightly sleepy. But they insisted they had adjusted to their new state. Even 14 days into the study, they said sleepiness was not affecting them. In fact, their performance had tanked.
A Treasury of Rape Vans
There's a reason vans are the favored vehicle of rapists and serial killers. And I figure if you voluntarily get in this van, well it was really just a case of Darwinian assisted suicide.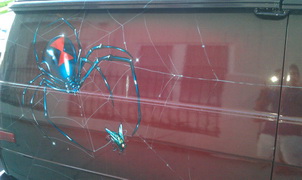 Hot Chocolate Cup Cake
Genius.

Weekly AoSHQ Commenter Standings
Top 10 commenters:
1 [499 comments] 'Jane D'oh' [70.04 posts/day]
2 [467 comments] 'Vic'
3 [447 comments] 'FUBAR'
4 [444 comments] 'Kratos (Ghost of Sparta)'
5 [437 comments] 'cheap nfl jerseys'
6 [397 comments] 'Oldcat'
7 [354 comments] 'curious'
8 [344 comments] 'buzzion'
9 [331 comments] 'logprof'
10 [317 comments] 'Soothsayer'
Top 10 sockpuppeteers:
1 [142 names] 'FUBAR' [19.93 unique names/day]
2 [90 names] 'kbdabear'
3 [88 names] 'logprof'
4 [61 names] '18-1'
5 [53 names] 'Fa Cube Itches'
6 [48 names] 'andycanuck'
7 [47 names] 'toby928▒'
8 [47 names] 'The War Between the Undead States'
9 [47 names] 'Wyatt Earp'
10 [46 names] 'George Orwell'
The group. Yeah.
Tonight's post brought to you by 1974: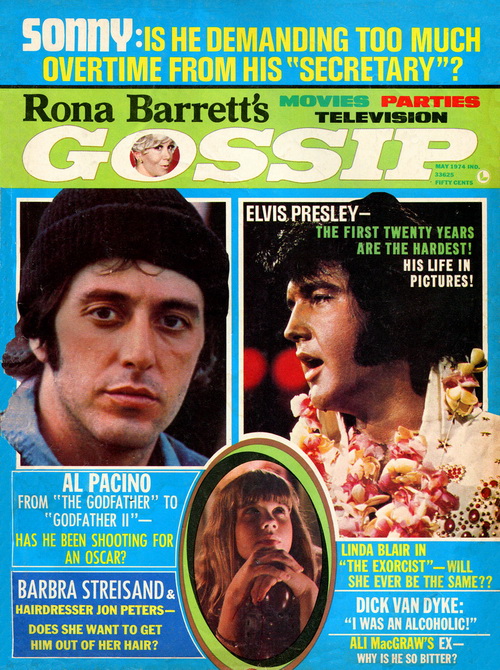 Notice: Posted by permission of AceCorp LLC. Please e-mail overnight open thread tips to maetenloch at gmail. Otherwise send tips to Ace.

posted by Maetenloch at
09:45 PM
|
Access Comments