« Awesome: David Gregory Defends Obama By Claiming "Prominent Views" In Israel Supported His Speech, But, When Asked "Who?," Stammers And Literally Cannot Name Anyone
Update: Jubicon?
|
Main
|
Fantasy 2012 Senate Election Porn (Open Thread) »
May 20, 2011
Big Fat Baby Really Needs His Ba Ba of SSI Taken Away
This big baby is whining that if we take away his SSI money (which he should not have), he'll kill himself.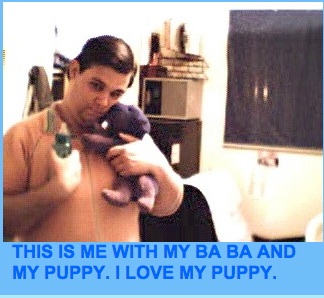 And we get to keep the money too, right?
There's more where that came from.
And oh, if you want to be babied by his mama, he has a... bed and breakfast business for that?
Crib and crepes? Eh.
Morgen from Verum Serum doesn't know what the hell to do with it. Neither do I.
I don't know how political you can get here (as opposed to just saying WTF? fifteen hundred times), but... this is the point about incentivizing nonproductive behavior at the expense of those who are productive.
Why are any of us working when we could just decide to get into some bizarre fetish of our choosing and take the rest of our lives off?
Michele Malkin writes on it, and Ed Morrissey has a post about an SSI judge who simply cannot say no to anyone.
I'm sure he couldn't say no to a baby, then.
Predictions Three:
1. This story has legs. This is just the tip of the iceberg. Another tip peaked up above the waves.
Leroy Fick, 59, of Auburn, Michigan, struck it rich by winning $2,000,000 in a Michigan Lottery game "Make Me Rich!" Fick is in the news, and is taking a lot of heat Thursday, May 19, 2011, for legally using the system to continue collecting food stamps.

Sen. Rick Jones, R-Grand Ledge, and Rep Charles Brunner, of Auburn, Michigan's 96th District are outraged, as are many low-income individuals and families trying to make ends meet.

Their gripe? Michigan Lottery winner Leroy Fick is legally using taxpayer money for his groceries.
2. There shall be hearings, and they will be big news. Subprection, which I won't even count as a prediction because it's so effin' obvious: The media will claim this is our new attempt to demonize "Welfare Queens," a new opening in the Race War.
3. We will find that the welfare reforms of the 90s were partly illusory-- gaming the system, social workers, bureaucrats, and tax-thieves simply moved from one category of welfare (AFDC) to another (SSI), contriving some new malady that prevented them from working. And we'll find thousands of cases where this happened, usually with bureaucratic connivance and judges' winking.
Anyone want to bet?

posted by Ace at
07:28 PM
|
Access Comments