« Business As Usual In House Appropriations Process
|
Main
|
Top Headline Comments 5-Friday the 13th-11 »
May 12, 2011
Overnight Open Thread
Europe: Borders Are Back Baby!
During the heyday of the European Union Euro-types were fond of pointing out how Europe no longer had internal borders - you could travel from Rome to Copenhagen with just your EU passport - and lecturing Americans over our passé notions of immigration control. But now that the PIGS countries are collapsing and refugees are pouring in from outside the EU, suddenly national border checks are back:

Denmark is to reintroduce controls at its EU borders with Germany and Sweden in an attempt to curb crime and illegal immigration, ahead of today's [Thu] meeting in Brussels that will discuss the visa-free Schengen zone…

Passport-free travel across the 'Schengen' area, which does not include Britain or Ireland, has come under unprecedented pressure after Italy gave residence permits to more than 25,000 Arabs last month, allowing them unfettered access to the rest of the EU.

The European Commission was last week forced to propose the reintroduction of temporary passport controls as "under very exception circumstances" after a conflict between France and Italy threatened to destroy the border-free zone.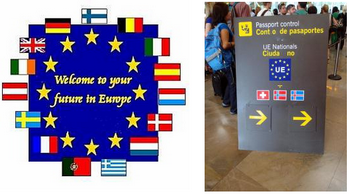 The Army's New Deadly 'Green' Bullets
The military's new M855A1 5.56mm round is green because it doesn't contain lead - it uses a steel penetrator with a bismuth-tin slug. Plus it's also 'green-tipped' to differentiate it from other types of 5.56mm ammo. And early reports from Afghanistan and Iraq confirm that it really is an improvement:

Much early data is still classified but expected to be released in coming weeks. But soldiers from two battalions of the 101st Airborne Division "praised the hard-target performance of the M855A1 over the M855 and commended the ability to engage targets at longer distances," said Picatinny Arsenal spokeswoman Audra Calloway. The soldiers were surveyed in December and January during operations in Afghanistan.
Not only does it perform better against soft targets than the standard M855, but it also penetrates better:
During testing, the M855A1 performed better than current 7.62x51mm NATO ball ammunition against certain types of targets (particularly hardened steel), blurring the performance differences that previously separated the two cartridges. The US Army Picatinny Arsenal stated that the new M855A1 offers improved hard target capability, more consistent performance at all distances, enhanced dependability, improved accuracy, reduced muzzle flash, and higher velocity compared to the M855 round. Further the Army stated the new M855A1 ammunition is tailored for use in M4 carbines but should also give enhanced performance in M16 rifles and M249 light machine guns. The new 62-grain (4 g) projectile or bullet used in the M855A1 round has a copper core with a 19-grain (1.2 g) steel "stacked-cone" penetrating tip.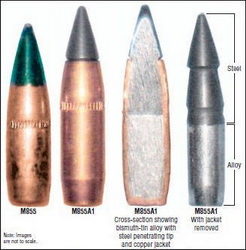 Remembering PJ O'Rourke's 'Ship of Fools'
Ed Driscoll blogging for Insty this week reminded me of the classic O'Rourke account of going on a Nation magazine-sponsored cruise of the Soviet Union in 1982. It may be almost 30 years old but it's a classic takedown of lefty/peacenik pretentions by PJ at the peak of his snark. Unfortunately only a portion of it is online but here's a snippet to whet your appetite:

They were leftists all right. In between palsies of fretting, they'd tell you how wonderful the Soviet Union was: Pensions were huge, housing was cheap, and they practically paid you to get medical care. Believe me, you haven't been bored until you've been buttonholed by a seventy-year-old woman who holds forth all afternoon on the perfidity of American foreign policy and shows you pictures of her grandchildren. These were people who believed everything about the Soviet Union was perfect, but they were bringing their own toilet paper.
Why You Should Never Ever Post Your Mom's Photo on a Message Board
So an LSU Tigers fan asked a message board, Tigerdroppings, to touch up a picture of his mom. Which they did, but you can probably guess what happened next: internet memeitude.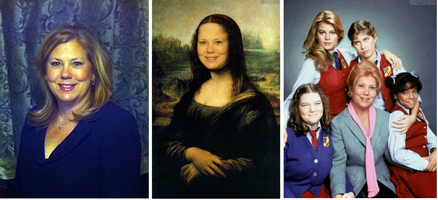 20 Celebrities Who Used To Be Hot
Well I wouldn't call young Hillary exactly 'hot' - more like at the peak of her youthful attractiveness she was almost semi-cute when viewed from selective angles. Plus guess who this hottie is.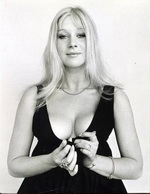 Texas Gets Its First In-N-Out
And the lines are well - Texas-sized. But is it really worth crying over?

People take In-N-Out way too seriously. It's a burger. A well-made burger, sure. But it's still just meat, lettuce, tomato, and cheese in two slices of bread. Is this burger going to make me see God or force me to ejaculate in some way? Maybe. But I'm not waiting in a seven hour long line to find out when I can just pop a shroom and have sex with a pack of chop meat for the same effect.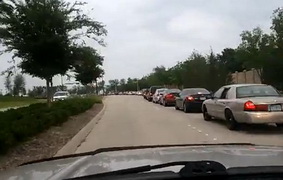 Penis Shoes?
Lady Gaga's lucite cock-shoes apparently were too racy for American Idol. Such a deal at $4500/pair.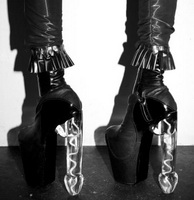 Curious How Your Boobs Would Look After Breast Implants?
There's an app for that.

iAugment is a Photoshop-style iPhone app that uses a 3D pic of your chest to show you how you'd look with bigger jigglies. iAugment allows you to view 17 different breast implant sizes — from "Blake Lively goes softcore" to "Sheyla Hershey circus boobs."
Mmmmm...circus boobehs.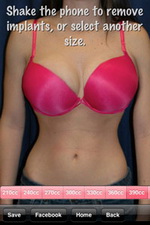 Yahoo group. That is all.
Tonight's post brought to you by Winchester: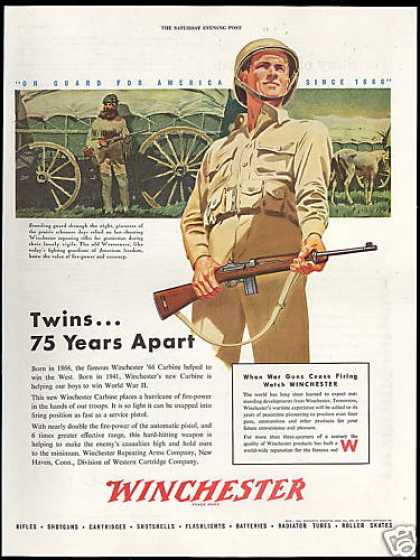 Notice: Posted by permission of AceCorp LLC. Please e-mail overnight open thread tips to maetenloch at gmail. Otherwise send tips to Ace.

posted by Maetenloch at
09:37 PM
|
Access Comments