« Overnight Open Thread
|
Main
|
Midmorning Headlines Open Thread »
May 07, 2011
USS Michael Murphy Christening Today
In a good bit of timing that I don't question at all, the USS Michael Murphy (DDG 112) is being christened at General Dynamics' Bath, Maine shipyard today.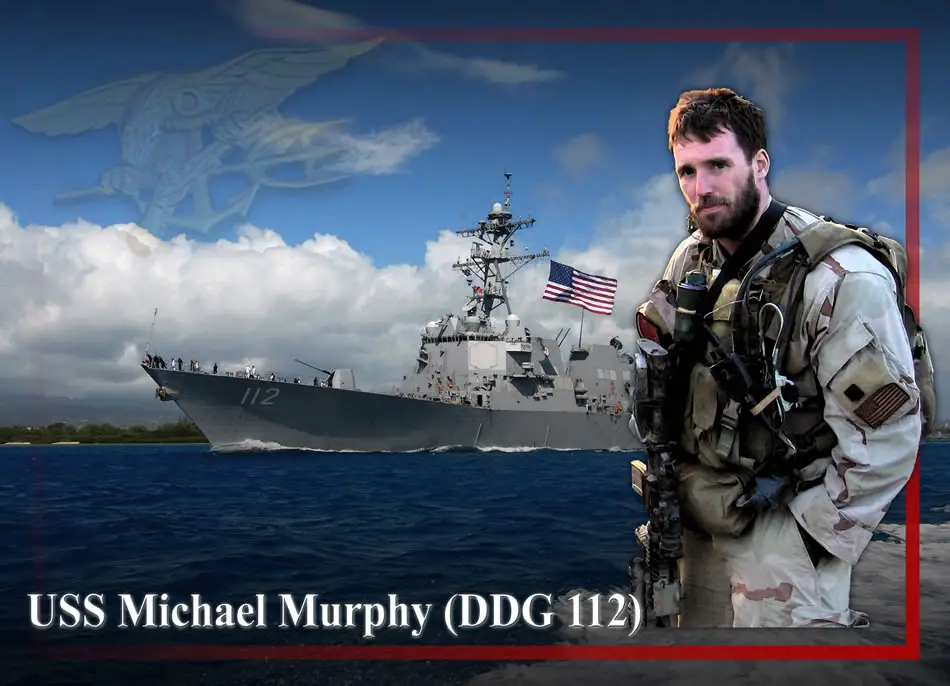 As all readers of this Smart Military Blog™ know, Lt. Michael P. Murphy was the first recipient of the Medal of Honor from the war in Afghanistan.
For conspicuous gallantry and intrepidity at the risk of his life above and beyond the call of duty as the leader of a special reconnaissance element with Naval Special Warfare Task Unit Afghanistan on 27 and 28 June 2005. While leading a mission to locate a high-level anti-coalition militia leader, Lieutenant Murphy demonstrated extraordinary heroism in the face of grave danger in the vicinity of Asadabad, Konar Province, Afghanistan. On 28 June 2005, operating in an extremely rugged enemy-controlled area, Lieutenant Murphy's team was discovered by anti-coalition militia sympathizers, who revealed their position to Taliban fighters. As a result, between 30 and 40 enemy fighters besieged his four-member team. Demonstrating exceptional resolve, Lieutenant Murphy valiantly led his men in engaging the large enemy force. The ensuing fierce firefight resulted in numerous enemy casualties, as well as the wounding of all four members of the team. Ignoring his own wounds and demonstrating exceptional composure, Lieutenant Murphy continued to lead and encourage his men. When the primary communicator fell mortally wounded, Lieutenant Murphy repeatedly attempted to call for assistance for his beleaguered teammates. Realizing the impossibility of communicating in the extreme terrain, and in the face of almost certain death, he fought his way into open terrain to gain a better position to transmit a call. This deliberate, heroic act deprived him of cover, exposing him to direct enemy fire. Finally achieving contact with his Headquarters, Lieutenant Murphy maintained his exposed position while he provided his location and requested immediate support for his team. In his final act of bravery, he continued to engage the enemy until he was mortally wounded, gallantly giving his life for his country and for the cause of freedom. By his selfless leadership, courageous actions, and extraordinary devotion to duty, Lieutenant Murphy reflected great credit upon himself and upheld the highest traditions of the United States Naval Service.
Yeah ... I'm all broken up that we didn't take bin Laden alive and put him on trial. SEAL Team 6 visited the justice upon him that he deserved for cutting short the lives of good men like Michael Murphy and thousands of others.
Update: There's a good piece in today's Wall Street Journal by Lt. Cmdr. Eric Greitens, who was in the same BUD/S class with two of the SEALs lost in Operation Red Wing along with Lt. Murphy.
Turning on my cellphone last Sunday, I got a text message with the incredible news: "OBL is dead. Hoo Yah!" Within minutes, a tidal wave of messages followed from fellow Navy SEALs and other military and nonmilitary friends. My own thoughts went back to James Suh and Matt Axelson ("Axe"), two members of my own SEAL training class. When Axe was pinned down by the Taliban in a firefight in Afghanistan in June 2005, Suh boarded a helicopter to fly in for a rescue mission. The helicopter was shot down that day and both men died. I thought to myself: Axe, Suh, they got him.

posted by Andy at
07:15 AM
|
Access Comments