« Mitch Daniels Announces Planned Parenthood Funding Cut-Off, Presidential Run
|
Main
|
Saturday Morning Open Thread »
April 29, 2011
Overnight Thread-Emergency Chaos Edition [CDR M]
Evenin' Moron Nation and welcome to another weekend. Genghis seems to have been tasered while trying to chug a can of beer while upside down so I'm stepping into the breach to fill in.
Well, I guess there was some kind of big wedding today. This picture kind of stood out to me. Coincidence?

With our economy headin' down the tubes and inflation rearing it's ugly head, I thought it might be beneficial to perhaps share some super frugal cooking recipes to help stretch out that dollar just a tad bit. This tip was sent in from Haiti. They are called Dirt Cookies. Just need butter, salt and, um, dirt. Yeah, dirt!


Curious where Ace has been? I think this headline may explain:
Ace, "De Niro" Unlikely Heroes of Japan Nuclear Crisis

"I spend several hours each day thinking about Ace or watching his clips," one online follower said on a message board dedicated to Ace.
"I think his rich expressions and the unpredictability of his actions, as well as his voice and fingers, are sources of his charm," one said.

WTF?
And why did no one just say NO to her.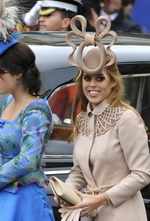 Speaking of doom. Here's a nice little write up with pretty graphics showing just how boned Michigan is and how the State Workers there are livin' a pretty good life.
Helpful Facts About Michigan's Public Sector
.
The average teacher salary in Michigan has risen for 13 consecutive years, to $63,445 for unionized teachers in conventional districts (excluding charters). The average salary for private school teachers nationally is $39,700; when including benefits, the disparity is even greater.
Ever wonder how the word Boob came about? Well wonder no more.

h/t Theo Spark
Pretty interesting read on
The Economics Of Death Star Planet Destruction
. I'm sure Krugman would approve.
What's the economic calculus behind the Empire's tactic of A) building a Death Star, B) intimidating planets into submission with the threat of destruction, and C) actually carrying through with said destruction if the planet doesn't comply?

Doesn't the Empire take a huge economic loss from the lost productivity of an entire planet? They were presumably paying taxes and providing resources to the rest of the Empire. Presumably the loss of that planet's output would have to be made up by increased output from other planets that were either slacking in productivity due to rebellion or threatening to rebel and withdraw from the Empire altogether. It doesn't seem to make good economic sense.

Today's beastly duel. Dog vs Duckling.

I read this last weekend and I am pissed that it wasn't the screenplay that they used for the movie Tombstone. The 4th Draft For Tombstone by Kevin Jarre. This is so much better than what made it to the screen. I especially liked the part where Wyatt Earp rides into the Cowboy camp all by himself to get back his stallion that the Cowboy's had stolen from him the day after knocking Curly Bill out for shooting the sheriff. This might've made Tombstone the greatest western of all.

I don't think today's TV shows that still do a theme song can touch the theme songs from the 70's and 80's but here are 15 Shows That Still Have A Theme Song. I have to say that Hardcastle and McCormick was pretty catchy.


This Day In History The Oldsmobile died in 2004 (too bad GM didn't follow). Union captures New Orleans in 1862. Dachau was liberated in 1945. Riots Erupt Following The Rodney King Verdict in LA in 1992. Nixon announces the release of the White House Watergate tapes in 1974. And that 'roided out pitcher Roger Clemens struck out 20 batters in one game in 1986. You think he was doing steroids back then or later? Operation Frequent Wind begins in 1975 (sounds like code for an Obama speech).
Well fellow 'rons, that's all I got. It's Friday, bottoms up and time to relax!

Tonight's ONT brought to you by:

Notice: Posted by permission of AceCorp LLC. Please e-mail overnight open thread tips to maet or genghis. Otherwise send tips to Ace.

posted by Open Blogger at
10:15 PM
|
Access Comments